Jim McElwain's first season at Colorado State ends in strong finish, weak record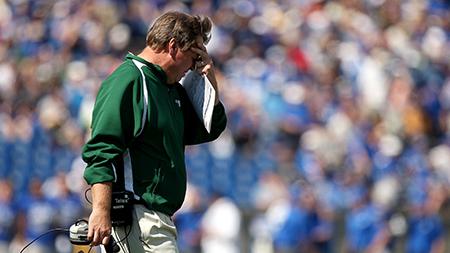 Nearly a year after Jim McElwain came to CSU with promises of bringing a bold new era to Rams football, the CSU football team finished the 2012 season with a victory against New Mexico, and a marginally improved 4-8 record.
Through its ups and downs, there are a few things to take away from the season, while looking ahead to next year.
The Rams underperformed this season, especially early in the year.
Much was made of the Rams' victory against CU-Boulder in the first week of the season, but that optimism slowly faded.
CSU lost its next six games, each by 10 or more points, and what looked to be a promising first season for McElwain quickly turned into the prospect of another losing year for the Rams.
Three victories in the final five games of the year salvaged a 4-8 record for the Rams, but it is clear for many involved in the program that the goals for 2012 were not met.
"I didn't expect to only have this many wins," McElwain said. "That's unacceptable and that's not in my vocabulary."
Donnell Alexander will be the star of the offense next year
The rushing attack for the Rams struggled throughout the season, managing to average 128.8 yards per game, good enough to rank No. 100 in the nation.
One bright spot in the rushing attack for the Rams, however, was the emergence of redshirt freshman running back Donnell Alexander, who started receiving more carries after Chris Nwoke went down with an ankle injury in week two.
Alexander made his mark on the offense later in the season, rushing for 100 or more yards in three of his final four games of the season, while averaging 4.98 yards per carry.
With Nwoke returning for his senior season next year, and Alexander coming back to play an increased role in the offense, the future of the Rams' backfield looks bright.
The quarterback position looks to be an open competition next year
CSU shuffled through three quarterbacks this season: sophomore Garrett Grayson, senior M.J. McPeek and redshirt freshman Conner Smith.
After Grayson went down in week five against Air Force with a broken collarbone, McPeek started in three games going 0-3. Smith started in four of the final five games for the Rams, and posted a 3-1 record with him at the helm.
"I feel like I played okay throughout the year," Smith said. "I couldn't have done it without my teammates. Most of my success goes hand in hand with them. I'm fairly satisfied with it, but I feel like I could have done better."
With Grayson coming back next year fully healthy, and Smith returning from the experience he gained this year, McElwain will have a decision to make when deciding who he wants to take the field as his starting quarterback to open the season next year against CU.
Football Beat Reporter Andrew Schaller can be reached at sports@collegian.com.