CSU football gets embarrassed at Wyoming in annual Border War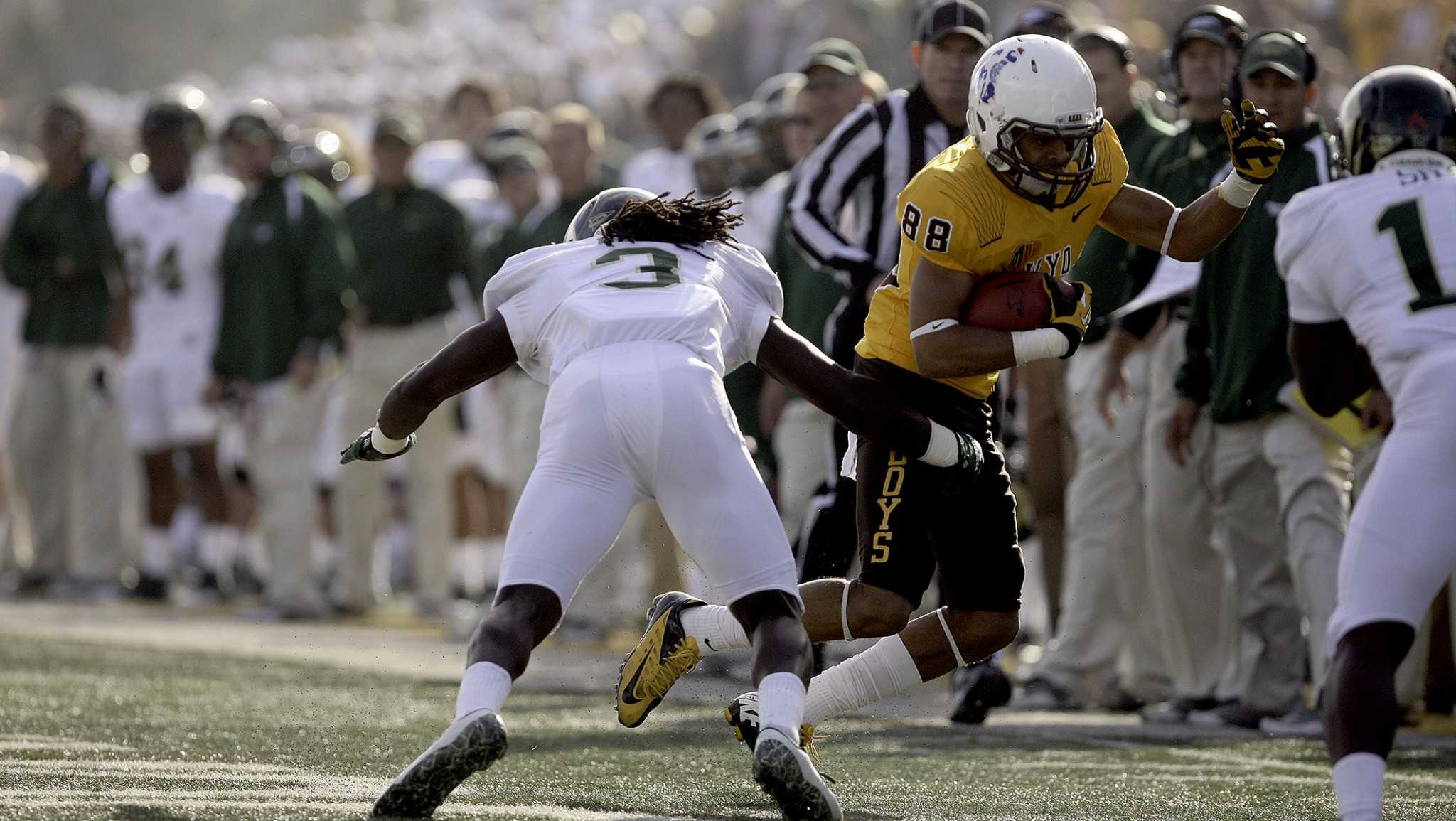 After managing to stay in the game throughout much of the first half, CSU ended up getting blown out by its arch-rival Wyoming, falling in the Border War 45-31.
The Wyoming offense, led by sophomore quarterback Brett Smith was unstoppable, especially on third downs.
The Cowboys converted 75 percent of their third down opportunities on the day, mostly due to the success Wyoming had throwing screen passes against the Rams.
Smith threw for over 235 yards and four touchdowns on the day while running an option offense that the Rams simply had no answer for.
"You gotta get off the field on third downs," CSU coach Jim McElwain said. "That's pretty obvious, yet they hung in there and played hard."
The Rams' offense managed to put up 31 points on offense, largely due to the effort from quarterback Conner Smith, who threw for 326 yards and running back Donnell Alexander, who rushed for 114 yards and one touchdown.
The defense, however, did not return the favor.
Wyoming racked up 300 total offensive yards in the first half en route to a 28-7 lead they took over the Rams early on in the second quarter.
"They had a fast start, but it was the little things, we were missing tackles, not running our feet," defensive back Shaq Bell said. "I give them credit, they got good things off what we did negative(ly), so I give them credit for that."
throughout the game on offense, as coach Jim McElwain elected to start freshman quarterback Conner Smith in the game.
Despite the loss, there were many positives the Rams showed throughout the game, particularly on offense.
Freshman running back Donnell Alexander started the game over junior running back Chris Nwoke and answered the call, becoming just the second back all season who rushed for over 100 yards in a single game.
"Honestly, the lineman made it so easy to go out there and do my job," Alexander said. "They opened up the holes, I mean, they (were) big, so it was just easy for me to run through. So I feel like they did their job, so they get all the credit for that."
The loss for CSU marks the fourth consecutive Border War match-up with Wyoming that the team has lost.
For seniors like linebacker James Skelton, losing once again to his hated rival makes the loss much more difficult to accept than the previous six losses the Rams have endured.
"This is the last shot (for the seniors)," Skelton said after the game. "This game means so much that – it definitely stings more than the other ones."
The Rams will look to bounce back from the loss next week, while trying to get their third win of the season against UNLV at home Saturday at 5 p.m. MT.
For more in-depth coverage of today's Border War, be sure to check out Monday's Collegian
Football Beat Reporter Andrew Schaller can be reached at sports@collegian.com