CSU men's basketball face gritty Evansville Saturday
Fresh off a 16-point victory over in-state rival Northern Colorado, CSU basketball will face off against Evansville Saturday afternoon in the Rams' final home game before the beginning of winter break.
CSU coach Larry Eustachy has lauded Evansville as one of the toughest and well-coached teams the Rams will face in their out-of-conference schedule this year.
"They don't beat themselves, they don't take bad shots and they hold you to one shot," Eustachy said.
Evansville has developed a reputation early on in the season of being a team that will grind out possessions, as it has stayed close in every game this year, most notably in a nine-point defeat in week one on the road against No. 22 Notre Dame.
They've done it by playing smart, and having consistent play, particularly from their leading scorer, senior guard Ned Cox, who has averaged 10.8 points per game.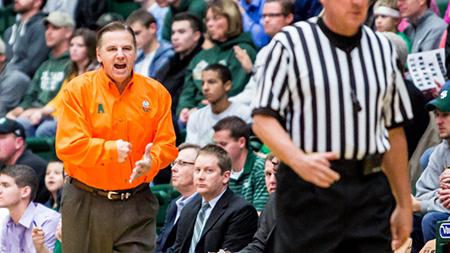 Cox has filled some of the scoring vacancy left by guard Colt Ryan, who missed significant minutes in three games this year before returning to the lineup Monday in a victory over Alabama A&M.
Evansville has tried to take a play out of CSU's playbook in reaching into some of its depth, while having role players step up in the place of injured starters.
"I think he's really done a good job stepping up while Colt was out," Evansville coach Marty Simmons said. "We need our guys to be a lot like Colorado State. We need to be unselfish, and tough and physical, and Ned's a guy that has done a lot of great things throughout his career. And we feel like he's off to a good start this year."
The matchup against Evansville for the Rams comes just four days before the showdown at No. 19 CU-Boulder next Wednesday, making it vital for the team to focus and avoid the temptation of overlooking Evansville on Saturday.
"Evansville is probably one of the best teams that we've played yet to date," CSU center Colton Iverson said. "They're a really good team, well coached and they'll come in here and we'll have to be 100 percent ready for them."
Evansville says they will be ready too.
The game on Saturday gives Evansville the opportunity to have a resume-building win over an NCAA Tournament team from last year, something that would go a long way in aiding the Purple Aces make the tournament this year.
"Getting a win like this, on the road, against a team like Colorado State would be a really big boost," Cox said.
Men's Basketball Beat Reporter Andrew Schaller can be reached at sports@collegian.com.