Strong defensive effort from CSU football spoiled in loss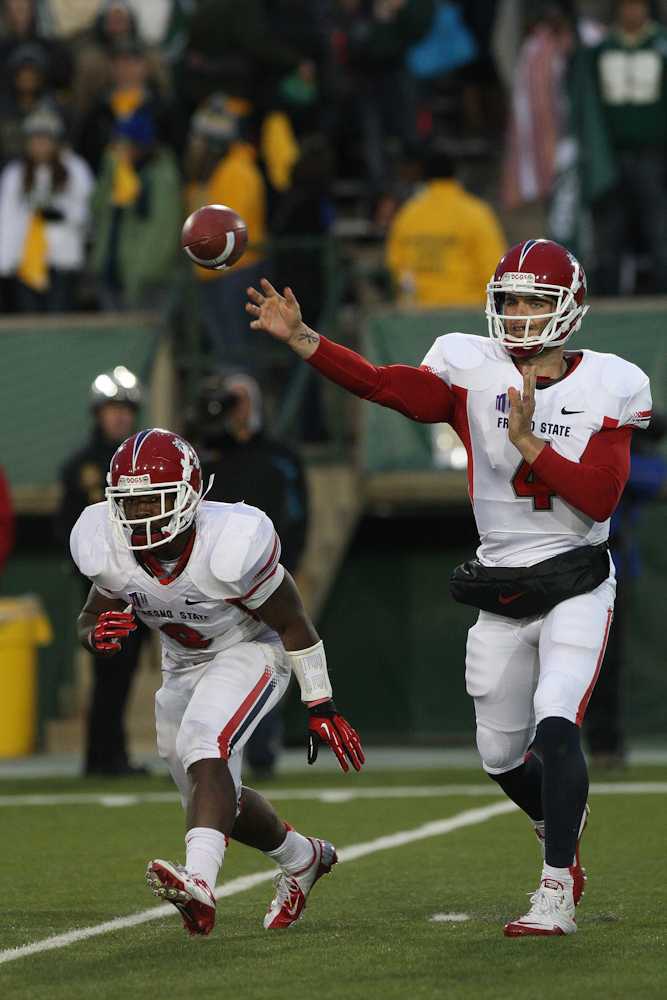 Last week, CSU football coach Jim McElwain called out his team for playing with no heart and challenged them to show up.
Only half the team got the message.
"I saw a defense that answered the call after a week ago," McElwain said following CSU's 28-7 loss to Fresno State. "A team that scraped against a very, very high powered offense… I was really proud of the way our guys fought and swarmed to the ball most of the day and played hard.
"Our defense played their tails off and they did what they needed to do to win this football game against an explosive offense."
The Rams' defense contained the NCAA's 16th best scoring offense nearly two touchdowns below its average, but Saturday night CSU's offense let the team down as the case has been too many times this season.
CSU held the Bulldogs under their season average in three separate categories (points, total offense and passing yards), but the defense returned to the field with no more than four minutes rest at any point in the game.
In the end, Fresno State controlled the ball for 36:55 of the game, but CSU safety Trent Matthews refused to believe his unit got tired.
"We don't (get tired). We just practice that way, practice fast tempo," Matthews said. "It's on us to execute more."
Fatigue or not, CSU's defense made considerable strides over the week in pass defense forcing a pass happy Fresno State team to focus on the running game.
"We knew that they weren't going to let us run our receivers against man coverage all day," Fresno State coach Tim DeRuyter said. "So if they were going to double cover our guys, we're going to run the ball."
Early on, the Rams' defensive scheme worked. Fresno State's potent offense ended four of its first five drives in either a punt or turnover on downs, and scored just once after the Rams fumbled at their own 29-yard line putting the defense in tough field position.
Short fields left for the defense became a theme.
"Give credit to (Fresno State's) guys. They took advantage of the things that we talked about earlier in the week that we couldn't do, and that's give the ball to them in short field and let that offense go," McElwain said.
The question of the season is how does the offense find success? The first step to finding a solution is recognizing the problem, and the Rams feel like they're getting closer.
"As an offense we need to come together as a group and execute," wide receiver Charles Lovett said. "We cannot just keep leaving it on our defense for every game."
Eventually the Rams' defense cracked under the weight of holding up an entire team on route to a fifth straight loss.
"We have to go back to the basics on Monday. Playing with belief, like against CU. We have to play with that type of fire, of intensity," Matthews said. "I feel like some guys have it and some guys don't, but  we're trying to find each other as a team and when we do we'll be a good team."
Until that day happens, it's the fans that continue to suffer.
"I'm very disappointed for the fans… it's disappointing that we're not giving them something tangible to hang their hats on and feel good about," McElwain said. "As I've said, I see what we're doing and I see the guys we're doing it with, and the Rams are going to be a force to be reckoned with here in the future I can tell you that and I guarantee that."
Sports Editor Cris Tiller can be reached at sports@collegian.com.