CSU football's backup quarterback M.J. McPeek gets his chance to shine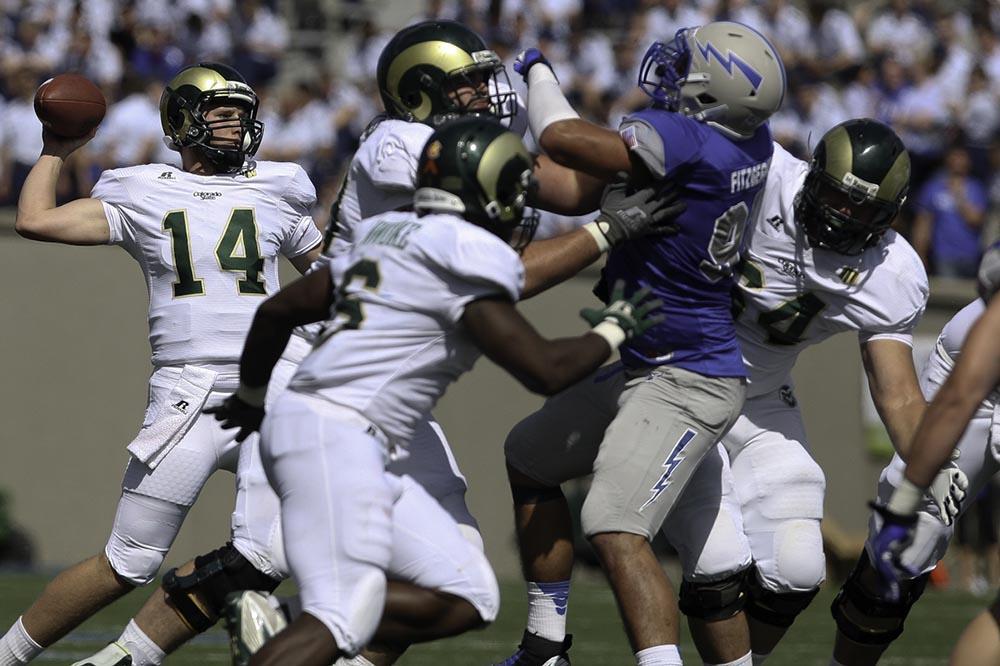 For the first time since his senior year at Rangeview High School in Aurora, M.J. McPeek found himself lined up opposite a defense that wasn't wearing the same colors.
A little more than 1,460 days came and went before McPeek threw a pass in a game that counted. See, McPeek has spent the last four years watching football games from the sideline. A redshirt season at Kansas State and three holding a clipboard at CSU.
But every backup quarterback knows he's one bad play from trial by fire.
"That's the territory that come with being a backup," McPeek said. "You got to prepare every week like you're the starter. If Garrett (Grayson) goes down, or God forbid something happens to him, I get thrown in there. It comes with the territory."
That unfortunate day finally happened Saturday. Starting quarterback Garrett Grayson went down with a broken collarbone and McPeek's number was called.
"He just came in and he didn't seem rattled just like we thought," CSU coach Jim McElwain said following the Rams' 42-21 loss to Air Force.
McPeek wasted no time and seized his opportunity on his very first pass tossing a 55-yard touchdown pass to wide receiver Lou Greenwood to start the second quarter. It was his first touchdown pass since 2007.
"It felt pretty good," he said. "We knew what we were going to get, the corner just fell down, Lou beat him, end of that."
The first half couldn't have gone any better for McPeek. He completed 11-of-15 passes for 151 yards and two touchdowns.
"I took what the defense gave me," McPeek said. "We moved the ball pretty well. I liked the little bit of a spark, we made some big plays."
The second half was a different story. CSU trailed 35-14, forcing McPeek to throw the ball, and feel the need to make plays. The Rams were driving on their first possession of the second half into Air Force territory when McPeek threw an ill-advised third down pass that was intercepted.
"They changed their defense up, they schemed stuff up a little bit different and I forced throws, that's about all it comes down to," McPeek said.
Again in the fourth quarter McPeek forced a pass downfield that was deflected by two different Air Force defenders before getting intercepted.
On the sideline Grayson watched in a sling as his backup struggled in his first college game.
"Anytime I saw a mistake that he made I just came up to him as soon as I could and try to tell him, 'don't worry about it, they're behind you,' and I wasn't the only one," Grayson said. "There's no doubt in my mind that he's not out there just going with the flow, I mean, he knows the offense like the back of his hand, he knows it just as well as I do, so I'm not worried about him leading the team at all."
McPeek finished the game 22-of-34 for 292 yards with two touchdowns and two interceptions.
"Going forward I need to make a little bit better decisions, you know, drive killers with the picks and stuff," he said. "I got to put the team in a better position to score every time."
Grayson will likely miss significant time leaving the Rams' offense in McPeek's hands. For the first time in a little over 1,460 days he won't be the backup — he'll be the guy.
"Not a whole lot changes, just who I get the reps with now. You have to prepare every week like you're the starter," McPeek said. "There's not a huge jump going from the ones to the twos. I feel comfortable with everybody going in there. We have players and we can make plays, so there's not a big gap at all."
Sports Editor Cris Tiller can be reached at sports@collegian.com.