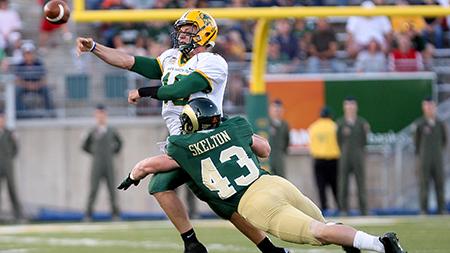 The Sistine Chapel wasn't built in three weeks, and the CSU football team won't be either.
"Think about those great painters. Think about those guys who put all that time into making those masterpieces," CSU coach Jim McElwain said. "In the creation of things that are great, in the creation of things that are consistent, if you don't take care of those tiny little brush strokes all the sudden the Mona Lisa doesn't look the way it does."
McElwain talked in length during his weekly Monday press conference about the continuing development of the program following a 40-20 loss to San Jose State Saturday. He compared the process to painting a masterpiece, where each detail is important to the final product.
In his mind CSU's masterpiece is just starting and growing pains are expected.
"There's a lot of good things that we did, and I do believe that we're truly headed in the right direction," he said. "The easy thing to do is always just lop it on the players. That's not who I am. I will never do that. I believe in these guys. I believe in the vision we have and I believe in the process we have."
The Rams did see progress in areas Saturday cutting down on penalties and flashing signs of potent offense in the hurry up. There were also signs of resiliency after getting behind early in the first quarter 14-0, which CSU responded to with two touchdowns of its own.
"We've made strides over the past couple of weeks to really get (communication) down, so that's one little detail," offensive lineman Brandon Haynes said Monday. "In the past we would look at the whole, huge situation versus now we're focused on the detail, one thing at a time. It's really helped us to have a better focus on what's important."
Development, however, isn't without struggles.
"It is never good to lose…and personally I'm not used to it, but I also understand within the process, and what it takes to build it," McElwain said. "You don't go and all of the sudden (create) radical change."
The pain of losing is known all too well by this group of players, but it only reinforces McElwain's message of commitment.
"Well if it doesn't hurt as a player and if it doesn't hurt as a coach, I think you're doing the wrong thing," sophomore safety Austin Gray said. "You're in the wrong profession or playing the wrong sport because that just shows you're not competitive. We gotta just use that hurt and turn in into positive energy."
McElwain looks at the pain as an unfortunate, but necessary brush stroke in his masterpiece.
"I saw the hurt in their eyes after the game. I mean this hurt, that's part of it, it's gotta hurt. It's gotta be a bad taste," he said. "Yet you can't dwell on it…but there's also a time of grieving that's healthy. You can't deny the bad taste, so let's reflect on what caused the taste and let's try not to have to taste it again.
"(Winning programs) all have that same foundation, the same basis, they all worry about that one brush detail that makes this a masterpiece, and not just a felt Elvis."
Sports Editor Cris Tiller can be reached at sports@collegian.com.