CSU football's offense still searching for an identity following the Rocky Mountain Showdown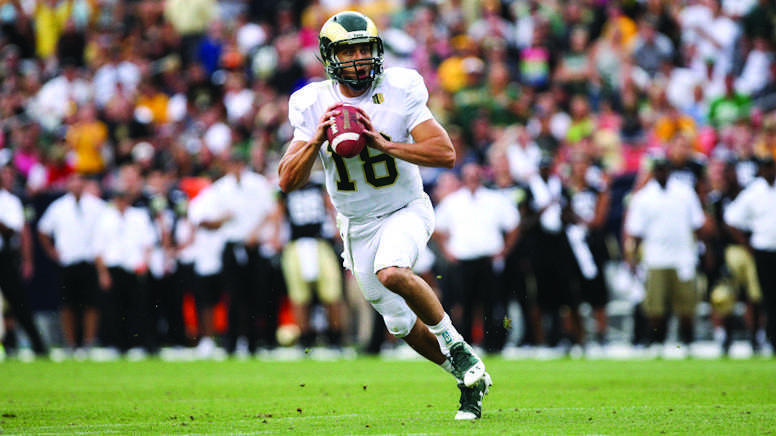 CSU quarterback Garrett Grayson is one cool cat. Ask anyone.
"He's always poised, that guy's not going to show any real emotion," center Weston Richburg said. "He's a great leader. He's a cool customer in the huddle, which is great to have."
Grayson, a sophomore, started only the fourth game in his young career against CU-Boulder in the Rocky Mountain Showdown Saturday earning his first victory. But his day was marked more by the plays he didn't make.
"Going back, I was really happy with how he took care of the football. I thought that was really good," said CSU coach Jim McElwain at his weekly press conference Monday. "I think he made good decisions and choices. Not to take a sack, throw it away if it's not there; take a check down when the check down's there. All those things that are in the progression of a quarterback, I think, is monumental."
For the first time Grayson made it through an entire game without turning the ball over helping the Rams beat their bitter in-state rivals. Grayson threw efficiently completing 66 percent of his passes (14-for-21), two touchdowns and yes, no interceptions.
"I'm more confident than I've ever been in my life," Grayson said. "I told everybody before the game, I've been playing football since I've been four and I've never felt like I've had real brothers in my life, and I go out there and I play for them and they're all confident in me, hopefully, and I'm confident in them 100 percent.
"Hopefully I have many more of these games."
Grayson's flat line demeanor in the huddle has gained something arguably more important than yards on a stat sheet—their trust.
"You feel comfortable. You know that Garrett's going to get you the ball when he needs to get you the ball," wide receiver Marquise Law said. "You just feel confident in him, and it's great to have him so calm. You just believe in him."
While Grayson made steps toward becoming a more confident football player, there were problems with the CSU offense. Problems both coaches and the players identified.
"We did not play anywhere near where we need to play. Our execution was horrible," McElwain said. "We left a ton of yardage on the field. We need to create some explosive plays…we didn't get enough of those. You play the game to find out your deficiencies or things you need to work on, and obviously that's something we need to get better at."
The Rams struggled to convert third downs going 5-of-15, and couldn't find ways to run the ball at points in the game averaging a low 2.8 yards per carry. But despite all that, CSU did find the building blocks needed to create an identity on offense.
"You gotta start somewhere. I don't even know if I expected us to do as well as we did," Richburg said. "We gotta work on the run game, stickin' on our blocks, pass protection. We're gonna have to get in the film room and prepare for next week and continue to kind of mold together and get everybody on the same page."
Last week is now in the rearview and the focus on CSU's next opponent North Dakota State. The FCS National Champions from 2011 gave up just 12.7 points per game, including wins over Division-I schools Minnesota and Kansas the past two years.
"We only have one win so far," sophomore Charles Lovett said. "So we can't hold our heads too high right now."
Sports Editor Cris Tiller can be reached at sports@collegian.com.