CSU football's offense looking for answers in preparation for Utah State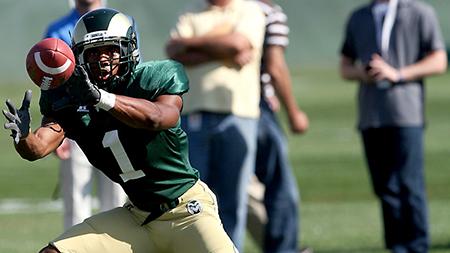 When the CSU offense and quarterback Garrett Grayson take the field Saturday night against Utah State, they will be challenged not only to put points on the board, but also to keep the sophomore quarterback off the turf.
Utah State comes into Fort Collins boasting the No. 15 ranked scoring defense in the country, and they do it by applying relentless pressure to opposing quarterbacks.
"That's a big thing for us every week," Utah State linebacker Zach Vigil said. "As a defense, we always want to pressure the quarterback. Generally if the quarterback's pressured, they're gonna make poor decisions, and that's gonna help us in the long run."
Utah State's success early on has come in part because of the confusion they cause opponents thanks to a complex defensive line scheme that attempts to trick quarterbacks into making big mistakes.
"When you're going against a D-line like Utah State has, you've gotta get rid of (the ball) quick, and make it easy on the O-line," Grayson said. "That brings confidence in them, when you're getting the ball out, they think they're doing their job."
So far in 2012, Utah State has held opponents to a 17 percent conversion rate on third downs, an area of particular difficulty for the Rams, who have attributed much of their early struggles on offense to their inability to convert on third down.
The Rams have been held to just a 27 percent conversion rate on third down, a trend they want to buck in hopes of getting their first home win of the season Saturday.
Much of the third down struggles for CSU has been because the Rams have gotten in third-and-long situations, which they can't convert.
In last week's 40-20 loss to San Jose State, the Rams got into a third down and five or more yards on seven separate occasions, failing to convert on five of them.
The Rams will strive to prevent getting into third-and-long situations with the help of running back Chris Nwoke, who will be making his return to the field Saturday night after sustaining an ankle injury in the second half of the Rocky Mountain Showdown in week one.
Nwoke was a key contributor for the Rams' offense in 2011, leading the team with 1,130 yards and 9 touchdowns, while averaging over five yards per carry.
"He's a great running back, good player, he does everything right," said CSU offensive tackle Joe Caprioglio. "But also he's a pretty good leader too, so on top of both those things, it's always good to have him back."
Having their star running back on the field again will be a major positive for CSU. But the biggest area of concern for the Rams and their offense so far this season has been the inability to put together long scoring drives on a consistent basis, despite their two touchdown drives of over 70 yards last week against San Jose State.
"It definitely helps us know that we can do it," Caprioglio said. "But we're definitely not happy with it until we can really start being consistent, and that's our biggest thing right now is trying to get consistency."
Football Beat Reporter Andrew Schaller can be reached at sports@collegian.com.