CSU football not overlooking defending FCS National Champion North Dakota State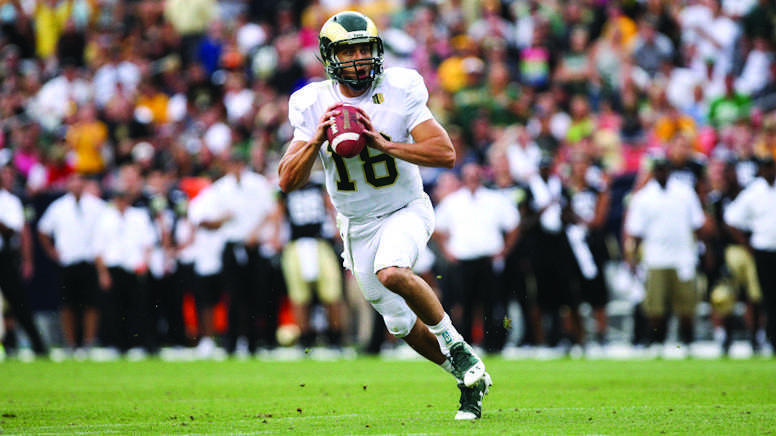 For the second time in as many years, the CSU football team will take the field against a Division-I Football Championship Subdivision school after a season-opening victory the week before.
This year, however, the Rams will face the defending FCS National Champion North Dakota State, a team that has defeated five FBS teams over the since moving into the FCS in 2006.
"Our players are excited about going up there and facing a challenge," North Dakota State coach Craig Bohl said. "Any time you play an FBS school that has more scholarships, bigger budgets, more coaches and everything else, you're up against an uphill fight, but our guys are looking forward to that challenge."
CSU coach Jim McElwain has preached to his team all week that even though North Dakota State plays at a lower level than the Rams doesn't mean that they will not have a tough task on their hands Saturday afternoon.
"They're a team that can make you look silly because of how hard they play and how disciplined they play," McElwain said. "Their track record proves it. They've done a fantastic job (and) their city has really embraced that team."
Solid play on both sides of the ball no matter who it plays has been a trademark of North Dakota State during Craig Bohl's tenure as coach and the blueprint has not changed so far this season.
While the Rams were celebrating their first victory in the Rocky Mountain Showdown in three years on Saturday, North Dakota State was shutting down Robert Morris University's offense en route to a 52-0 victory.
"They're a damn good football team, we can't overlook these guys," CSU quarterback Garrett Grayson said. "They play hard, they play fast team defense, everybody's rallying around the ball. …They're just a well coached team, you can see that on film."
CSU will be faced with a team that excelled on both sides of the ball last week on Saturday as North Dakota State rushed for 246 total yards and four touchdowns last week.
The Rams did a good job in stopping the rush last week, holding CU-Boulder to only 58 yards rushing last week, a trend the team knows they will need to continue if they hope to avoid an upset this weekend.
"I think it's gonna be a similar game plan stopping it," defensive tackle John Froland said of North Dakota State's rushing attack. "But it's gonna take  a lot more effort from us and we've gotta play a better game.
They're a better team and we really gotta work hard this week to make sure we're on top of all our stuff so we can't afford any mistakes this week."
Football Beat Reporter Andrew Schaller can be reached at sports@collegian.com.