CSU football looking to bounce back in first road game against San Jose State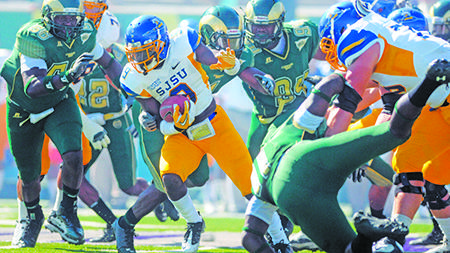 Coming off a disappointing loss in its home opener last week, the CSU football team is looking to right the ship this Saturday against San Jose State in San Jose, Calif.
The Rams are coming off an embarrassing 22-7 loss to North Dakota State of the Football Championship Subdivision, formerly Division I-AA, just seven days after CSU defeated its arch-rival CU-Boulder in week one.
"I do think we went into that game a little bit too confident," CSU quarterback Garrett Grayson said. "I still think the D-1 AA thing kind of, inside we kind of overlooked that…we wanted to go undefeated and that was the goal and it came back to bite us."
The Rams will likely not be overlooking the game this weekend, as the Spartans in 2012 have performed well on offense in their first two games.
San Jose State narrowly missed the opportunity to upset No. 21 Stanford in week one and has scored 59 points over their last six quarters of play. The Rams' defense will be looking to get into the backfield and play better team defense in order to avoid a two-game losing streak at the beginning of the young season.
"(We've) got a little bit different of a game plan this week," CSU linebacker James Skelton said. "We're over last week and we've been practicing hard, people have been flying to the ball, so I think we've gotta rally around the ball carrier and it'll be big for us."
One player the Rams will likely need to key in on this Saturday will be San Jose State wide receiver Noel Grigsby.
Grigsby, who needs just three more receptions to top the Spartan's all-time receptions record, has caught 13 passes for 168 yards and one touchdown in 2012 and is a player opponents always need to account for when the Spartans are on offense.
"He doesn't drop anything," said San Jose State coach Mike MacIntyre. "He's just a phenomenal player, has great hands and he's kind of, he's sneaky if that makes sense. When you watch him play you say, 'how did he catch that, how did he get there?'"
Keeping an eye on Grigsby will be a large part of the Rams' game plan Saturday, but the first true road game for CSU provides even more challenges for a young team.
McElwain has stressed that he and the rest of his coaching staff have the Rams focused to atone for last week's debacle against North Dakota State, and avenge last year's 38-31 loss to the Spartans.
"We're going on a business trip and that's it," CSU coach Jim McElwain said. "(We) understand the reason we're there is to play a ball game and represent Colorado State in a positive manner, so they're learning how to do that and it'll be exciting to go do it."
Football Beat Reporter Andrew Schaller can be reached at sports@collegian.com.