CSU football gets out-dueled in first road loss against San Jose State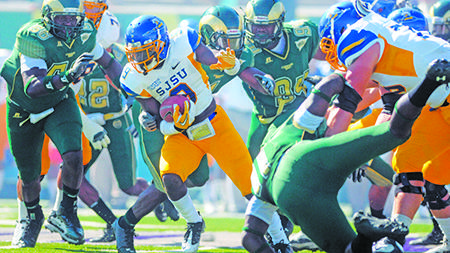 Despite a 40-20 loss against San Jose State on Saturday night, the Rams and their maligned offense actually performed relatively well for most of the game.
Offensive struggles have plagued the Rams during the first two games of the year, with CSU putting together only three touchdown drives against CU-Boulder and North Dakota State.'
But after falling behind 14-0 at the end of the first quarter to San Jose State on Saturday night, the Rams' offense suddenly came alive.
CSU put together two consecutive touchdown drives in the second quarter, capped by a 15-yard touchdown run by quarterback Garrett Grayson and a 28-yard touchdown pass from Grayson to Kivon Cartwright.
The Rams got some big plays on offense during the game, but still struggled to convert on third down, capitalizing on only 4 of 12 third down opportunities.
"When they went up early on us, you know, we hung in there, we kept playing," CSU coach Jim McElwain said. "I think that was a positive, and you know third downs and explosive plays that's probably the story of the game."
CSU went into the half trailing San Jose State 17-13, but the Spartans' offense in the second half proved to be too much for the Rams.
After the Rams had a three-and-out to begin the third quarter, San Jose State and quarterback David Fales took the ball 98 yards on a back-breaking 6:19 touchdown drive that was the beginning of the end for CSU.
The Rams' defense, which has usually made opposing quarterbacks feel uncomfortable in the pocket, mustered only two sacks of Fales on the day, and recorded no quarterback hurries.
With time in the pocket to find open receivers, Fales had a career day, throwing for 370 yards while getting three different receivers over the 100-yard mark in the game.
"I'm really impressed with this quarterback," McElwain said. "This guy puts it where it needs to go, you can tell he's in rhythm and knows exactly what they're asking him to do."
Fales and San Jose State's high-flying offense made life difficult for the Rams' defense, keeping them on their heels all day and giving the Rams a challenge they hope will prepare them for the rest of the year.
The Rams have shown flashes of solid play on offense and defense throughout the season, but have yet to play one complete game on both sides of the ball, something they will need to do if they plan on improving upon their 3-9 record from last season.
"I think we got a little better today, I really do," McElwain said. "We missed some open creatures running around out there. We've gotta hit those you can't leave that much offense on the field. You just can't leave it out there and expect to win."
CSU will return to Hughes Stadium next week to face Utah State Saturday at 5 p.m. MT.
Football Beat Reporter Andrew Schaller can be reached at sports@collegian.com.