CSU football's young, talented secondary a strength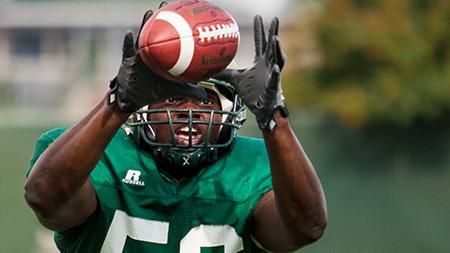 CSU football's young, talented secondary a strengthCSU coach Jim McElwain searched for the perfect blend of youth and experience throughout fall camp. With a spring and fall's worth of practices under his belt, McElwain believes he's found that winning formula in the Rams' secondary.The back end of CSU's defense features three underclassmen and one senior with a combined total of 34 games played, 56 tackles and three interceptions in 2011. And that's with one starter who sat out the entire season with a redshirt: safety Trent Matthews.
The Rocky Mountain Showdown will mark the first start of Matthews' career and butterflies will fly freely in the moments leading up to the game.
"(There will be) a little bit of nervousness, I mean first game comin' from a redshirt," Matthews said. "One thing that I would probably say that helps me is I'm out on the field with my brothers."
One of those "brothers" helping Matthews handle the jitters of his first game is senior Momo Thomas. Thomas enters his fifth year with CSU after missing most of 2010 with shoulder surgery and a medical hardship waiver from the NCAA.
"With Trent (Matthews), we've told him, 'You've got to play a big role for us. We need you on the field. We don't have time for you to wait until next year to get better'," Thomas said. "He's going to step up for us and make big plays for us this year."
After five year's worth of teammates, Thomas is seeing a new type of commitment compared to previous units.
"(The secondary is) looking good to me. We're going to build a lot of trust back there," Thomas said. "In film, I'm seeing guys taking more notes than we've ever taken before. Guys are locked in and paying attention and wanting to learn."
Notes have become a necessity for the Rams these days as McElwain and co-defensive coordinator Al Simmons and Marty English are asking the defense to run difficult coverage scheme.
"The complexity of what we do from a pattern read system, which is kind of advanced thinking, there's a lot of work that goes into pattern reads," McElwain said. "I think that they're doing a good job. I'm proud of them. Coach Simmons has done a great job coaching them and they'll be ready to play."
Still, the players don't care what the defense is called because it comes down to making plays on the field in games. With a defense that ranked No. 85 in both total defense and turnover margin last season, preparation is everything.
"Defense is going to be defense. It's not what type of defense we run, it's the players and how percent effort do we put in," Matthews said. "We practice a lot of situations in practice…of how to think before the ball is snapped. Getting us mentally and physically ready for that third down situation, so I think that's helping us a lot every day."
Sports Editor Cris Tiller can be reached at sports@collegian.com.