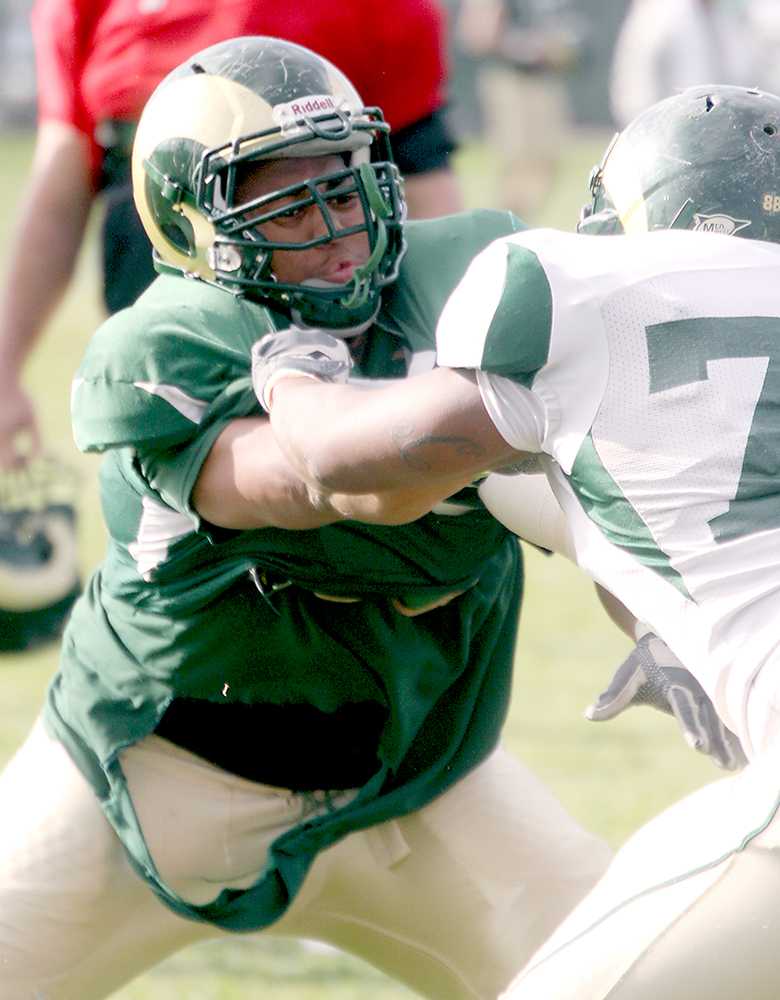 Memories of last year's loss to CU-Boulder bring up sore memories for offensive tackle Joe Caprioglio.
It wasn't even the 28-14 loss that was hardest to swallow for the fifth-year senior as he recalled that fateful day nearly one year ago. It was the injury to his ACL and a lost season which stung.
When spring football came around, he was still left to watch as the offensive line struggled.
"It was hard, but not nearly as hard as last fall," Caprioglio said.
Injuries to Caprioglio and Jared Biard left the offensive line devoid of bodies, forcing guys to play more snaps than usual and it showed on the field. The Rams' line lost a lopsided battle in the trenches, surrendering 27 sacks in the the team's first scrimmage.
With Caprioglio and Biard back for fall camp, the offensive line made significant progress since April.
"We've added a lot of depth with the three guys that were injured and didn't take a lot of snaps," coach Jim McElwain said. "You add three guys, especially two that are considered starters, and take them out you're gonna struggle."
McElwain pointed to spring as an opportunity for players to get quality reps where they otherwise wouldn't. He said the improved line, top to bottom, allows him to play an eight man rotation during the season.
The guy happiest to have a healthy, deep front five is quarterback Garrett Grayson.
"It's night and day difference from spring till now," Grayson said. "Having Joe and Biard back is great. It makes it easier on me and I think it makes it easier on them too because I'm not so worried about the defensive line gettin' to me. I'm looking down field and making reads quicker and so they don't have to block for as long."
The biggest strength of CSU's offensive line is preseason Outland, Rimington, Lombardi candidate Weston Richburg. The 6-foot-4, 297 pound center is widely considered one of CSU's best players and a sure-fire NFL caliber offensive lineman.
"It all starts up front in the middle," McElwain said. "That's where all the calls are started and echoed inside out, so having a guy that's played as many snaps as he has is huge."
Even Grayson has gone home with tales of Richburg's tenacity at the point of attack.
"I always tell my dad and family he's got the offensive line mentality, that mean streak, he wants to bury people into the ground, so he's a guy you love to have up there," he said.
With a new season quickly approaching, Caprioglio and the rest of the offensive line can lead the way to erasing the memory that's haunted him since last fall.
"We have a lot of guys with games under their belt, so I definitely feel like we can be (the strength of the team)," Caprioglio said. "Now that we have all the plays kind of wrapped up and starting to understand everything well, you can see it kind of coming together."
Sports Editor Cris Tiller can be reached at sports@collegian.com.