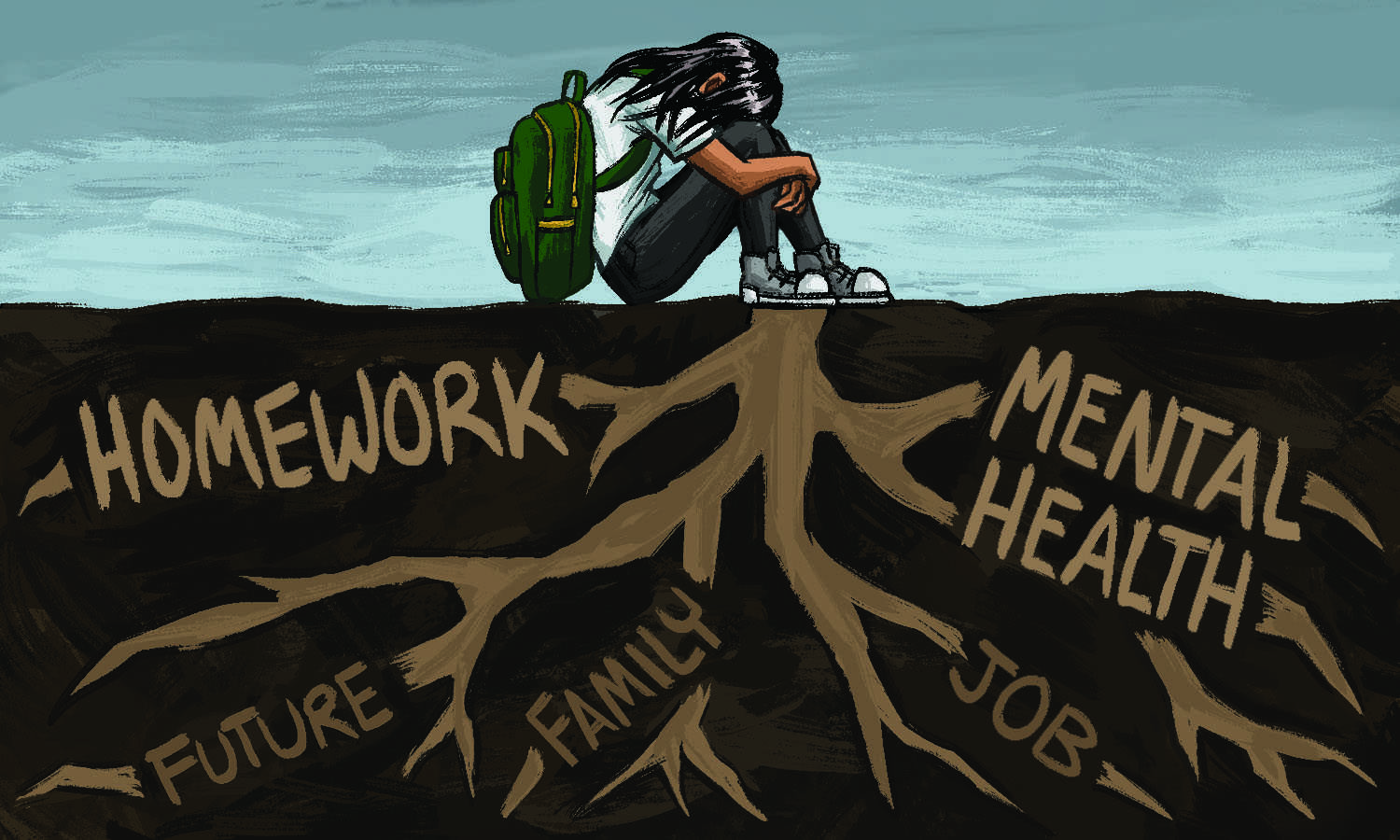 About 14 months ago, on the day the very first case of COVID-19 was reported in the United States, the country had already been waging a long and quiet war with another pandemic — one students today are deeply familiar with: the mental health crisis.
Over the last 20 years, the U.S. has ignored rampant mental health issues, but unlike COVID-19, the mental health crisis has especially cost the lives of teens and young adults, according to the Centers for Disease Control and Prevention.
Long before Colorado reported its first case of COVID-19, the state had been facing youth suicide rates drastically higher than the decade before, according to The Denver Post. 
Now, more than a year into the pandemic, public health officials continue to hear mounting concerns of the damage this past year has caused for the mental health of young people, particularly students. 
That support is still there, but having Zoom calls doesn't feel like the same kind of a safe space. It's definitely harder."-Leah Winningham, president of Ram Recovery
"Students are getting the backend of everything right now," said Shu Lee, a 2020 University of Colorado psychology graduate and previous president of CU's psychology club. "You don't have ways of learning how to cope and motivate yourself. It's so hard." 
Lee, who has personally coped with and worked in the field of youth suicide prevention since her early high school years, said the stressors of the pandemic "put her mental health back to a place it hadn't been in years." 
Her experience is far from an outlier, echoed by college students across the U.S. A CDC survey from August 2020 found that about 41% of U.S. respondents had struggled with mental health issues stemming directly from the pandemic, but the distribution of that suffering has been concentrated on college-aged students.
Of the respondents stating they've struggled with COVID-19 induced mental health stressors, about 75% were between the ages of 18-24. 
Lee said she's particularly concerned about students entering college. 
"I'm really worried about the increase in depression and anxiety rates because people don't understand the challenge of transitioning into college," Lee said. "Students didn't and don't get the same experience. How do you meet people and build a support system?" 
In a generation where a survey by the American College Health Association found that 41.9% of students had "felt so depressed that it was difficult to function," community support systems are crucial for students already facing the growing threat of mental health challenges.
Leah Winningham, president of Ram Recovery, said she's concerned about the loss of the in-person group support systems which exist at the core of many mental health and recovery programs. Her club, which helps guide CSU students through addiction recovery, has seen far less membership than normal. 
"I was told I'd be meeting 10-20 people every week (and) supporting them through this program," Winningham said. "I'm not getting that kind of participation from students." 
In the context of students coping with addiction while still facing the party pressures of college life, Winningham is worried students don't have the support they need to seek recovery help. 
"It's about having people around you who are walking down the same path you're walking on," Winningham said. "That support is still there, but having Zoom calls doesn't feel like the same kind of a safe space. It's definitely harder." 
Earlier this year, Lisa Carlson, immediate past president of the American Public Health Association, spoke in an interview with CNN about the immense number of traumas students witnessed play out during the pandemic. 
Students lost jobs, career-forming internships, time to grow and explore; at their worst, students lost people they loved. And even after society reaches a post-pandemic world, experts like Carlson are worried about the lasting impacts of isolation and trauma students experienced.
"We don't have a vaccine for our mental health like we do for our physical health," Carlson said in the interview. "It will take longer to come out of those challenges."
But among all that students have lost and are being forced to cope with unsupported, there may be a silver lining. 
Unlike the rapid response most of the world has undertaken to resolve COVID-19, the mental health crisis has long been an ignored public health issue, even despite years of calls from impacted communities and behavioral health workers to explore and help combat rising rates of depression, anxiety and suicide. 
Now, with suicide prevention and crisis lines across the country seeing jumps in activity during the pandemic, and families from across the spectrum of culture and geography in mourning, the pandemic might have been the push needed to shift the stigma and make mental health care a priority. 
"We've seen a lot of students join the club," Jessica Sherwood, president of Active Minds at CSU said, whose goal is to raise awareness of student mental health and suicide on college campuses.
"Underclassmen aren't finding community," Sherwood said. "They want to help."
Lee thinks this might be the turning point her, and the work of many others in suicide prevention, has been about. Lee said the one justice COVID-19 has done is create open conversation about mental health and its importance.
"Hopefully COVID(-19) will go away, but mental health doesn't," Lee said. "It's normalized not being okay, and it's horrible it took this much to reach that point. But it's huge. We've never gotten there. I think that's kind of incredible." 
Sam Moccia can be reached at news@collegian.com or on Twitter @SamuelMoccia.