How students and faculty can get the COVID-19 vaccine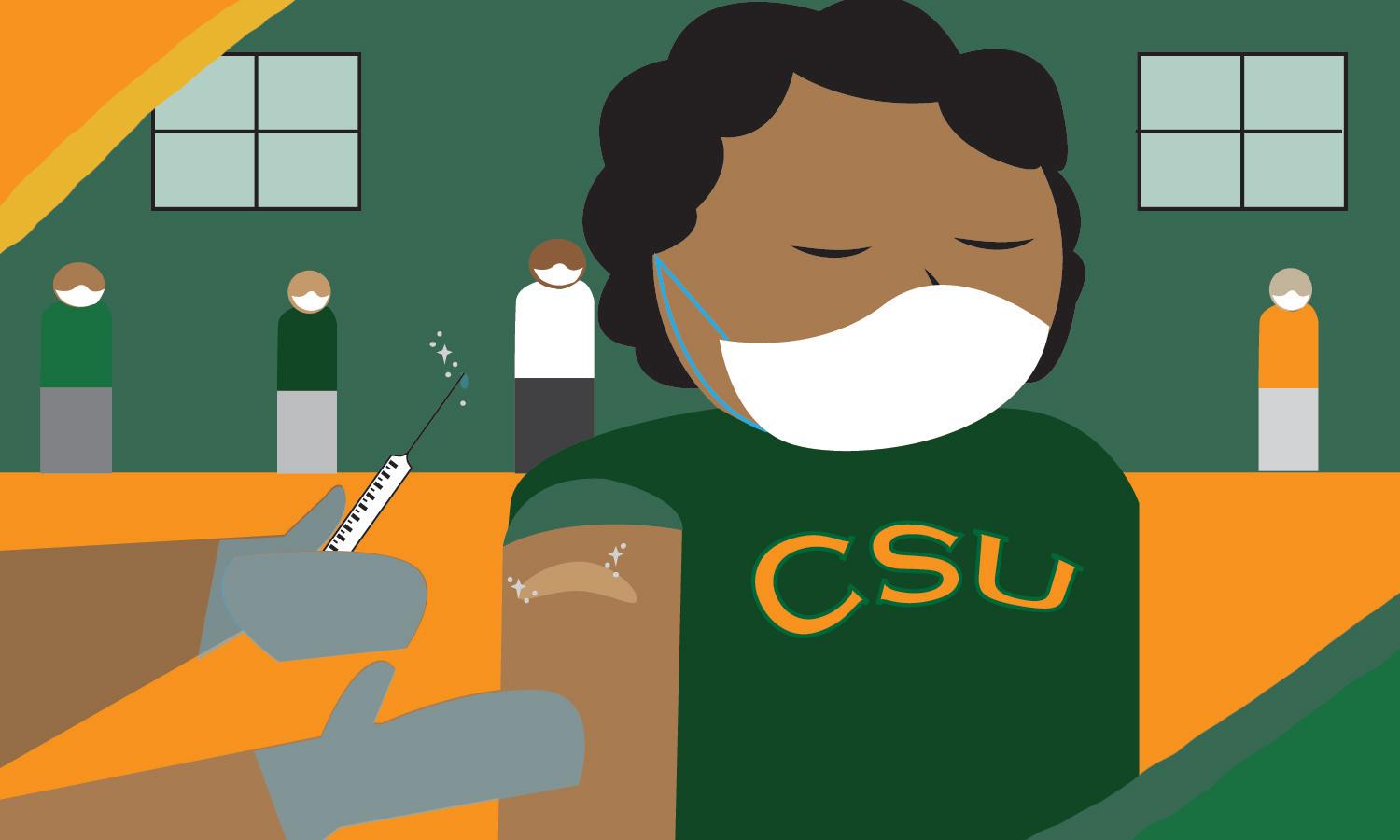 After more than a year of waiting, some CSU faculty and students are eligible to receive the COVID-19 vaccine.
Colorado recently moved into Phase 1B.4 of distribution of the COVID-19 vaccine. This means that people providing face-to-face services in higher education are now eligible to get the vaccine. This includes CSU instructors teaching in-person classes and front-facing faculty, such as CSU's Housing & Dining Services staff and people researching COVID-19.
"The vaccine isn't mandated, but we are really encouraging everybody to take the vaccine and to get the vaccine at the first opportunity that they can," Lori Lynn, executive director of the CSU Health Network, said.
CSU is currently receiving small quantities of the vaccine. Lynn said that last week the campus received 100 doses.
It's highly effective, and it's becoming more readily available. So now is the time to start thinking about getting that vaccine and scheduling an appointment." -Lori Lynn, CSU Health Network executive director
"We are, at the Health Network, trying to prioritize that vaccine for those individuals who we think are at the highest risk," Lynn said. "We are trying to get them vaccinated quickly and that would include students with some of those prior conditions."
Lynn explained that the health department worked with the registrar's office to identify faculty and staff who are working in-person and eligible for the vaccine.
The CSU Health Network is also trying to connect students and faculty with COVID-19 resources. The Larimer County website and CSU's COVID-19 website both have links to where people can register to get vaccinated.
The COVID-19 vaccine will help return operations at CSU to normal. Lynn said herd immunity will decrease the spread of COVID-19 in the community once enough people get vaccinated. That will help "return life to a more normal state," Lynn said.
"I really encourage everybody to consider taking the vaccine," Lynn said. "It's highly effective, and it's becoming more readily available. So now is the time to start thinking about getting that vaccine and scheduling an appointment."
When it comes to vaccine requirements, CSU is not planning on requiring students or staff members to receive the shot, according to CSU's COVID-19 information page. However, some employees working in certain environments, such as the Health Network, may be required to receive the vaccine. 
"Because (COVID-19) vaccines have received an emergency use authorization from the federal government, and due to Colorado law stipulations, some options exist for opting out of the vaccine within the confines of the law," the website said. 
The website also said that any CSU student or employee who chooses not to receive the vaccine may be required to take extra public health precautions even if public health guidance changes.
According to Dell Rae Ciaravola, public safety and risk communications manager, CSU will not be a primary source of vaccines for students, staff or faculty. 
"So (there are) no plans for a mass clinic to vaccinate those people," Ciaravola wrote in an email to The Collegian.
Starting April 2, COVID-19 vaccines will be available to the general public, according to a press release from Colorado's official state web portal. All Coloradans over the age of 18 can receive any vaccine, including the Moderna or the Johnson & Johnson vaccine, and Coloradans over the age of 16 can receive the Pfizer vaccine, according to the press release. 
"In order to meet its ambitious vaccination goals and get shots into arms as quickly as possible, Colorado has launched five Vaccines for All Community Vaccination Sites," the press release said. "Depending on supply, a maximum of 6,000 doses per day will be administered at each site, six days per week, for a total of 36,000 doses administered each week through the program. To date, 35,322 doses have been administered through these sites."
Those who are interested in receiving a vaccine can find out where and when to receive the shot on the Colorado Department of Public Health and Environment website.