Student seeks healing, takes stand through mural project
Laura Studley
January 28, 2021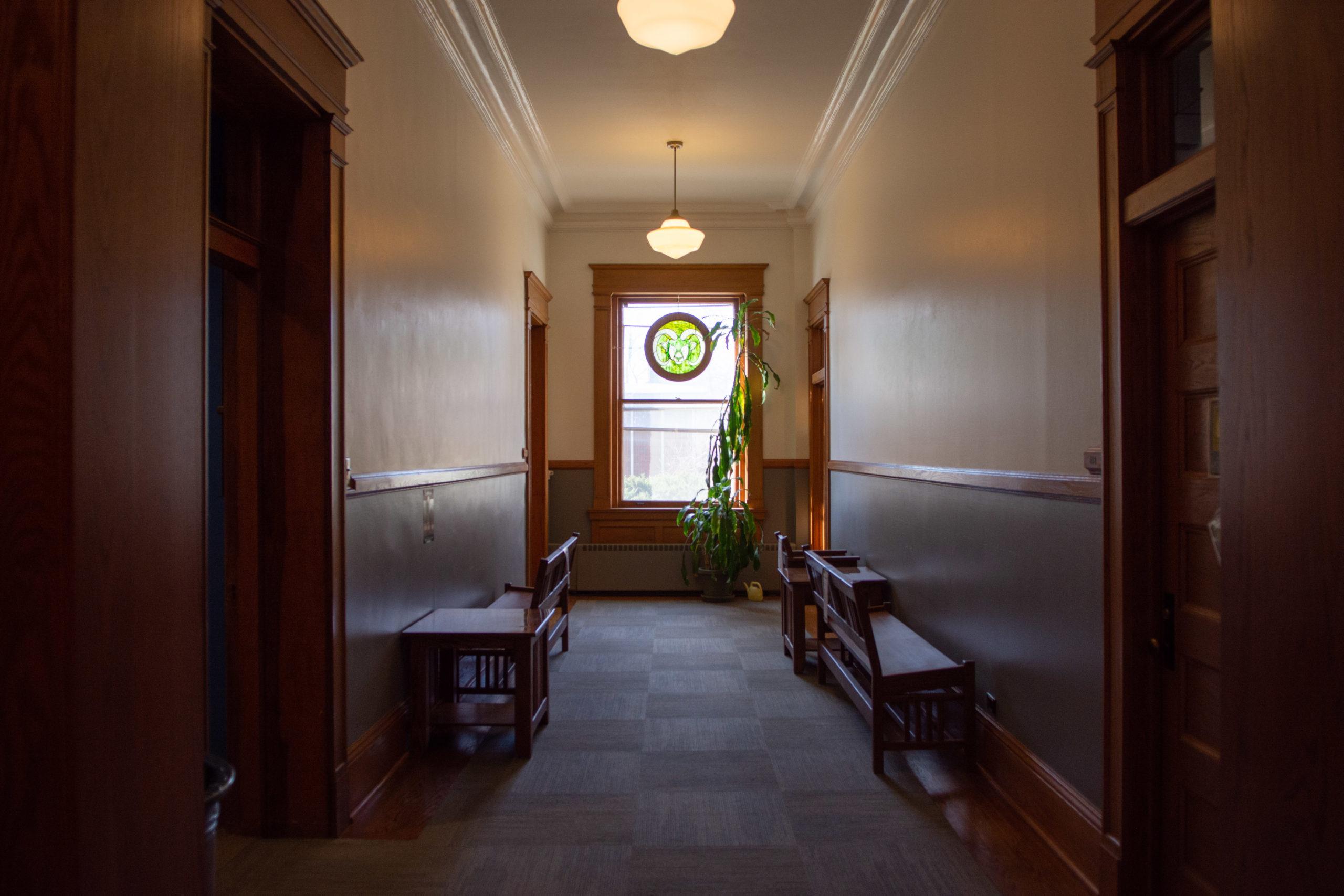 Editor's Note: Names of survivors have been replaced by pseudonyms to ensure their safety and privacy. The accused and other sources are referenced by their given names. 
After the multiple allegations leveled against former Colorado State University professor Ronald Holt, survivor Lacey Mitchell is taking a stand against her perpetrator. 
Mitchell, a former student of Holt's, has begun the process of attempting to put a mural up in the building he previously taught in. 
"I have this ongoing fantasy that I'm going to see women start putting their handprints on the wall, and I'm just going to start crying," Mitchell said. "It feels like we're getting to the end of this really long journey." 
Mitchell hopes that her mural will be placed on the wall where Holt's mural once stood. There were a total of three murals Holt had painted — one dating back to August 2010 and two from 2011.
[smartslider3 slider=70]
After a request was placed on Oct. 27, 2020, Holt's murals were painted over on Nov. 10, 2020, a day before The Collegian published an investigative piece about Holt. 
There were plans to paint and patch the three walls since last spring, but with COVID-19, the project got pushed back, according to CSU Police Department Public Information Officer Dell Rae Ciaravola. 
"The walls were painted over as part of routine maintenance for the area, including a renovation of a nearby classroom," Ciaravola wrote in a statement to The Collegian. "Again, the walls had not been painted for about 10 years, and they are in high traffic areas. We do not have a paperwork order for the request; we believe those conversations took place in person." 
The process to add new art to public spaces must be reviewed and ultimately approved by the Physical Development Committee. The approval process is governed by the University's Public Art Policy.
It felt like pushing a boulder uphill, even though it should've been downhill. It should've been easy, but it wasn't, trying to get everyone to actually care." – Lacey Mitchell, CSU student

However, the concept must first be presented to and approved by the dean of the specific college, the Vice President for University Communications and the Office of the President, according to the policy.
After approval happens, a proposal must be submitted and reviewed by the University Public Arts Committee. If approved, a recommendation is made by the UPAC to the PDC. 
[smartslider3 slider=71]
There are five things that need to be covered for the PDC to review: intent, duration, materials, size and specific location. After all factors have been assessed, the committee can "approve, approve with conditions or deny a proposal," according to Ciaravola. 
Construction Management Department Head Paul Goodrum and College of Health and Human Sciences Dean Lise Youngblade have been working on the project alongside Mitchell; however, The Collegian could not reach either for comment. 
In multiple emails received by The Collegian, allegations against the former professor have dated back to at least 2013, according to other survivors who wished to remain anonymous.
[smartslider3 slider=72]
Mitchell said that she wants to give closure to the women who have and have not come forward. She believes this mural will be a way that they can "silently feel justice." 
In Mitchell's mural design, there is a saying she wants to include below her graphic: "Watch what she can do." 
"I wish that while everything was happening to me, right as I left, and he's feeling on top of the world, and I'm feeling like shattered glass, I wish that there was someone next to me who would've been like, 'You better watch what she can do,'" she said. 
The phrase has been at the forefront of Mitchell's mind. She explained that survivors want someone to believe in them. By including this statement on the mural, Mitchell hopes that it can be a message to other survivors that she's going to be the one saying, "Watch what you can do."
Mitchell said she hopes to be the one to paint the mural, explaining that up until now, she's felt "stuck in place." 
"It felt like pushing a boulder uphill, even though it should've been downhill," she said. "It should've been easy, but it wasn't, trying to get everyone to actually care." 
She said that painting the mural will allow her to leave the headspace she's been living in since the beginning of her sophomore year and "finally … let it go." 
"It's just like an ongoing nervousness," she explained. "Will this work out? Will I just end up feeling more jaded? Will we get justice? And if we can get to that point where we actually do, we won. Then finally it's over."
[smartslider3 slider=73]
The mural has no expected date of completion at this time nor is there a guarantee that it will be placed in the building at all, according to Ciaravola, writing that "a decision has not been made as to whether or not a new mural will replace the previous mural." 
The construction department is currently seeking feedback from various groups on campus including faculty, staff and other students about placing a new mural in the building as well as Mitchell's design, according to Ciaravola. 
"At the end of the day, I want this (mural) to be a justice piece for (the survivors), but I want it to extend beyond that," Mitchell said. "There are also so many other (survivors) of other situations way outside of this one that don't get heard, that will never have that justice, so this mural can also serve them." 
Laura Studley can be reached as news@collegian.com or on Twitter @laurastudley_.