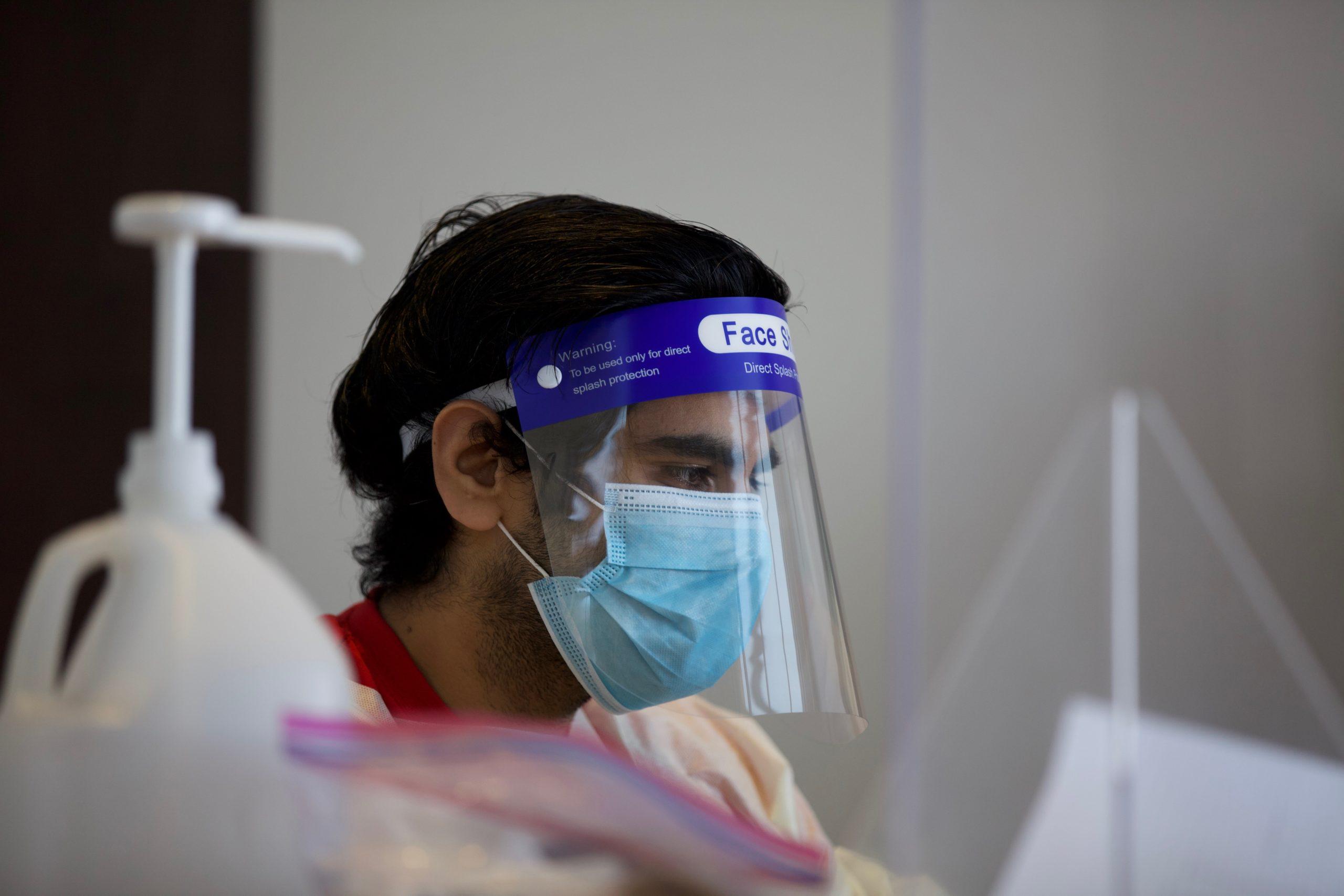 As Colorado State University goes into its second full semester of pandemic learning, University leaders updated the community on COVID-19 vaccinations, testing protocols, the spring schedule and policies through virtual town hall meetings on Jan. 21. 
Vaccinations
Though vaccine supply is limited and not yet available on campus, CSU has been able to provide vaccinations to about 350 staff members on campus, according to Lori Lynn, executive director of CSU Health Network.
Many of the staff came from the following areas:
CSU Health Network (about 100 staff members vaccinated)

CSU Police Department

Those working with the saliva and nasal swab tests

Researchers working with or around COVID-19 research
They were selected because their exposure risk to the virus qualified them for Phase 1A of the Colorado vaccination timeline. 
Lynn said they are now preparing for Phase 1B, which focuses on individuals 70 years and older, which accounts for about 200 people at CSU. 
On Jan. 12, Gov. Jared Polis announced expansion of the priority group to include people 65 years and older, according to CPR News. That will cover roughly another 350 individuals at CSU, according to Lynn.
Whether you're a student, a staff or a faculty member, we have succeeded in our ambitions to provide good education for our students throughout some periods of duress." – Kelly Long, vice provost for undergraduate affairs
Educators and frontline essential staff also fall in the later part of Phase 1B. Lynn said CSU is working to gauge those individuals by exposure risk, starting with those working on campus.
"It's a complex process," Lynn said. "We're working collaboratively with the state and the county to identify, as we work through these groupings, what's the appropriate order for those individuals."
Most college students will fall into Phase 3 of the vaccine rollout, which is not until summer.
Even if someone has been vaccinated, they are still required to adhere to the University's testing requirements. Lynn said this is due to a lack of information from state and national health departments about the vaccine's impact on testing.
COVID-19 Testing
All students, faculty and staff with a valid CSU ID can sign up for free saliva screening provided by the University as often as they wish, according to Marc Barker, co-chair of the Pandemic Preparedness Team.
Weekly saliva screenings are currently required for certain groups of people including:
All students living in residence halls

All those living in fraternity and sorority housing

First and second-year students in one or more face-to-face class

Faculty and staff who regularly work on CSU campus or other University grounds
Screenings take place at the MAC Gym, Monday through Friday from 9 a.m. to 5 p.m.
For students moving into residence halls when screening is not available, Barker said to limit exposure to others until getting screened as soon as possible.
For those experiencing coronavirus symptoms or who feel like they may have been exposed to the virus, Barker asks "that you report that through our COVID Reporter and then be directed as to next steps from our public health team," as opposed to going to one of the testing sites. 
CSU is working on expanding testing capacity by building three mobile testing pods, Barker said. With additional capacity, more groups will be added to the mandatory screening list, including upperclassmen and graduate students in face-to-face classes and students in hybrid courses. 
"Any student, faculty or staff member who's not required to screen may still participate in the screening, and that's really important to know," Barker said. "So if you end up not being in one of these required screening categories but you have a desire to screen, we would encourage you to participate in that screening."
In response to related questions, Barker also clarified that although the saliva testing is "pooled," if one sample in a pool tests positive, only the ones who test positive will be asked to quarantine.
Spring 2021 Schedule 
Education is still moving forward even as the pandemic continues. According to Provost Mary Pedersen, the CSU spring semester has three phases:
Phase 1: First week of the semester. All classes are held online. 
Phase 2: Starting the second week, classes previously identified as 100% face-to-face will be going in-person. Select hybrid courses, such as labs, will also be allowed to start in-person.
Phase 3: Start date unknown. The remainder of the hybrid courses may be able to move away from remote learning depending on Larimer County's health guidelines. Faculty will receive an update on when or if that may happen on Feb. 5.
Spring break is still pushed back one month from usual, beginning April 12, with all classes operating fully remotely afterward. 
In December of 2020, CSU had planned for about 32% of course sections to be face-to-face, 34% hybrid and 34% online only, according to Pedersen. 
Once again, students will have the option of choosing Satisfactory/Unsatisfactory grading this semester after grades are entered, according to Kelly Long, vice provost for undergraduate affairs. The University withdrawal period has also been extended to Jan. 31.
"Whether you're a student, a staff or a faculty member, we have succeeded in our ambitions to provide good education for our students throughout some periods of duress," Long said.