Update: Community responds to fake restaurant listing
Updated 8/22 and 7/31
Colorado State University students have responded to the fake restaurant listing, "Ch*ng Ch*ng House," with a change.org petition urging the Walter Scott, Jr. College of Engineering and Dean David McLean to discipline the students who created it.
The Google Maps and Yelp listings were deleted after conversations between CSU and the entities, said Mike Hooker, director of media communications and Denver outreach.
"These students have had a history of making attention-seeking controversial statements and defend it all as 'political satire.' There is a fine line between political satire and using racial slurs and overtly offensive 'jokes' to make a point," the change.org petition reads. As of Aug. 22, it had 804 signatures of the 1,000 signature goal.
The administrators of the account have responded to community allegations of racism, thanking page visitors for the publicity and stating, "It must be stressed that we, the proprietors, are Asian and support Asian culture. We cannot be racist against ourself!"
Some of these comments seem to be in response to the Instagram account @call_out_bigots, which has posted anger at the listings and offered $50 to anyone who could share the names of the creators of the account.
Another similar account was created, which claims to be a parody of the original listing.
In an email to the Walter Scott, Jr. College of Engineering community, McLean expressed dismay at the fake restaurant listing and highlighted the harmful impact they have on the community.
"To be a member of the WSCOE community means we care about people," McLean wrote. "We solve problems for people. We take the best ideas and innovation from as many places as possible for the best outcome, which means that we have zero tolerance for racism and hatred."
Melissa Burt, assistant dean for diversity and inclusion, reiterated the statements from Joyce McConnell's campuswide email and a statement from McLean, which notes that, while the students are protected under the First Amendment, the CSU community is still against their actions.
"Actions taken today in an online world will follow into the future, including for students into the job market, where there is rightfully a growing intolerance for those who act and speak with bias and hate," the message says.
There have been four bias reports on the incident between April 25 and July 29, which doesn't include any phone calls or emails providing information, said Mike Hooker, director of media communications and Denver outreach.
Students can submit online reports through CSU's Bias Reporting System, which are then reviewed by the Bias Assessment Team, which then will refer the report to different parties depending on the situation, according to a flow chart on the CSU website.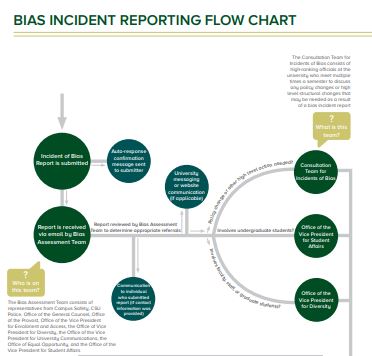 A biomedical engineering major who wished to remain anonymous says they have worked with McLean and Burt. While they commend the initial efforts of McLean and Burt, they said they would like to see more concrete action taken when students commit bias incidents.
"In prior incidents involving the College of Engineering, students have not faced any consequences," the student wrote in an email to The Collegian. "What does that tell other students? That they can get away with offensive and hurtful racial slurs to different communities on campus?"
Editor's Note: A former version stated a post on the restaurant's Instagram page had been removed. The post is now visible on the page. Statistical information has also been updated.
Abby Vander Graaff can be reached at news@collegian.com or Twitter @abbym_vg.