Council approves higher density zoning for Hughes
Samantha Ye
November 7, 2019
In a rejection of the rejection, City Council voted 4-3 to rezone the Hughes Stadium property with a higher density portion as suggested by staff and previously voted against by the Planning and Zoning Board.
The zoning splits the nearly 165 acres of land along the Overland Trail into roughly half Residential Foothills and half Low Density Mixed-Use Neighborhood. The north-south division places RF zoning, the less dense of the two, along the foothills. 
An RF zone allows for either single-family homes on minimum 2.29 acre lots or single-family home "clusters" with a density of one unit per acre. LMN zoning is still low density but allows for more housing types, including attached dwellings and townhomes. 
Councilmembers who voted for the split zoning focused on the potential to provide affordable or attainable housing options in the area or alleviating supply pressures throughout the City. 
Lennar, the developer contracted to buy the land from Colorado State University for $10 million, previously proposed to build 600-700 homes in the area. 
"Having the opportunity to get affordable and attainable housing is important, and our community has been asking for it, and this is where we can make an impact," Councilmember Emily Gorgol said. 
While City zoning itself does not consider or mandate affordable housing, City Comprehensive Planning Manager Cameron Gloss said a higher density zoning with more housing options like LMN could increase the chances that the housing will be priced attainably. 
After a zoning is approved and the development proposal itself is getting reviewed, staff and Council would have more ability to consider affordable housing. Gloss said if the developer comes with a "true certified affordable housing project," then they could get an additional density bonus, allowing up to 12 housing units per acre in an LMN zone.
Having the opportunity to get affordable and attainable housing is important, and our community has been asking for it, and this is where we can make an impact." -Emily Gorgol, City councilmember
Councilmember Julie Pignataro said there are many "coulds and cans" of what the developer can do for affordability and not many "woulds and shoulds" within the discussion. The "lack of ability with the tools in (the City's) box right now" means they cannot guarantee there will be attainable housing through zoning.
The fact that the future housing community will be desirable, given its proximity to desirable open space, probably means demand will drive those home prices up regardless of density, Councilmember Ross Cunniff said.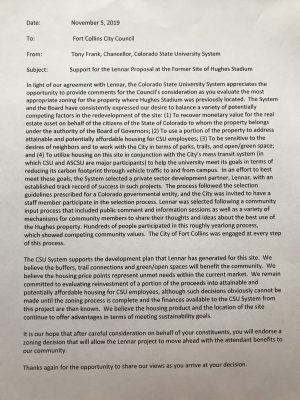 "Regardless of how we zone this, I believe that … factors outside our control dictate whether (the housing) is attainable or affordable," Cunniff said.
Mayor Wade Troxell pushed back against that idea. He said increasing the supply of housing, particularly those with density, will help with affordability. 
"Affordable" housing typically means rent costs less than 30% of the area median income. In Fort Collins, the growing economy and population have put pressure on housing costs. 
In a statement to Council, the CSU System wrote that their desire in the redevelopment of the site includes using "a portion of the property to address attainable and potentially affordable housing for CSU employees."
Nationwide, the housing shortage has raised the pressure on those trying to find affordable housing, according to Marketplace. And while there are some mixed opinions on how and where new housing should be built to address the shortage, housing advocates say it is important to build new affordable housing.
"I think you need to provide a variety of housing types and products," Troxell said. "The discussion with LMN provides for that type of diversity."
RF would be far more exclusive to attainable housing due to the large lot size requirement and limitation to single-family homes. Additionally, the low-density zoning would not lend itself to developing public transportation westward, Gorgol said. 
"RF is very exclusive," said Kristin Stephens, councilmember and mayor pro tem. "To me, it excludes a lot of people from buying a home, and that, to me, goes against the values of equity that we're trying to embrace here."
A 100% RF zoning was recommended to Council by the P&Z Board over a month ago, after they rejected the same staff plan that Council adopted at the Tuesday meeting. The Board had cited concerns about safety, traffic and density of the area.
Nearly 40 residents spoke at Council, either recommending the adoption of the P&Z Board recommendation or recommending to take on a completely new plan like purchasing the land for greenspace, bringing up similar concerns of safety and wildlife. In particular, residents underscored the natural qualities of the area they felt would be lost in a higher density housing development. 
Councilmember Susan Gutowsky agreed, having just visited the area to see how it had changed after the stadium was torn down. She said the land is precious and could not support the motion. 
But, barring a miracle of CSU donating the land for greenspace, Stephens said her plea is for the University to really commit to affordable housing in the area. 
"CSU of all places knows, as a big employer, the challenges many middle-income and lower-income folks face in our community," Stephens said. "And so I hope that they stick by their plans … to provide affordable and attainable housing in this space because our community really, really needs that."
Council Votes
YES

Wade Troxell (Mayor)
Kristin Stephens (District 4)
Ken Summers (District 3)
Emily Gorgol (District 6)

NO

Susan Gutowsky (District 1)
Julie Pignataro (District 2)
Ross Cunniff (District 5)
Samantha Ye can be reached at news@collegian.com or on Twitter @samxye4.