ASCSU discusses graduation tickets, campus initiatives
Charlotte Lang
March 27, 2019
The Associated Students of Colorado State University passed two bills and a resolution in addition to discussing a resolution that would submit possible solutions to graduation ticket restrictions brought to the Senate Wednesday night.
Senate discusses new legislation for graduation tickets
Milena Castaneda and Zelle Moore authored a resolution regarding graduation ticketing in the College of Health and Human Sciences. Castaneda and Moore recommended a revision to the current six ticket policy the college has.
Castaneda, a senator for the Native American Cultural Center, said that graduates of the college are allowed six tickets for their graduation. She said a majority of her class felt discouraged by this and have decided not to walk as members of their family won't be able to participate in the ceremony.
Moore, a student of the college, said that the six ticket policy led to confusion as to why other options weren't being explored for their families to come and that it doesn't recognize that most students are from Colorado.
Moore's argument for the resolution relied on the idea of equity and inclusivity as she said she's a first-generation student and is impacted negatively by this policy.
"They accepted my application five years ago but refuse to accept virtually who I am or the baggage that I bring," Moore said. "I have baggage of being a person of color who's first-generation. Studies have shown that people who are poor or are people of color tend to have more extended families due to lack of family planning and access to birth control."
Moore said if the University wants to continue to be a leader in diversity and accept more students every year, it needs to find ways that are going to accommodate those things.
One of the primary issues the Senate had with the resolution was that there was no clear plan proposed.
"This resolution is proposing or recommending that student fees be increased to fund a solution that has not been nailed down yet," Senator Ethan Burshek said.
Senate passes bill to fund business showcase, resolution against fraudulent service animals, LSC study area 
A previous bill that would seek to enhance entrepreneurship passed unanimously.
The bill would spend a maximum of $8,000 in order to fund event costs of the Venture Rams Business Showcase as hosted by the CSU Institute of Entrepreneurship.
The event intends to support entrepreneurs campus-wide by hosting a guest speaker with "broad, cross-campus appeal," according to the bill.
The Senate also discussed an older resolution to petition the Student Resolution Center to change their policy on service animals to protect students from uncontrolled and aggressive dogs.
A few critiques of the resolution were brought up, such as preferences to see it as a bill or to hear a recommendation of a punishment, but it passed with a 31-0-1 roll call vote.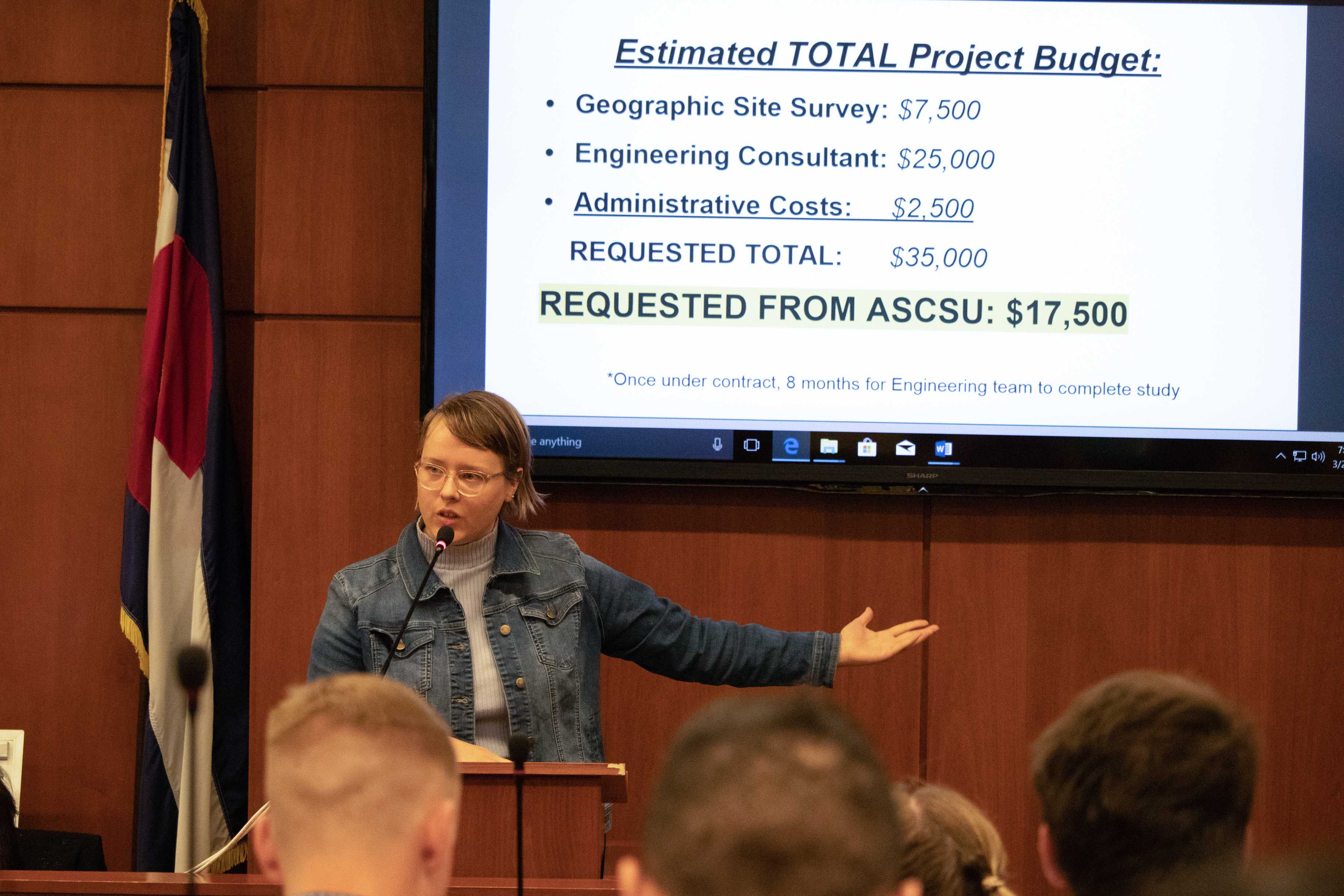 A bill discussing funding for a Library/LSC roundabout study area was presented by Hanna Marie Johnson. It proposed $35,000 to pay for an engineering study of the roundabout between Morgan Library and the LSC. This study would determine solutions to the current unsafe setting.
The voting for this bill was expedited and passed with a 20-3-7 vote.
Senate discusses bills to fund e-bikes, solar panels 
In new business, two bills to fund new campus technology were discussed to be voted on next week.
One bill, presented by Ashleigh Rose of the CSU Police Department, asked for $12,092 to pay for two e-bikes for the CSUPD's bike unit.
Daria Kramer, Rachael Dines and Nevan Mandel presented the Lory Student Center solar panel bill. This bill aimed to fund the installation of solar panels on the southern portion of the LSC.
After discussion, both the resolution and bill to fund e-bikes for CSUPD was sent to the external affairs committee. The LSC solar panel bill was sent to the budgetary affairs committee. After going to committee, the Senate will discuss this legislation in next week's session.
Charlotte Lang can be reached at news@collegian.com or on Twitter @Chartrickwrites.