Service animals at CSU necessary despite instances of disobedience
Piper Davis
October 25, 2017
Students may run across dogs sporting red vests or harnesses walking with their owners while at Colorado State University. Yet, these dogs serve a different purpose than normal dogs walking through campus.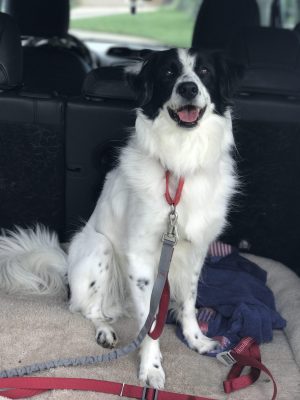 According to Rosemary Kreston, the director for Resources for Disabled Students, service dogs are required to be specially trained to handle specific needs for their handler based on their disability.
"The key is the training that qualifies a dog to be a service dog," Kreston said. "Individuals can train their own dogs but there is no standard 'qualification' for that training other than it has to be related to the person's disability and must include basic obedience."
The Americans with Disabilities Act defines a service animal as, "Any dog or miniature horse that is individually trained to do work or perform tasks for the benefit of an individual with a disability, including a physical, sensory, psychiatric, intellectual or other mental disability."
Provided by ADA, some tasks and roles of service animals include guiding people who are blind, alerting people who are deaf, protecting a person who is having a seizure, reminding a person with mental illness to take prescribed medications or calming a person with post-traumatic stress disorder during an anxiety attack.
Students have access to either service animal defined by the ADA.
Because of their role in a student's health, service animals are generally not allowed to be removed from a classroom even if they are distracting.
Dogs, however, can be removed if the dog is out of control and the owner does not effectively handle the situation, or if the dog is not housebroken, according to ADA's requirements for service animals.
Conversely, CSU outline stricter guidelines for service animals, listing 13 limitations and things to consider in their official guidelines for service animals.
While students typically see service animals in class, other students have emotional support animals on campus.
Emotional support animals serve a different purpose than service animals. 
Maddie Murcko, a senior double majoring in journalism and sociology, has an emotional support dog named Zoey to help her with a condition called vocal cord dysfunction, a condition in which her vocal cords are always swollen shut, so Murcko may suffer attacks if the environment changes.
"Before I had my dog, people used to try to talk to me to help me calm down," Murcko said. "Since my vocal cords are swollen, I can't speak during these attacks. Zoey helps people know that I'm okay, and that I don't need anyone to intervene."
According to ESA guidelines at CSU, there is no entity certifying and recognizing the status of an animal as an emotional support animal. Because of this, ESAs are restricted to housing areas.
"I always email my professor weeks in advance and ask if it's okay if I bring my ESA to the class," Murcko said. "And, I always provide a reference from past professors who have allowed me to bring Zoey. I don't enter buildings that 'say service animals only,' like the Lory Student Center."
Though ESAs are generally not allowed on campus, students living in campus housing facilities may submit a request through RDS. If students live off campus, they must go through a similar process with their complex or landlord.
"If a person wants an emotional support animal in any other type of housing, they would need to go through the process of that apartment complex," Kreston said. "(They) start with documentation from a health care provider that the emotional support animal is necessary for the person's treatment plan."
According to Murcko, there are stark differences between ESAs and service dogs, despite many confusing the two.
"Service dogs are specifically trained to do a task that helps someone with a qualified disability," Murcko said. "An ESA can be any animal, but they need a therapist's note verifying that the animal can emotionally support that person."
ESAs are not required to go through any training as they are not supposed to leave their residence, yet Murcko had Zoey go through general obedience classes, So Murcko could bring her out in public and to class without causing conflict.
Murcko emphasizes the importance of properly obtaining a service dog or emotional support animal, as websites that allow people to obtain ESA letters are sketchy and gimmicky.
"According to the ADA, you don't need to register your service dog or pay any money for them to be a real service dog," Murcko said. "The same applies to ESAs; you don't need to pay money to be a part of a national registry. Please encourage people that if they believe they need an ESA or a Service Dog, to do it the right and legal way. Get that doctor or therapist's note."
Collegian assistant news editor Piper Davis can be reached at news@collegian.com or on Twitter @piperldavis.