Fight4Her campaign concludes with presentation of 'Worst Women's Advocate' award to Cory Gardner
Ashley Potts
April 2, 2017
The local chapter of Fight4Her made an appearance at Senator Cory Gardner's office on Friday morning. The group wanted to voice their opinion on reproductive rights.
"Fight4HER is focused on mobilizing action against Trump's Global Gag Rule and in support of the newly renamed bill to block it, the Global Health, Empowerment, and Rights (HER) Act," reads the campaign website.
The Fort Collins chapter collected 1,200 petition signatures in support of these goals and stopped by Gardner's office to deliver them.
Their petitions are addressed to Donald Trump and members of Congress, asking them to "support the Global HER Act, women's reproductive rights, safe abortion services and things like that," said Julia Eddy, campaign organizer. "We're focused on overturning the Global Gag Rule, but also things like the defunding of Planned Parenthood and restricting abortion access."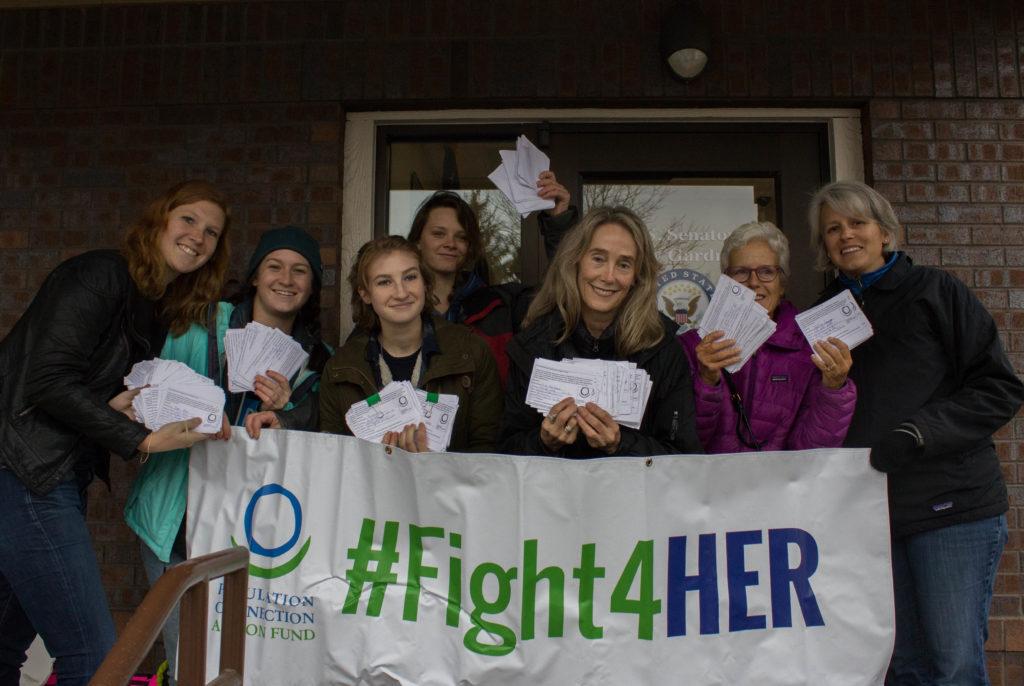 The group also presented Gardner with a mock "Worst Women's Advocate" award.
"He pretends to be a moderate on these issues by supporting things like over-the-counter birth control, but that's really the only thing I could find to cite to support anything related to women's health," Eddy said. "He really deserves this wholeheartedly."
Mayoral candidate Elizabeth Hudetz also came out to show her support for the group and the Global HER Act.
"I'm supporting their efforts and their award," Hudetz said. "I like to see people be engaged and I like to be engaged in what's going on."
The demonstration was the culmination of the work their group has been doing over the past few months.
"The petitions have been a huge thing," Eddy said. "We've made class announcements and collected them out in the plaza. We did a week of action during the week of International Women's Day in which we all went to Leymah Gbowee's speech. The whole week we also attached red coat hangers to our backpacks that said '47,000 women die each year from unsafe abortion.' That was supposed to be a really visual shock value tactic, a tactic that the opposition uses in shock value in displaying fetuses and things like that which are just not accurate."
The group also had a display on the plaza and had a representative from the National Organization of Women speak to teach students how to plan a grassroots campaign for any progressive issue, Eddy said.
For more information about #Fight4Her you can visit populationconnectionaction.org.