The Colorado State University Alumni Association honors exceptional CSU educators each year with Best Teacher Awards. This year's awards dinner was held Monday in the Lory Student Center Theatre.
Special assistant professor of music Denise Apodaca is one of six instructors and professors who are being recognized this year.
"Absolutely the most incredible honor I think I've ever received aside from having my kids and having the honor to teach these students," special assistant professor of music Denise Apodaca said. "I have a philosophy that every student matters and regardless if their in a class of 250 or in a class of 15, I will do everything within my capacity to make sure that every student knows that they matter."
Ray Black, Marisa Bunning, Chuchang Chiu, Todd Clapp and Temple Grandin were also nominated. The teachers are nominated by students and alumni and are chosen by a committee composed of faculty, students and members of the Alumni Association Board of Directors.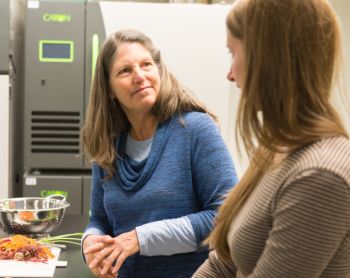 "Generally, when I'm preparing for a lecture, I'm trying to make the information as logical and memorable as possible, not thinking about how that will be perceived and just focused on the lesson," said Bunnings, food safety, graduate courses and guest lectures teacher in nutrition, agriculture and food science. "I am truly interested in the subject matter and appreciate the opportunity to share that information. I think the thing that makes this so surprising is because when your teaching or working with students, your always just focused on the work and focused on doing the best job that we can because we believe about the outreach mission."
The powerful influences these teachers have on students is one main reason they have been nominated for the best teacher awards.
Many of these professors were nominated because of their impact on their students. 
"I had a teacher that really impacted me last semester, Ms. Denise Apodaca. She was just absolutely incredible," animal science major Monica Fowlkes said. "I walked into class really down in the dumps and then the minute she started talking I was like, 'oh my goodness, I absolutely love this class and love this teacher.' That was one class I never wanted to miss."
Apodaca said that if a student has not shown up or stops showing up midway through the semester, she emails them asking where they are and if they are okay.
"Those are the students that have come knocking on my door and saying, 'never in a million years did I think that I would have heard from you, amidst 250 students I just didn't think I mattered,'" Apodaca said. "I have a policy in my room that I have one rule, and that is of respect and I tell the students on day one that as soon as you walk through that door you leave all judgments outside, you are to be in a safe environment, your suppose to speak with an open mind but respectfully so and you will have the opportunity to be you. And I think that has a lot to do with students coming back and having that open and safe environment."
Being apart of the chain of learning and teaching is a important part of Bunning's teaching approach.
"We get to be part of a chain. Information was passed to me, I learned form others, and now I get the opportunity to pass that information down to students while all the time adding to it anything that's new," Bunning said. "I think of my students as colleagues and I tell them in our food safety class that they are learning something they will use their entire lives."
Collegian Reporter Ashley Haberman can be reached at news@collegian.com