UPDATE: Fort Collins midterm election results 2014, Hickenlooper narrowly remains Colorado Governor
Collegian Staff
November 5, 2014
The following are results of the 2014 midterm election as of 11 a.m. Wednesday morning. Stay with collegian.com, @CollegianC and Collegian Central on Facebook for updates as results come in.
Midterm elections generally see a small turnout, which resulted in the Republicans dominance this year, according to CSU political science professor John Straayer.
"When turnout drops, it tends to drop on the Democrat side, not the Republican side," Straayer said. "Midterm turnouts are never good. The wind was blowing at the back of the Republicans and in the face of the Democrats."
Straayer said votes are still being counted, but Republicans have a good chance to take the majority in the State House of Representatives and State Senate, which he said surprised him.
Update (11:00 a.m.): Colorado Governor: John Hickenlooper
Incumbent governor John Hickenlooper (Dem) narrowly defeated his opponent, former Senator Bob Beauprez (Rep) in a tight race that lasted through the night and the early hours of the morning.
The vote count as of 9 a.m. Wednesday has Hickenlooper above Beauprez by just over one percent of the vote.  Not all votes are in, but the majority of remaining votes are in heavily blue areas.
According to State law, a recount is only required if the candidates are within 0.5 percent of the vote, though it is likely that a recount will occur since it is such a close race.
Governor Hickenlooper has yet to make an acceptance speech as of 9 a.m. Wednesday, and Republican challenger Bob Beauprez has stated that he will not concede until all of the votes are in.
Hickenlooper was elected Governor of Colorado in 2010, after serving as mayor of Denver since 2003. Before running for mayor, Hickenlooper worked in the oil fields of western Colorado and opened the state's first brewpub in the late 1980s. When his business grew, he became active in Denver and friends and colleagues convinced him to run for office.
During his time in office, Hickenlooper served on the National Governors Association Executive Committee and NGA's Education, Early Childhood and Workforce Committee. As governor, Hickenlooper pushed for reform on issues such as public school funding, gun control and health care.
"You are the reason Colorado is by far the greatest state in America," Hickenlooper told his supporters in a speech Tuesday night.  Hickenlooper urged voters to go home and sleep, since the results would likely not come out until Wednesday morning.
With Hickenlooper pulling off the win, Democrats narrowly avoided a sweep by Republicans in an election that saw Republicans gain control of the Senate.
U.S. Senate: Cory Gardner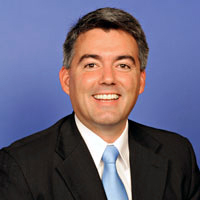 Republican candidate Cory Gardner won the Senate race Tuesday, marking the first time in 36 years a challenger has been elected to an incumbent seat. The race was called at 8:15 p.m. with Gardner up by almost 7 percentage points.
"Tonight, we shook up the Senate," Gardner said to his supporters. "The people of Colorado have had their voice heard … their message is crystal clear to Washington D.C., 'Get your job done and get the heck out of the way.'"
Gardner served on the United States House of Representatives District 4 since 2011. He graduated from Colorado State University with a B.A. in political science.
Democratic incumbent Mark Udall expressed his immense gratitude in his concession speech.
"I want to thank the people of Colorado for loaning me their power to serve as senator these last six years," Udall said.
State Representative and Democrat Joanne Ginal was not excited about Gardner's win.
"It might not be as easy (this term) if Senate is not Democrat and the house is; bills may not be as easy to pass," Ginal said. "I'm very concerned about education … I feel very sad Udall didn't make it."
Colorado State University political science professor John Straayer said he expected the Senate race to be closer.
"I only expected a two point spread," Straayer said. "What Gardner was able to do was run a campaign that featured his upbeat and pleasant persona. Because of this, he was able to divert attention from his very conservative voting record."
U.S. House District 2: Jared Polis
Representative Jared Polis won the 2nd Congressional District race, beating Republican challenger George Leing by 7 points.
"I want to thank the people of the 2nd Congressional District for reelecting me as their representative to Congress," Polis said. "I am excited to get back to work on the issues … I will work relentlessly to move Colorado and our country forward over the next two years."
Serving in the House since his first election in 2008, Polis emphasizes the importance of education and open internet access. He has served on the Committee of Rules, the Committee of the Education and the Workforce and the House Democratic Steering and Policy Committee.
Iris Hentze, a senior political science and economics major, said that she hoped Polis would win, citing his homosexuality as a reason for her support. In addition to being the first gay father in Congress, Polis is Jewish.
"I love the fact that he's a diverse candidate," Hentze said.
Senior and political science major Shane Coltrin said that he believes the race was a significant one for Colorado students.
"I mean, Jared Polis is not only representing Fort Collins, but also Boulder," Coltrin said.
Though Leing is disappointed by the results, he said he believes he did well.
"Obviously we wanted to win, but we did very well for a new candidate," Leing said. "From a realistic perspective, we did really well. However, I wasn't just here to be on the ballot. I ran to win … I ran on the idea that I wanted a better government and we got that across."
Polis said the he chose to run again for Congress to help his constituents.
"I decided to run for Congress to help create jobs, to make education more affordable and to really build up the economy," Polis said. "I believe that Congress needs to do a lot more to balance the budget so that we don't leave a mountain of debt for young people."
State House District 52: Joann Ginal
Democrat Joann Ginal has been elected back into office as the Colorado State Representative for District 52. The race was called at 8:30 p.m. with Ginal holding 54 percent of the votes and her opponent, Republican Donna Walter, holding 45 percent.
Ginal has served as state representative in this district for the last two years. She was favored going into the election. Ginal accepted her seat at Avogadro's Number in Fort Collins among the Larimer County democrats.
"I want to thank the people of District 52 for voting me back into office," Ginal said in her speech. "It looks like it's going to be a bitter battle after this election, but we will keep fighting for you."
Ginal ran her campaign emphasizing the importance of health in the state. She will remain the only bioscientist in the House of Representatives.
"We felt really good about this race," Ginal's campaign manager Loren Collins said.
Ginal was honored to be voted back into office, but there was a sense of disappointment in the room about the outcomes of other races.
"I am very happy right now, but I am also sad to see the results of other races, especially Udall's," Ginal said.
While some reactions might have been tainted by the senate race, others were still optimistic.
"Thankfully, state representative Joann Ginal has been re-elected," Ginal campaign worker and CSU alumnus John Stockley said.
State House District 53: Jeni Arndt
Democrat Jeni Arndt has been elected into office as the Colorado State Representative for District 53. The race was called at 8:15 p.m. with Arndt holding 59 percent of the votes and her opponent, Republican Tim Bessler, with 40 percent.
Arndt will be taking the seat after former State Representative Randy Fischer, who has served the district for eight years. She was favored going into the election. Arndt accepted her seat at Avogadro's Number in Fort Collins alongside Joann Ginal.
"RIght now, I tell you what, my voice is your voice," Arndt said during her acceptance speech.
Arndt has been an educator for many years and has run a campaign focused on that issue. While she and Bessler have similar views on issues, Arndt has been adamant about the fact that she is in the support of the "common sense" gun laws, whereas Bessler was looking to repeal these.
Former district representative Randy Fischer said he felt good about Arndt taking over his seat.
"I support her wholeheartedly," he said.
Students from Colorado State University also came out to support the democratic candidates.
"[Arndt and Ginal] have been great for fighting for low tuition costs for college students," said Colorado State University student Shane Coltrin, a senior political science major.
Amendment 67: Failed to pass
Yes: 35.53 percent
No: 64.47 percent
Amendment 67 would have defined unborn children as people and include them in the Colorado Wrongful Death Act. The amendment was not favored to pass in the elections, and was strongly opposed by pro-choice advocates.
Proposition 105: Failed to pass
Yes: 33.63 percent
No: 66.37 percent
Proposition 105 would have enforced the labeling of all products with genetically modified organisms (GMOs) in Colorado. The bill has not been favored to pass because its opponents have argued it would have placed a financial burden on the state's agricultural industry.
Ballot Issue 200: Passed
Yes: 52.01 percent
No: 47.99 percent
Ballot Issue 200 will establish a tax that enables the Larimer Humane Society to build a new animal shelter. Employees at the Humane Society have stated that their current shelter does not have proper space or quality assurance to take care of animals. The new shelter will be approximately three times the size of the current shelter, and will be located south of town, adjacent to the Fort Collins-Loveland Airport.
Collegian News Staff can be reached at news@collegian.com or on Twitter @CollegianC.
Related articles