Around the Horn, Colorado State's new free shuttle service
Around the Horn is a new, free way for Colorado State University's students and staff to travel around campus safely and easily.
Sponsored by CSU's Parking and Transportation Services, the City of Fort Collins Transfort bus system and ASCSU, the shuttle began operating Aug. 18, but started regular running hours, from 7 a.m. to 7 p.m., Monday.
Around the Horn makes a total of 14 stops around campus and moves to these stops every 10 minutes. It travels from the southeast side of campus, loops around the Oval, crosses to the Lory Student Center and drives all the way to Moby Arena.
"Around the Horn is fantastic for students to travel across campus quickly and safely," said DeDe Kliewer, the coordinator for interpreting services at Resources for Disabled Students. "We have a visually impaired student who now uses the shuttle service to go from place to place on campus because it is much easier for him."
Kliewer believes that Around the Horn benefits all students on campus.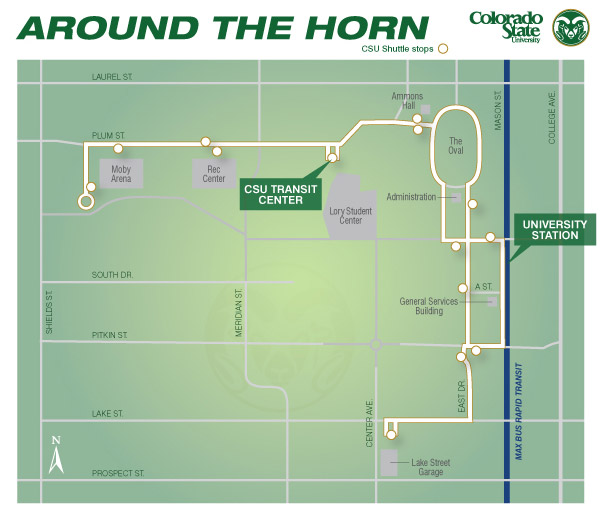 "For example, if you suddenly twist your ankle, how difficult would it be to walk all the way across campus?" Kliewer said.
Kliewer has not yet ridden the shuttle herself, but says she refers other students to Around the Horn, especially if they need to make their way across campus at night.
According to a press release, the current shuttle design is only temporary — it is green, gold and features Cam the Ram. Voting was held online from April 28 to May 3, allowing CSU students and staff to choose the final design of the shuttles, which will be revealed at the beginning of spring 2015.
CSU graduate student Amancia Alendy used the shuttle for the first time on her way to the Student Recreation Center from across campus on Lake Street.
"I used to walk all the way across campus to the Rec Center," Alendy said.
Alendy had not heard about the shuttle until she saw an information booth at the Lory Student Center.
On Monday afternoon, operating shuttles were almost completely empty.
"Since the service is almost brand new, I believe it will gain popularity as time goes on," said Patrick Miller, an Around the Horn bus driver.
Collegian Reporter Amanda Thompson can be reached at news@collegian.com.