CSU Men's Chorus unites majors in song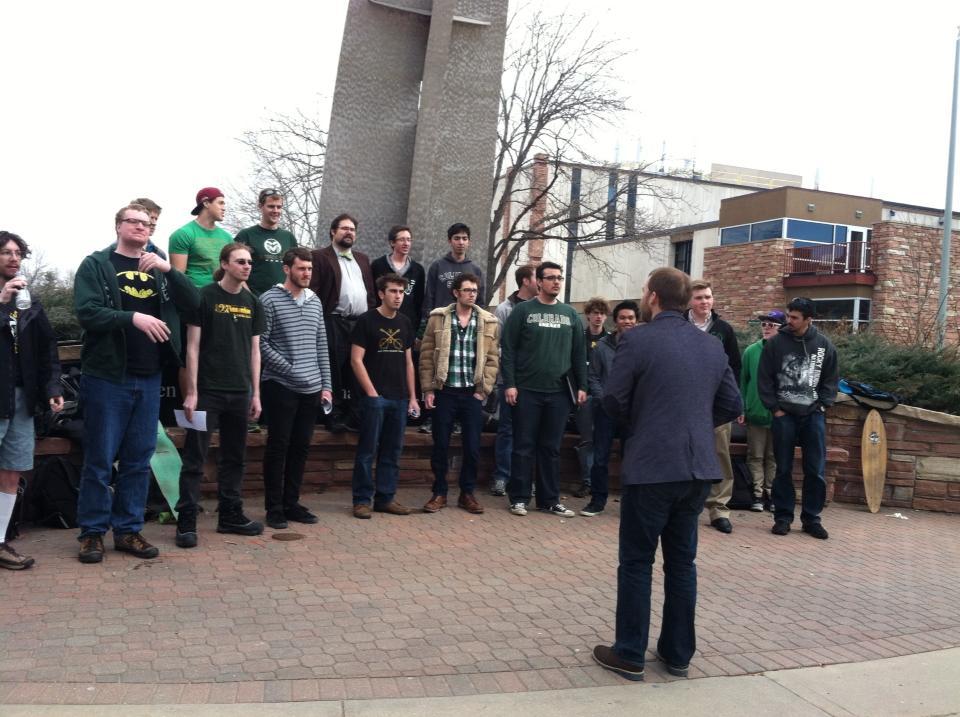 By day their time is filled with science and math, but when the sun goes down, the students of CSU's men's chorus sings their hearts out.
"The fact that Men's Chorus is made up of almost entirely non-music majors is very unique and it's one of the things that I love most about working with this choir," wrote Director Ryan Olsen, Assistant Professor of Music Education, in an email to the Collegian.
The men's chorus is a non-auditioned choir open to any male students who wish to join and surprisingly very few of them are music majors. Greg McKittrick, a sophomore majoring in biology, initially signed up for the course freshman year for an easy credit, but found it to be so much more.
"I think it's really cool to participate in making music and you can get credit for it and there's no homework," McKittrick said. "You just show up and sing — it's just a really fun thing to do."
The choir performs everything from traditional choral music to vocal jazz and they perform anywhere from high school gymnasiums to the CSU plaza. The last concert of 2014 at the University Center for the Arts McKittrick remembers as one of the best concerts he's performed in.
"We gave a phenomenal performance at our last concert," McKittrick said. "It was good music and we all had a really good bonding moment and a really good time."
The bonding experience between the students is partly due to the variety of personalities and interests, according to Director Olsen.
"I find that amateur musicians really do participate because they love making music. They are not there because it is their job or a required part of their major," Olsen said. "No one forces them to participate, but it fills a certain gap in their experience at CSU or a spiritual longing that they are missing from their daily lives."
Senior hospitality major and current vice president of ASCSU, Andrew Olsen, joined the men's chorus second semester of his freshman year and stuck with it the whole way through.
Olsen said that the CSU men's chorus is more personal than any choir he's been in and that the diversity of interests portrays a lot about the University.
"The variety shows that anyone can be talented with music," Olsen said. "It also shows that a lot of people on this campus — in particular, the men of the men's chorus — are multitalented and have multifaceted passions."
Director Olsen see's a lot in the future for the men's chorus and expects to continue the diverse atmosphere for the best experience and the best music.
"The energy and sound of a bunch of men singing together is unlike anything else a singer will experience," Director Olsen said.
Collegian Reporter Rick Cookson can be reached at news@collegian.com.