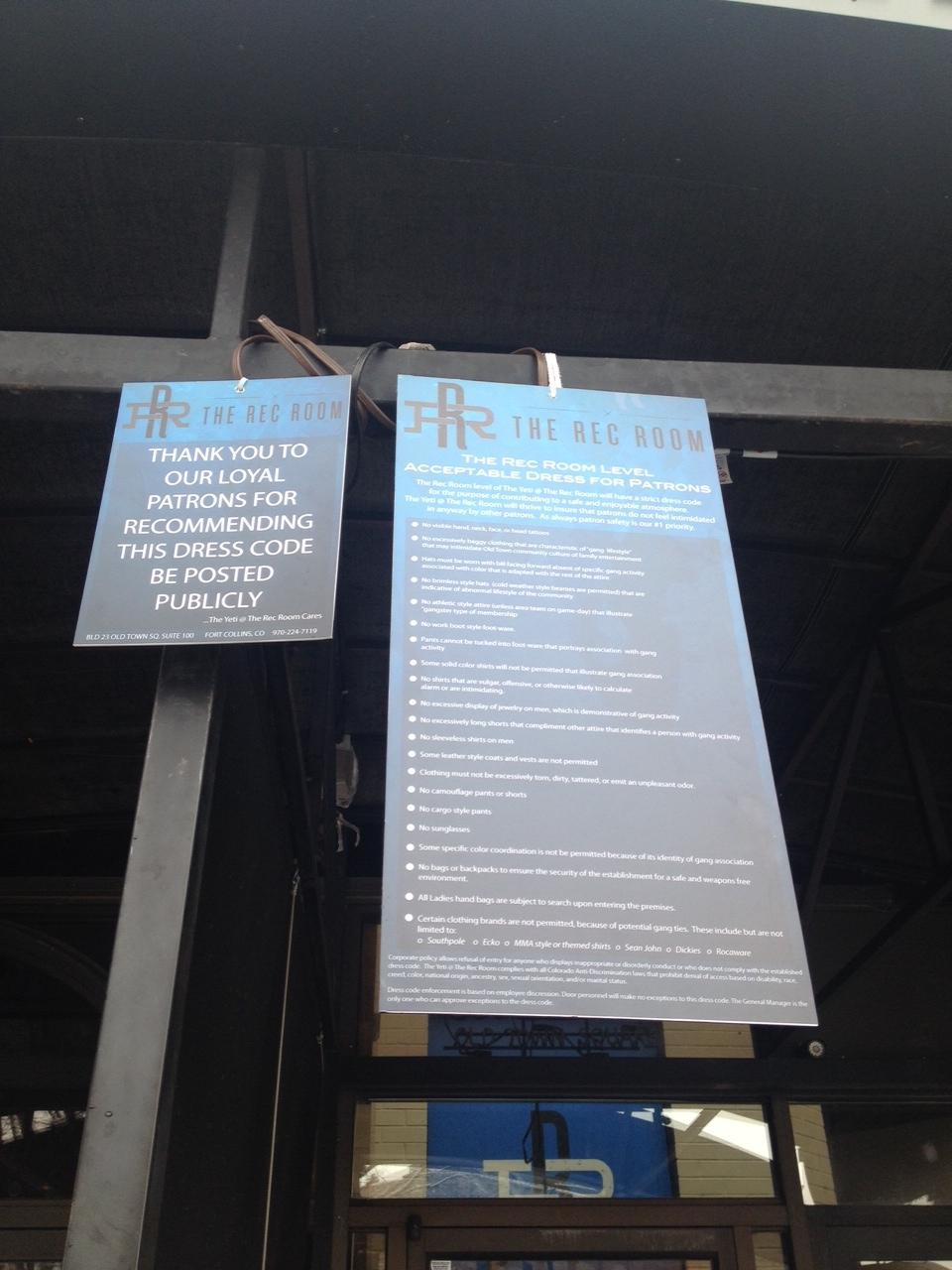 **Shortly after communication with Collegian reporters and Late Night Fort Collins' blog post "Is the Rec Room racist" the establishment posted their dress code for the public at the entrance to the Yeti @ the Rec Room. CTV reporter Lena Howland photographed the dress code policy on Sunday, Feb. 2. The following document is transcribed exactly as it appeared on the sign, including the misspelled words "foot-ware" and "discression":
The Rec Room Level Acceptable Dress for Patrons
The Rec Room level of The Yeti @ The Rec Room will have a strict dress code for the purpose of contributing to a safe and enjoyable atmosphere. The Yeti @ The Rec Room will thrive to insure that patrons do not feel intimidated in anyway by other patrons. As always patron safety is our #1 priority.
No visible hand, neck, face, or head tattoos
No excessively baggy clothing that are characteristic of "gang lifestyle" that may intimidate Old Town community culture of family entertainment
Hats must be worn with bill facing forward absent of specific gang activity associated with color that is adapted with the rest of the attire

No brimless style hats (cold weather style beanies are permitted) that are indicative of abnormal lifestyle of the community

No athletic style attire (unless area team on game-day) that illustrate "gangster type of membership

No work boot style foot-ware.

Pants cannot be tucked into foot-ware that portrays association with gang activity

Some solid color shirts will not be permitted that illustrate gang association

No shirts that are vulgar, offensive, or otherwise likely to calculate alarm or are intimidating

No excessive display of jewelry on men, which is demonstrative of gang activity

No excessively long shorts that compliment other attire that identifies a person with gang activity

No sleeveless shirts on men

Some leather style coats and vests are not permitted

Clothing must not be excessively torn, dirty, tattered, or emit an unpleasant odor.

No camouflage pants or shorts

No cargo style pants

No sunglasses

Some specific color coordination is not permitted because of its identity of gang association

No bags or backpacks to ensure the security of the establishment for a safe and weapons free environment.

All ladies hand bags are subject to search upon entering the premises.

Certain clothing brands are not permitted, because of potential gang ties. These include, but are not limited to:
*Corporate policy allows refusal of entry to anyone who displays inappropriate or disorderly conduct or who does not comply with the established dress code. The Yeti @ The Rec Room complies with all Colorado Anti-Discrimination laws that prohibit denial of access based on disability, race, creed, color, national origin, ancestry, sex, sexual orientation, and/or marital status.
Dress code enforcement is based on employee discression. Door personnel will make no exceptions to this dress code. The General Manager is the only one who can approve exceptions to this dress code.
To read the entire piece about the numerous patrons that accused Rec Room of racial profiling, , click here