Blind student uses assistance animal, RDS resources to navigate CSU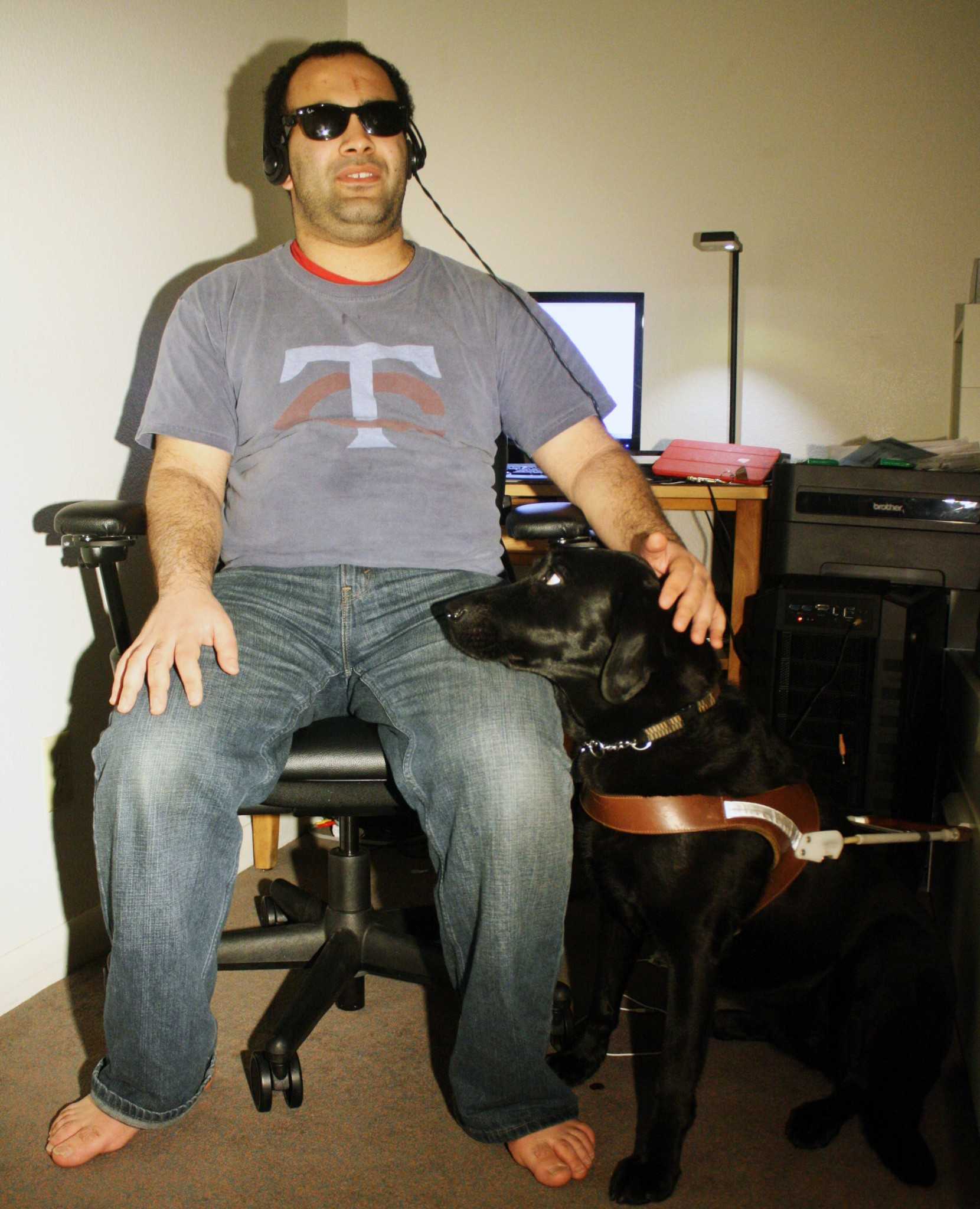 Visually impaired senior Noah Al Hadidi and his seeing-eye dog Amiga aim to graduate this spring.
Since he was 7 years old, Al Hadidi has not had the ability to see. Like Ray Charles during a concert, he bobs his head while speaking of his time at CSU.
"There are obstacles of course. And my obstacles would be different from yours just because what is normal for you is not normal for me," Al Hadidi said.
Despite his impairment, Al Hadidi said he is not held back from doing what he wants.
"I have a tandem bike. So, the front person can steer and pedal and I help. I don't care that I can't see. I love biking."
Al Hadidi hardly thinks twice about being visually impaired and living alone in Fort Collins.
"I only get scared sometimes at night when I'm by myself," Al Hadidi said.
Traveling between classes, he said he relies on his seeing-eye dog Amiga because he occasionally bumps into things.
"Going from one place to another, you feel like you don't have to pay 100 percent attention, just because the dog is helping. We are a team working together," Al Hadidi said.
Amiga, or "friend" in Spanish, is a four-and-a-half-year-old black lab. She was exposed to strenuous training to become a helper to Al Hadidi. They traveled to Oregon for two weeks to train him to communicate with Amiga and understand what she tells him. Although she can help him walk around, there are other challenges even she can't solve.
"A lot of teachers use visual stuff — writings on the board, videos, or they don't speak aloud sometimes," Al Hadidi said. "They draw charts and I have no idea what's happening. But RDS helps with that or I get the slides from the teachers and their notes if they have them. I actually have a computer so I can receive work and have my screen read it aloud."
Nico Gawdy, coordinator of alternative text services at Resources for Disabled Students (RDS) is responsible for helping students like Al Hadidi with class materials.
"We convert their texts into accessible formats that they can use with their screen-readers. Each student has different preferences. We take their class material and make it more accessible," Gawdy said.
"It's important that people who need resources get them to succeed," senior economics major Shane Neher said.
Al Hadidi also has a glasses-type device that he wears. He pushes a button whenever he wants to see something and the glasses send a signal to a bone conduction piece that rests above the ear.
"This is a camera that can recognize and read papers like books and computer screens, phone screens and objects. There are also some future plans for it to recognize people," Al Hadidi said.
Al Hadidi said college has been a struggle but it'll pay off in the fall, when he is slated to graduate.
"I never give up easily. I try because I'm the first blind student to come from my country (Oman, near Dubai) to study computer science. You have to not think of the obstacles," Al Hadidi said.
"My future goal is to build a technical school for the blind back home and show people that being blind doesn't mean that I cannot do science or math. I want to prove them wrong," Al Hadidi said.
Collegian Reporter Scott Fromberg can be reached at news@collegian.com.