With the most recent attempted sexual assault on the Jack Christenson Memorial track last week, victim assistance organizations are noticing a rise in incident reports. On Thursday evening, the report came so quickly that a suspect was pursued down College Ave.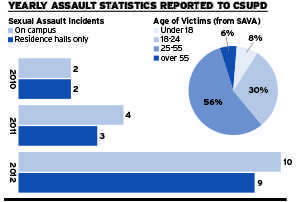 The incident has been linked to another sexual assault that happened in the same location about a month and a half ago. The most recent involved a female victim and the previous, a male.
Both crimes represent a growing trend in reports of sexual assault on campus that allow police and university safety teams to respond promptly. Reports of similar sexual crimes have leapt from just two in 2010, to 10 in 2013. Ninety percent of these reports came from residence halls, according to CSUPD's crime statistics.
On Sept. 13 around 8 p.m., a male victim reported being pushed to the ground by a male wearing a ski mask. The assailant was described as being about 6 feet tall, 180-200 lbs with a raspy voice, CSU's Public Safety Team reported in their incident report, clarifying that it was an attempted sexual assault.
The investigation is ongoing and no further information will be released by police at this time, according to officials. Anyone with information is encouraged to call CSUPD at 970-491-6425.
According to victim advocacy groups and Residence Life at CSU, these numbers reflect education in reporting and resources rather than an increase in the crimes themselves.
"There is seldom any observed correlation between rates of reporting and actual occurrences of sexual assault on campus. Reporting rates can be heavily influenced by many different factors," Adam Smith, detective sergeant in the Investigations Unit for CSUPD, wrote in an email to the Collegian.
Advocacy groups believe that the higher stats reflect better overall knowledge of what sexual crime encompasses.
"Any time we give more education on any topic, it tends to increase reports," said Laura Giles, director of residence life for residence halls.
On-campus groups like the Women and Gender Advocacy Center (WGAC) have spearheaded educational campaigns to ensure that students know where they can get help.
"The more we talk about it, the more it demystifies it," Giles said.
Posters and tear-off cards with information are common on the campus.
"We definitely think there is a correlation between our ability to get out there and market more and just make students aware of the resources," said Kathy Sisneros, director of WGAC.
Including confidential assistance and victim advocacy through the reporting process, WGAC is one of the few organizations that are not required to report to police. When a sexual assault is reported, they tell the police that a crime has occurred, but do not necessarily disclose names or personal information of the victim.
This is unlike other staff and faculty at CSU.
When it comes to sexual assault, it is mandatory that Giles and her staff report it. This includes residence assistants (RA), who are required to report any time they are confided in. These reports may or may not go to police. Giles and housing staff do not deal with off-campus crimes, only those that involve residents on CSU's campus.
Although RAs and housing staff are required to report it, Giles asserts that they do not re-victimize those who have been the target of sexual assault.
However, according to Fort Collins police crime statistics, the numbers have acted just the opposite, with reports dropping off sharply within the past years. Seventy reports in 2010 dropped to 38 reports in 2012.
It is hard to say why Fort Collins and CSU are showing very different trends.
"We do have more support than we did before," Jones said.
Both SAVA (Sexual Assault Victim Advocate Center) and WGAC offer unique services that provide an advocate for victims. The advocate walks a victim through the process of reporting and provides a safety net.
"One of the things that an advocate does is really functions and serves that student all the way through the process," Sisneros said.
"It's the feeling that someone is there for you," Jones said. "No matter what, someone is beside you."
These resources are meant to make recovery easier and can be very beneficial if a victim reports to the police.
"CSUPD Detectives work very closely with Victim Assistance Team, CSU Student Conduct Services and the Larimer County District Attorney's Office to meet the needs of the victim while ensuring the safety of the CSU community," Smith wrote.
However, there are a myriad of reasons crimes still go unreported.
"It is still shameful to come forward," said Jennifer Jones, director of the SAVA Center  which works more broadly in the Fort Collins community. "We do a lot of work around why we feel that way."
SAVA highly suggests three rules to friends and family — listen, believe, report.
"It depends on who they (first) disclose to. A lot of it is fear that they won't be believed," Jones said. "Your reaction makes or breaks if they choose to report."
Sisneros and WGAC also place a premium on believing the victim. Speaking can be difficult for victims because there is an aspect of fear or shame. Sisneros spoke of instances where students came forward, but their attackers were not arrested, causing distress.
The benefits of confidential disclosure ensure that a victim is ready to report and ready to tell their story when they speak with police.
"The student still has their agency to speak or not speak until they are ready to share their story as that victim. I feel like sometimes our students feel like they have to talk and they're not ready," Sisneros said. "We support them at whatever point they are in their process."
With mandatory reports, students may feel pressured or bullied. Sisneros assured that, for adults over 18, nothing requires the victim to speak.
"You can say, you know what, I don't have anything to share at this point," Sisneros said.
Regardless of whether crimes are increasing or reporting is, it is clear that advocacy centers are working to educate the public about what constitutes sexual assault.
"It's very important to understand what consent means," Jones said. "It's having a 'yes,' it's not just saying 'no.' It's hearing that 'yes' along the way."
Colo. law also states that intoxicated individuals cannot give consent.
"Accountability lies with the perpetrator," Jones said. "There's a reason the surgeon general (warning on alcohol) does not warn against the risk of rape."
Collegian Senior Reporter Mariah Wenzel can be reached at news@collegian.com.