Memorial dedication for CSU student Chris Engel unveiled in Broomfield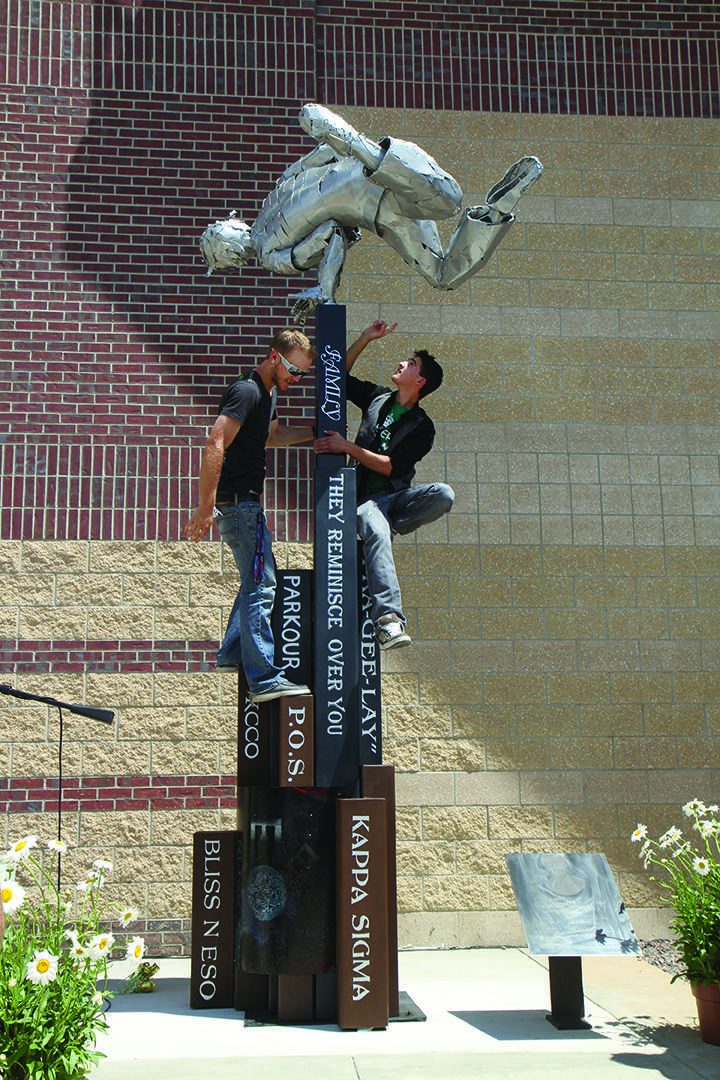 In a little over a year and a half, a tragic incident involving a CSU student has bloomed into gifts for many, both of life and beauty.
Chris Engel passed away Jan. 1, 2012  from a brain injury sustained after falling during a concert at the 1stBank Center on Dec. 30, 2011. He was a junior computer science major at CSU and was 20 years old. Saturday, July 20, Chris was remembered by friends and family at the same event center in Broomfield through a memorial and unveiling of a sculpture that embodied Chris's life and short time on Earth.
The memorial included family speaking about Chris and what the sculpture meant to them, the mayor of Broomfield proclaiming the day to be Christopher Engel Day, and the presence of an organ donor recipient, Linda Seavey. Chris saved four lives through his organ donations after this death.
"It is through countless emails, phone calls and tears that we are here celebrating Chris's life," said Deanna Duran, Chris's aunt, during the service for Chris.
The sculpture towered approximately 20 ft. high, with pillars staggering up to the top. A metal figurine that resembled Chris breakdancing rested on the highest pillar that has the word "family" written on the side. A plaque with a few words written about Chris sat next to the group of pillars.
Chris's family wanted to create something that was lasting, and that when others looked at it, they could sense a small piece of the giant and giving life that Chris led.
"The idea came shortly after his would-have-been 21st birthday last year," said Dolores Engel, Chris's mother. "It's a memorial to honor his life, and his short time here, just to celebrate him and the family."
"When you look at the memorial, you'll see some of him and his brother's favorite sayings," Dolores said, as well as bands and activities Chris loved and his fraternity, Kappa Sigma, written on the pillars.
"The whole concept behind him breakdancing, it was actually a collective decision with my family. When we had been talking about what we'd like to see, David (Chris's brother) definitely wanted to have the buildings because Chris used to like parkour," said Roberta , another one of Chris' aunts.
At an early age, from his mother, Chris learned to love dancing.
"We danced in our kitchen," Dolores said. "I danced with my boys growing up; I had to raise kids and teach them how to dance."
"It's a wind catcher," Dolores said about the figurine. "So it'll always be in movement, just like Chris was, always in movement."
"The actual art piece itself was the result of Dolores and David," Roberta said. "I played the role of facilitating and getting it started; they're the ones that were behind what they wanted in the sculpture to really embody who Chris was."
Roberta made endless phone calls to the county manager's office to make this sculpture a reality. From there, the family was in contact with Dave Jolette, a venue operation manager for the 1stBank Center, and artists who helped construct the sculpture.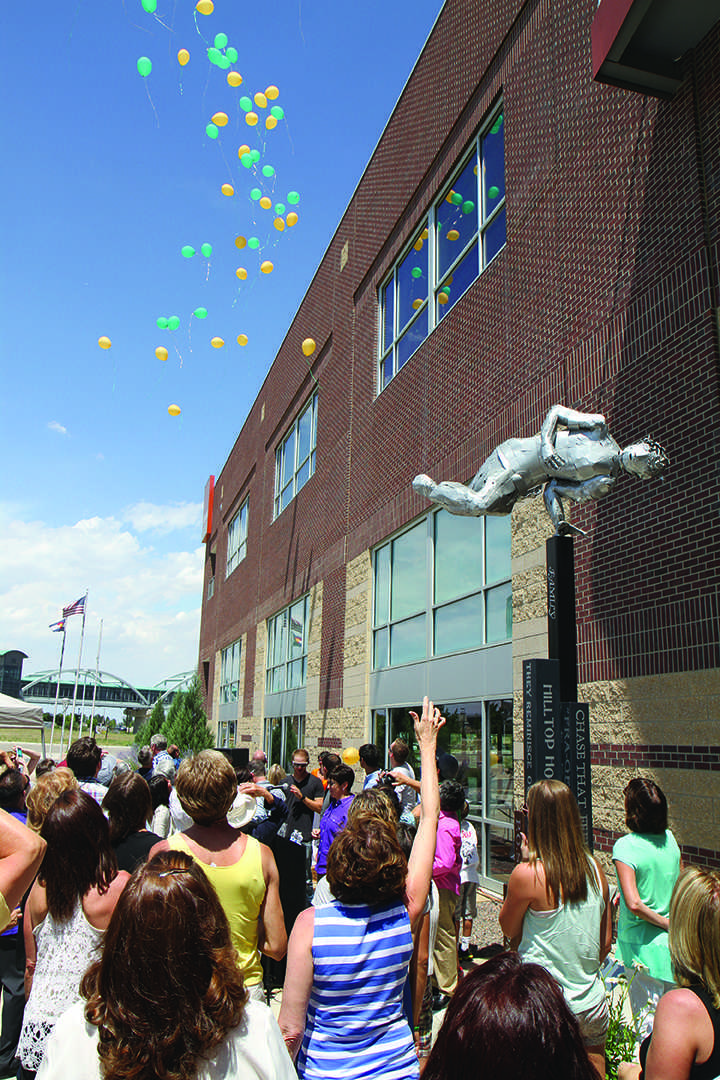 The mayor of Broomfield attended the memorial service and proclaimed July 20, 2013 to be Christopher Engel Day in the city of Broomfield.
"What a terrible loss, but he certainly has done good," Mayor Patrick Quinn said.
The untimely and unfortunate passing of Chris not only brought beauty to the front of the 1stBank Center, but miracles to four other individuals.
"The (organ donation) process itself was very difficult. It almost made my family question whether or not they wanted to continue to be an organ donor just because of the whole process," Roberta said. "But after hearing people like Linda Seavey who spoke today, it makes all the difference in the world."
Chris' personality and loving-nature reflected a "big, giving life, and nothing was going to stop it from continuing," Seavey said during her address on how organ donation has influenced her life.
Although Seavey was not a direct organ recipient of Chris, she spoke on the impact Chris made after he was gone simply by deciding to be an organ donor.
"His choice to become an organ donor will have far reaching influence," Seavey said.
Sunday, July 21, Chris's family participated in the Donor Dash, a 5k run for organ donors and recipients hosted by Donor Alliance, for the second year.
Chris' brother, David, also spoke at the memorial. David decided upon many of the words engraved on the pillars that will continue to spread Chris's life to those who see the dedication sculpture.
"Nothing lasts forever," David said about his brother. "But Chris will, in my mind at least."
Content producer Corinne Winthrop can be reached at news@collegian.com.