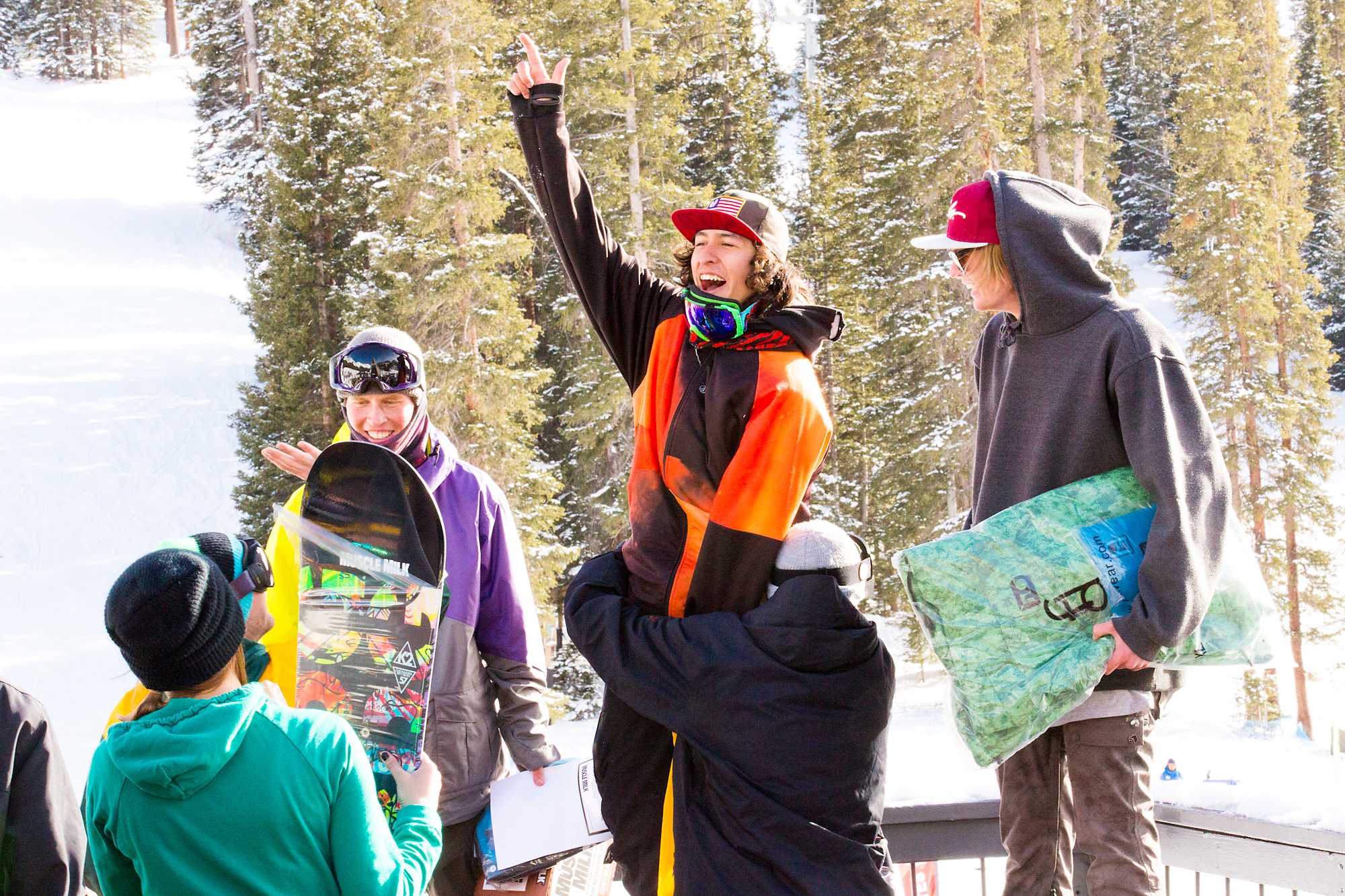 With four inches of fresh snow and sunny skies, CSU and CU-Boulder battled it out in the first ever Muscle Milk Rocky Mountain Snowdown.
Held at Arapahoe Basin Saturday, CU swept the ski jam and CSU took all the top boarding spots, tying the teams as they entered the final leg of the competition: the Snowdown Scramble.
CSU soundly won the mountain-wide scavenger hunt to cement its victory in the first ever Rocky Mountain Snowdown.
The competition was judged based on the amount of points accumulated from the rail jam — which featured both skiing and snowboarding — combined with the team's performance in the Snowdown Scramble scavenger hunt.
Rail jam competitors attempted tricks to impress the judges, and were graded on their overall performance during the 25-minute jam sessions.
"They were judged on overall impression," professional snowboarder Celia Miller, who judged the event, said. The winners consistently pulled off a wide variety of unique and difficult tricks, according to Miller.
"You saw a lot of talent coming from both schools," said Erich Dummer, the rail jam's emcee and Muscle Milk area marketing manager.
In the men's boarding competition, CSU students Dimitri Moreno, Steve Merg and Pierce Cameron took first, second and third place, respectively.
CSU's Lani Rupp won the women's boarding competition. Second and third place were not awarded in the women's competition.
Since the Rams and Buffs were tied at the end of the rail jam, the competition came down to the Snowdown Scramble.
The team representing CSU, made up of Kyle Farrell, Pierce Cameron, Brandon Wooldridge and Chase Cushing, managed to complete all challenges and cross the finish line first, pushing the Rams over the top for the win.
The final point tally was 1,400 points for CSU and 1,100 points for CU.
While rivalry was the name of the game, a good time was had by all. Smiles adorned the sunburned faces of competitors, spectators and organizers alike.
"It's fun to see the competition and the camaraderie," said Leigh Hierholzer, A-Basin's marketing manager.
The event was coordinated by Muscle Milk's student campus representatives from CSU and CU–Boulder, Devin Eppers and Maddie Towne.
"Definitely a really great event, really well organized," said Matt Hauke, A-Basin's terrain park manager.
It isn't clear whether the Snowdown will become an annual event. Eppers is graduating in May, though his CU–Boulder counterpart will still be around.
And participants are already talking about next year.
"After that, how fun it was, I think they'll keep doing it," CSU snowboard team member Josh Gladfelter said.
Collegian Writer Isabella Heepke can be reached at news@collegian.com.