Homeless, single parent, CSU Graduate: Alumna tells her story to help others in bad situations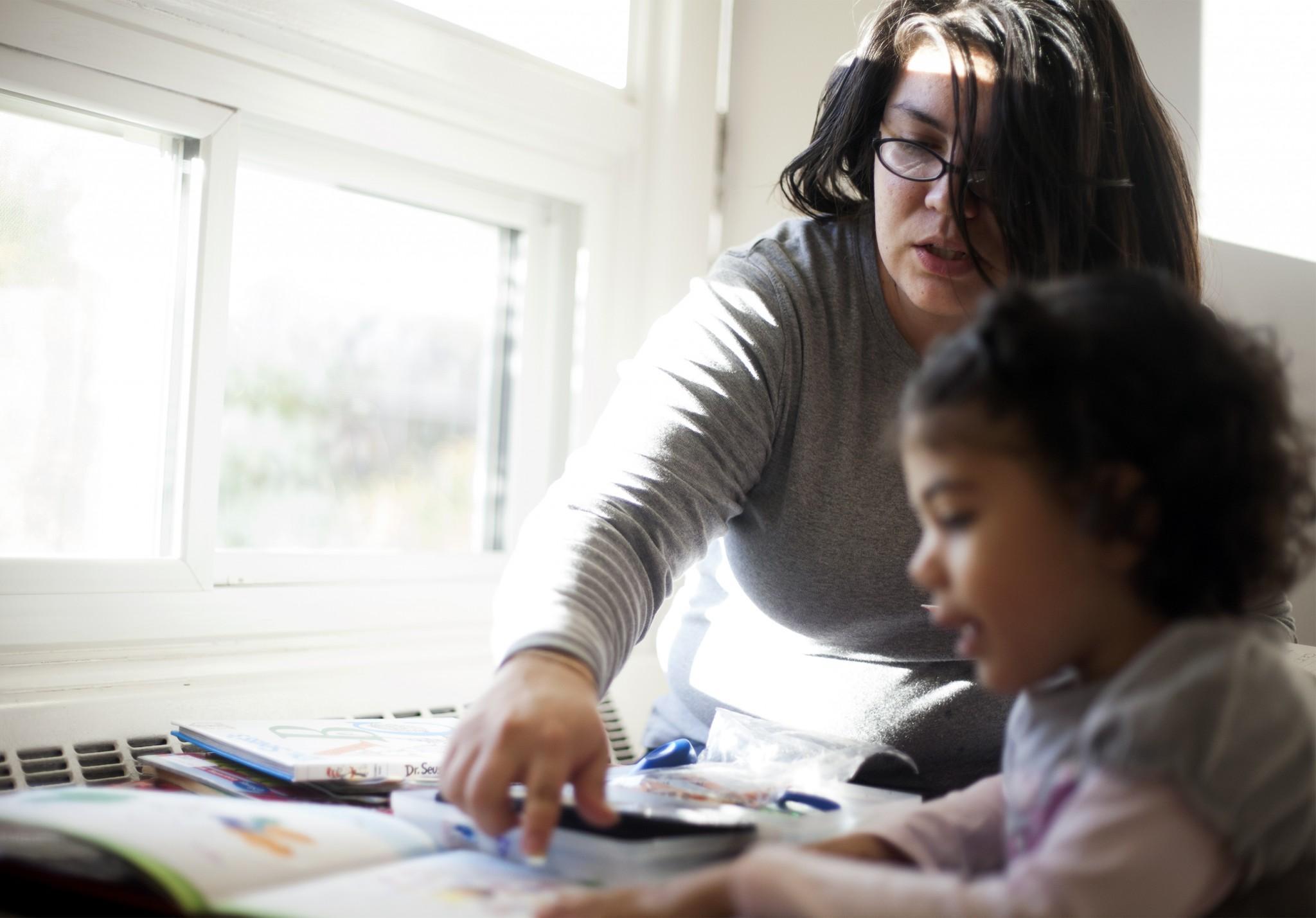 Imagine: You're a graduate student at CSU, a single parent of two children ages three and five. You don't have a home, you can't live with your parents and every penny you have is going towards your children's needs.
This is a life not many would know how to deal with. But CSU graduate student Ceriss Blackwood is living through it and is nothing but positive.
"If I focused on what was wrong," Blackwood said, "I wouldn't be able to go on."
Blackwood grew up in a household with domestic violence perpetrated by her father,  which pushed her into foster care in high school.
"My biological family was not functional," Blackwood said. "I had never known what it was like to be cared for."
Blackwood's foster family is from the Southern Ute reservation in southwestern Colorado. The reservation was very spread out and secluded, she said, so it took an hour to get into town where her foster mom worked.
The only sibling from Blackwood's biological family is a half sister from her dad's side that she met once and she was an only child in her adoptive home.
After graduating from a class of 61 from her high school on the reservation, Blackwood had motivation to "be the first in my family to go to college," she said. She enrolled at Fort Lewis College in Durango in the summer of 2003.
She had been accepted into a summer bridge program that was all-expense-paid, including her dorm room. Although she liked the school, Blackwood found that the campus was too close to home and transferred in fall 2003 to the Auraria campus in Denver.
Blackwood got a downtown apartment with her high school friend, Reagena Thompson, and worked part time as well to pay for her expenses.
"She is my best friend and she helps me out too when I need it," Thompson said. "She's like family."
Auraria, however, did not offer the program of study that Blackwood wanted, so she applied to CSU and the university's First Generation Award. Blackwood was accepted and transferred in fall 2005.
She graduated in 2008 with an undergraduate degree in human development and family studies with an emphasis in adolescent behavior and a minor in ethnic studies.
When Blackwood made her final transfer to CSU, she was engaged to a man she had met through classes at the campus in Denver.
During Blackwood's junior year as an undergrad, she said she received a pleasant surprise –– her son Phoenix. He's a helper –– he likes to help cook and clean, and even take the trash out.
Phoenix was motivation to continue with school. Blackwood said it would be the best thing for her son. And if one child wasn't motivation enough, another surprise was on the way –– a daughter named August.
"They are my world," Blackwood said. "I wake up in the morning and they keep me going."
But for the second time in her life, Blackwood had to deal with domestic violence, this time perpetrated by her husband. After her husband was arrested for the second time for domestic violence, she witnessed how it was affecting her children and left him.
It was graduation night for some of Blackwood's friends. She had put the kids to bed, while her husband drank at his fraternity house. This was a regular thing for him –– to party there and then come home angry, Blackwood said.
On this night, almost two years ago, her husband came home so angry that he slammed Blackwood's head into a brick wall, giving her a concussion.
"It wasn't the pain of my skull on the brick," Blackwood said. "It was my 4-year-old begging (Phoenix's) dad to leave his mom alone."
Phoenix, Blackwood's son, had run out of his room during the commotion and asked his dad to stop hitting his mom. Blackwood said it broke her heart –– and convinced her to leave.
The first year was extremely difficult for Blackwood. She described being alone as a totally different world.
"There were times I was so lost and overwhelmed that if a friend wouldn't have woken me up, fed me and helped me get my kids to school I don't know what I would have done."
"I'm not going to pretend it's easy, because it's very hard," Blackwood said. "But I know me and my kids are safe."
Between undergraduate school and graduate school, Blackwood worked for Denver Public Schools as a teacher in Indian education. She worked with children of all ages, from elementary through high school students.
"I got to know each of the families and their circumstances," Blackwood said. "I didn't look down on the families. I was just there to support them."
This job also helped Blackwood realize that her education makes a difference and that she can impact people positively, and show them love and support. That's what is important, she said.
"I'm not getting my education for myself, but for other single mothers and others in foster care and in poverty." Blackwood said. "I'm not doing it for the money."
At the beginning of 2010, Blackwood applied for graduate school at CSU and was accepted, and started classes in the fall of 2010. She is studying for a master's in ethnic studies with a focus on Native Americans and education in the College of Liberal Arts.
For a graduate student at CSU like Blackwood, tuition is $24,232 per year.
She was in her first year of graduate school and thinking about "taking care of two kids by myself." She wanted to get a higher paying job to take care of her kids. Graduate school, she said, would help her achieve that.
But after living from friend's couch to friend's couch, going to school and taking care of two children, Blackwood had to take a break from her studies last year.
"I wasn't able to keep a job and childcare was a problem," Blackwood said. "But I had to keep pushing forward."
Blackwood said CSU President Tony Frank helped her get re-accepted into her program in August 2012.
She still had no place to live, but Ty Smith, director of the Native American Cultural Center, helped to get her on a waiting list for campus housing.
Smith has known Blackwood for about four years and all of the obstacles she's had to face.
"She's resilient," Smith said. "She has had challenges, and she's been overcoming them and is on track to graduate this year."
Smith explained that supporting students so they can focus on their studies is part of the Native American Cultural Center's mission.
"You learn to appreciate the little things," Blackwood said. "I have no furniture in my apartment, but I am happy to have a door I can shut."
And she isn't about to stop having a positive outlook.
"I could quit. It's easier to quit school and settle for a lower paying job. But it sets a role model for my kids," she said. "If Mom can do it, then so can I."
Blackwood is supposed to graduate this year and is looking for a job in American Indian Education and nonprofit work. Even her son is excelling in school, with recent parent-teacher conferences showing that he is working above his benchmarks due to the work Blackwood does with him at home.
"Yes, life is hard," Blackwood said. "But if you keep pushing forward you can not only accomplish things but you can set an example just by pushing forward."
The CSU graduate student offers one piece of advice to others who are struggling.
"My advice to anyone struggling," Blackwood said, "is to never give up, and let your voice be heard. Hail in your own way. If you stop moving forward that is very dangerous. You have to cling to what is left and run with it, because that's all you've got."