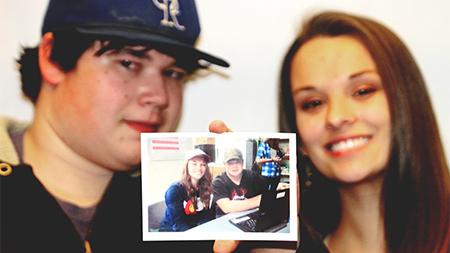 The lecture hall in room 131 of the Behavior Science Building was filled with bright smiles and a few teary eyes Dec. 3 as Campus Corps mentors and the youths they were paired with graduated after a semester of working together.
Approximately 100 family members, students and youth watched a slideshow of this semesters highlights. Afterward, 35 youth and their mentors were called on stage to accept a graduation diploma, with each mentor giving his or her mentee a unique award –– among them "most likely to play for the Denver Broncos" and "most likely to be energetic."
"Even though it's such a busy week it is such an important thing for me to be here at graduation to hear the youth talk about their experiences," said Jennifer Krafchick, a human development and family studies professor and Campus Corps director.  "It's truly one of the most rewarding things I've been involved in."
The youth are often referred into the program from the juvenile justice system but can also be at risk from bullying at school or because of potential stresses that come with a low-income environment.
After picking their mentor at the beginning of the semester, the youth spend four hours one night a week on campus in group settings. The small groups explore campus together, eat a family meal, work on homework, play sports and participate in arts and crafts.
"For me it's been really good to learn how to be a leader in different situations and know how to treat different kinds of people," said Alexa Forester, a sophomore HDFS major and first year Campus Corps mentor.
In the five semesters since the program officially started, Krafchick said 600 youth and 900 CSU students have participated in the program.
Monday night was the first of four graduation ceremonies set to take place this week.
One of the graduating youths,15-year-old Will Rodriguez, completed his fifth semester in Campus Corps Monday night. Rodriguez voluntarily came into the program in fall 2010 after being placed into a juvenile diversion program for getting into legal trouble.
Even though he was intimidated at first being on a college campus, he had so much fun with the experience that he kept coming back each semester to be paired with a different CSU student mentor.
"I didn't want to come [either]," Rodriguez said.  "The first time I came I wanted to stay home and play Halo."
One of the things Rodriguez likes best about Campus Corps is getting help with homework, something he used to ignore. This semester he came up with the idea for the group to make care packages for troops stationed overseas.
Rodriguez's mom, Fort Collins resident Laurie Hyland, said the program is a good way for young kids to come to a place where they can be themselves and not be judged by other people.
"It's positive. You hear at the graduation all positive stories," Hyland said. "Not many places kids can go now and just be themselves and meet a stranger and build a friendship. It's a great program."
After one semester in the program, 14-old Racheal Krenning also wants to return for another semester. She said she loved the program because her grades have improved and she's seen firsthand what goes on on a college campus, something she finds inspiring since she plans to be a veterinarian.
Her mom, Fort Collins resident Jennifer Heiney, said since her daughter started Campus Corps, her grades have improved dramatically, she gets along better with her sister and her self-esteem has risen.
"She has had not very good friendships or relationships and social skills in elementary and middle school," Heiney said. "Kids can be extremely vicious. Based on what has been happened to her, the things that have been said, to her this was a safe zone for her; a place she was accepted."