Fort Collins artisan market The French Nest features local crafts, music and food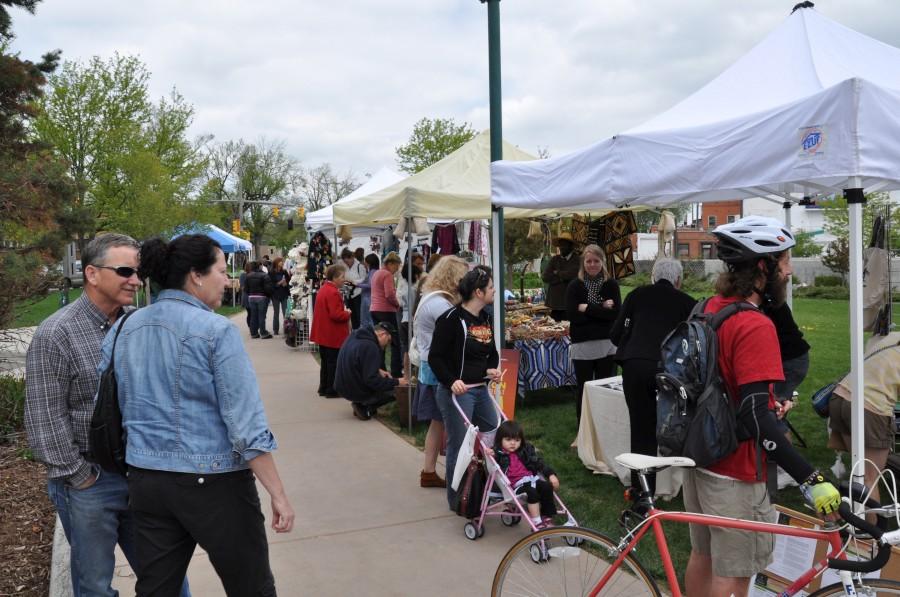 With the growing popularity of such crafty websites as Pinterest and Etsy, the do-it-yourself movement is encouraging individuals to create, repurpose and reuse in their local communities.
Hosted every third Saturday of the month, the French Nest Open-Air Market is Northern Colorado's only artisan outdoor fair. Held at Civic Center park, it's an opportunity for crafters to showcase their talents and available goods.
"I've often described our market as being like a local Etsy, one that you can actually touch and hold and try the product before you purchase it," Laura Cronen, CSU alumna and co-founder of the French Nest, said.
"They've done a great job of collecting vendors that all fit together with that really cool hand made style," Marion Simmons, founder of ShadeTree Studio and a fourth-year participant of The French Nest, said. "They are very careful about jurying [vendors] and making sure that they have all unique things there, not just a lot of the same things."
This is the fourth year for the market, and some of the items for sale this Saturday will include vintage furniture, a plethora of jewelry, repurposed wine glasses, tie-dye, dolls and clothing.
"We wanted our market to have a little bit of a different focus. More on the handmade, but still incorporating what we call the hand collected and repurposed," Cronen said. "We really like that idea of living sustainably, and reusing things that we have and making them new again; a lot of our vendors do that."
French Nest founders Laura Cronen and Christy Bush were inspired by the open air markets they saw while traveling together in places like Bali and Paris.
The event's audience and vendor numbers have grown throughout the years. This weekend, there are more than 55 vendors taking part in the festivities.
"Every market is different. There are different vendors at each one, and we love that too, because we want to keep it different. A different experience every time you come," said Cronen.
The vendors aren't all that the French Nest focuses on.
"It's unlike any other show that I've done in the way that it's set up," said Simmons. "It's a nice atmosphere, and it's wonderful that they always have live music playing."
"We bring in a musician every month, and that's always local," said Cronen.  "We usually have some type of food vendor as well."
This month's food vendor is The Cupcake Cruiser, a van that roams Fort Collins selling both unique and classic flavors of the staple dessert.
"One of the things that we focus on with the Cruiser is supporting local businesses," Kati Anderson, owner and CEO of the Cupcake Cruiser, wrote in a Web message. "All of the local people selling their craft at the Market is such a great way for the community to come together, and we are really excited to support that!"
The musician this weekend will be Kathryn Mostow, who's playing at both 11a.m. and 1p.m.
"Fort Collins is so much about the family," said Cronen, "and our hope is to get people to bike down there and spend a few hours feeling like there is enough to do. It's not just about shopping, it's about embracing that local, creative culture."
Editor in Chief Michael Elizabeth Sakas can be contacted at news@collegian.com