Horoscopes Nov. 2-7
Hailee Stegall
November 1, 2021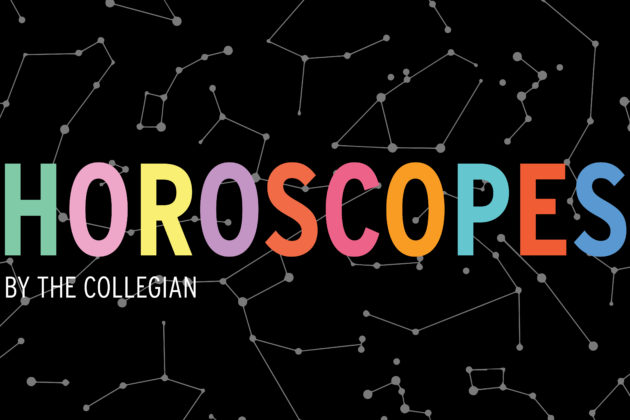 Horoscopes can be applied to your sun, moon and rising signs. 
SCORPIO (Oct. 23 – Nov. 21)
Manifest your desires this week, Scorpio. Set your sights on what you want and map out your future, whether it be what you're having for dinner or the entire next year.
SAGITTARIUS (Nov. 22 – Dec. 21)
Sagittarius, your head is in the clouds this week. Remember to stay grounded and focused on real life, but harness that cosmic energy to fuel your ambition.
CAPRICORN (Dec. 22 – Jan. 19) 
Chill out this week, Capricorn. Hard work is your speed, but take some deep breaths and slow down for a bit; you don't have to constantly be running for the finish line. 
AQUARIUS (Jan. 20 – Feb. 18) 
Aquarius, get out of your head this week. If you've been feeling anxious about the small stuff, take a step back to see the big picture rather than the immediate moment. 
PISCES (Feb. 19 – March 20)
Break out of your comfort zone this week, Pisces. What you want may lie in an uncomfortable spot to reach, so lean a little farther and you might get everything you've ever dreamed of. 
ARIES (March 21 – April 19)
Aries, this week it's sink or swim. If you've been struggling to keep up with the others, this week is just about staying afloat at all — breathe deep, and remember it'll all work out.
TAURUS (April 20 – May 20)
Be wary with your heart this week, Taurus. It may be tempting to grasp for affection right now, but don't be a moth to a flame; it could burn you badly. 
GEMINI (May 21 – June 20)
Gemini, focus on your health this week. While it may be easy to fall into the cold weather slump, remember to take care of both your body and your brain adequately. 
CANCER (June 21 – July 22)
Get into it this week, Cancer. You're finally getting the recognition you deserve for being your wonderful self, so soak it all in and remember you're worth it. 
LEO (July 23 – Aug. 22)
Leo, give back this week. You may be used to being in the spotlight, but use this week to remind those you love of how much they matter — both to you and the world around us all. 
VIRGO (Aug. 23 – Sept. 22)
This week you're a jack of all trades, Virgo. It's no fun to not be good at everything, but lean into that uncertainty this week and try something new. Who knows? It could actually be fun. 
LIBRA (Sept. 23 – Oct. 22)
Libra, get comfy this week. The months to come will be chilly and gray, so make your personal space (your home AND your mind) warm and fuzzy to keep you cozy. 
Reach Hailee Stegall at entertainment@collegian.com or on Twitter @stegallbagel.