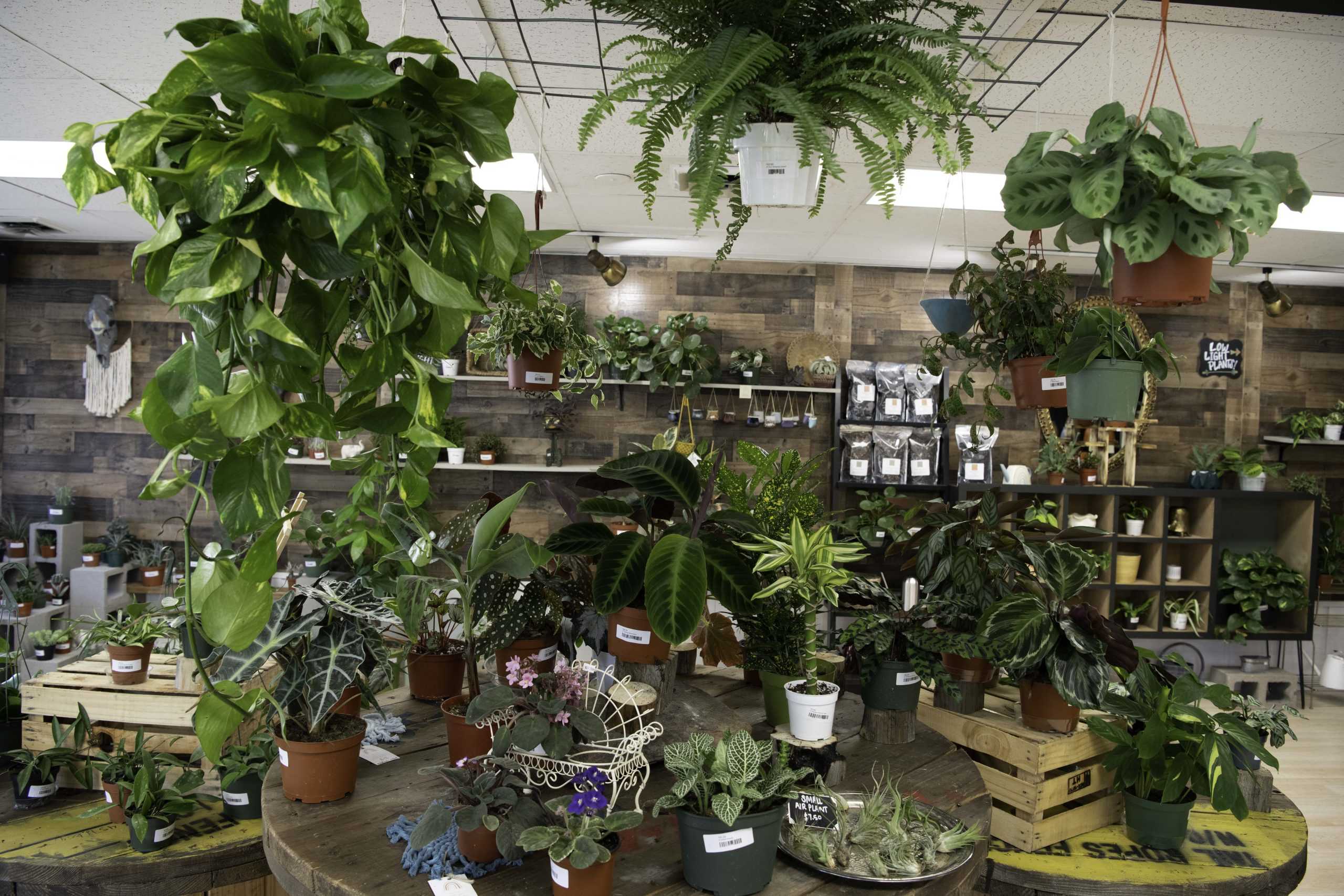 As Homecoming approaches, Horsetooth Stem and Roots offers a fun and unique experience for parents, students and alumni alike to find their soul plant. 
Located conveniently on the perimeter of Old Town, Fort Collins, the shop pulls in the community with its vibrant plants and the personalities of the shop's owners. Kaley Smylie-Halligan, Korey Halligan and David Cantor founded the shop after the Halligans moved from Hawaii and developed a deep love of all things plants. The group met at Dazbog Coffee, where Cantor gained much of his business experience. 
Inside the shop, plant options range from more affordable and simple plants to rare and breathtaking items. Additionally, Smylie-Halligan said they provide a platform for ceramics artists, stained glass artists and macrame weavers to sell their art to people who will appreciate its unique flair. 
"We definitely specialize in a huge variety of houseplants … ranging from common to uncommon and to rares, even," Smylie-Halligan said. 
The shop started out of the Halligan household, where they would put on yard plant sales for the neighborhood. Fort Collins Donut Company's Megan Barghols supported the three in getting a realtor and eventually establishing the brick-and-mortar home of Horsetooth Stem and Roots. 
We're more of a one-on-one shop; we'll work with you to make sure you have a successful plant experience."- David Cantor, Horsetooth Stem and Roots co-owner
As they found their community in the physical location, the shop quickly found themselves being supported and supporting those around them as Old Town break-ins targeted local businesses, including Horsetooth Stem and Roots.
"Within like 12 hours (of the break-in), we had different businesses reaching out, and they had incidents as well happen that same night," Halligan said. "It was just kind of crazy how much everyone came together and helped each other out."
Smylie-Halligan said many local businesses also shop through them, and they work to support other shops as well. This helps foster a community in which everyone knows the people their products are coming from. 
"Supporting small (businesses) is so huge, and it really was eye-opening, when we did start, how close-knit the community is," Smylie-Halligan said. 
As a way to help contribute to the community they have become part of, the shop started hosting events for customers, neighbors and other business owners. Oct. 3, Horsetooth Stem and Roots hosted a plant swap where dozens of people who'd previously communicated through online plant groups met in person to trade their plants, cuttings and propagated stems. 
"I think … this was kind of the first time that a lot of these people were able to meet in person," Smylie-Halligan said. "It was cool to be able to bring everybody together."
By hosting the community, the trio felt much of their mission for the shop was being fulfilled. In addition to hosting community events and inviting local artists to display their work, the shop also helps walk customers through becoming first-time plant owners.
Since houseplants can have a variety of specific care needs, the shop recognizes it's a learning curve and help is often needed. By offering this support, the shop continues to build a community of plant lovers who have the resources they need to help their plants thrive. 
"We're more of a one-on-one shop; we'll work with you to make sure you have a successful plant experience," Cantor said. "We'll walk you through how to recognize for pests, how to recognize if the plant's not doing well and we'll give you advice to make sure your experience is (positive)."
Horsetooth Stem and Roots is located at 516 S. College Ave. in Old Town, Fort Collins, and is open from 11 a.m. to 6 p.m. Monday through Saturday and 11 a.m. to 5 p.m. on Sundays. While the store doesn't have an online shop, potential customers can see what new options they have for in-store shopping on their Instagram @horsetooth_stem_and_roots. 
Kota Babcock can be reached at entertainment@collegian.com or on Twitter @KotaBabcock.