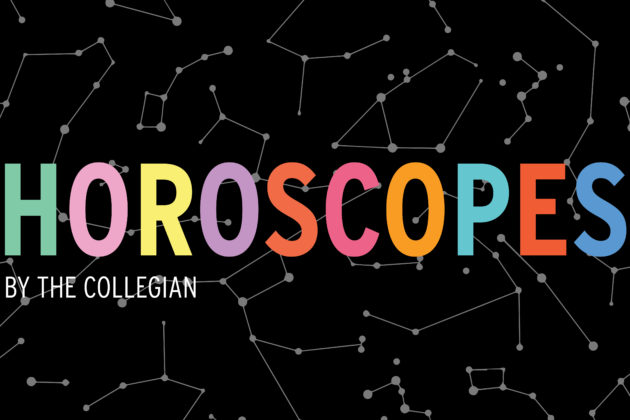 Horoscopes can be applied to your sun, moon and rising signs. 
SCORPIO (Oct. 23 – Nov. 21)
Happy Scorpio season! Set your intentions this week. Make some goals and set a schedule, whether it be just for today or for the next year. 
SAGITTARIUS (Nov. 22 – Dec. 21)
This is a peaceful week for you, Sagittarius. Let yourself take a deep breath and have some quiet time; center yourself before taking on the upcoming weeks. 
CAPRICORN (Dec. 22 – Jan. 19) 
Capricorn, take your social skills out on the town this week. Use your business savvy in favor of your social life, and make some new friends.
AQUARIUS (Jan. 20 – Feb. 18) 
Take responsibility this week, Aquarius. Own up to everything you do loud and proud — the good and the bad — because it'll favor you in the future. 
PISCES (Feb. 19 – March 20)
Pisces, get in your head this week. Take a minute to dissect your feelings in reaction to others' actions — why do you think you feel that way? 
ARIES (March 21 – April 19)
Feeling romantic this week, Aries? Keep your eyes out for potential intimate connections everywhere you look; it is cuffing season, after all. 
TAURUS (April 20 – May 20)
Taurus, you feel electric this week. Every aspect of your life is lit up in neon, signaling success; take advantage of it, but don't take it for granted.
GEMINI (May 21 – June 20)
Focus in this week, Gemini. Be with yourself for a little while and knock out your to-do list without distractions so that you can hit the town in the weeks to come. 
CANCER (June 21 – July 22)
Cancer, let your inner child out this week. Remember to not take everything so seriously, and let yourself have fun; nothing is truly as deep as you think it is. 
LEO (July 23 – Aug. 22)
Make yourself comfortable this week, Leo. Your sunny demeanor is going to be overshadowed by the colder weather, so make sure you have the goods to weather the storm. 
VIRGO (Aug. 23 – Sept. 22)
Virgo, spend this week truly getting to know things you think you know already. Do a deep dive and see what there is to see about the most familiar things in your life.  
LIBRA (Sept. 23 – Oct. 22)
Libra, this week, you don't chase — you attract. Sit back and let everything you've been wanting make its way to you.
Hailee Stegall can be reached at entertainment@collegian.com or on Twitter @stegallbagel.