Denver record store Wax Trax hosts local musicians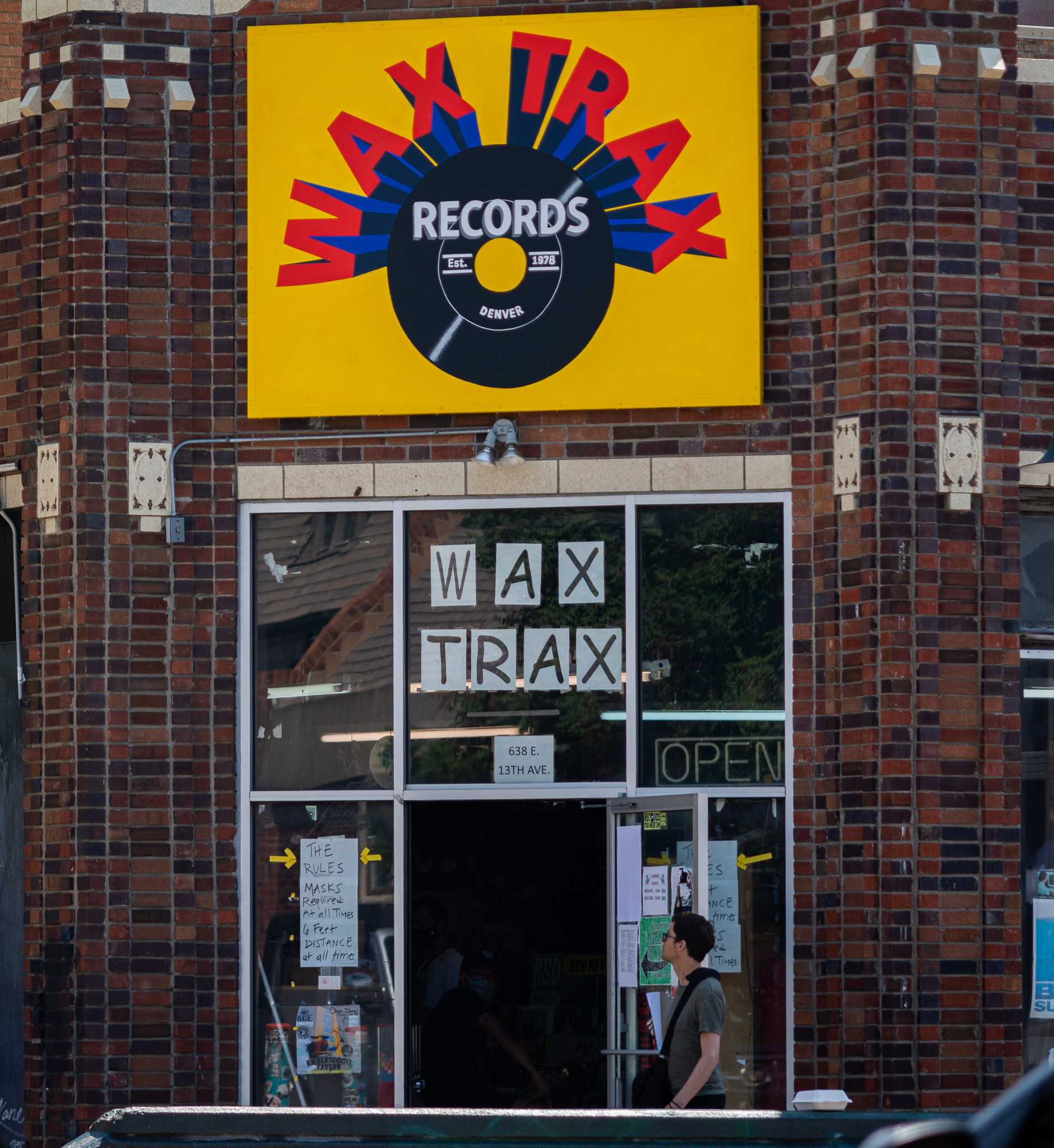 Located on 13th and Washington in Denver's Capitol Hill district, Wax Trax Records has been at the heart of Denver's alternative music scene since it opened in 1975. 
Despite the inconspicuous appearance of the brick and mortar corner store, Wax Trax has a long history of putting on shows featuring both local and touring bands, such as Mazzy Star, Gone and Band of Susans.
Recently, the store has put on a series of "sidewalk shows" every weekend, inviting local musicians to perform directly outside the store. 
Although Wax Trax has traditionally held shows inside, the outdoor shows complied with guidelines from the Centers for Disease Control and Prevention during previous stages of the pandemic, allowing it to be one of very few venues where local artists could perform. 
"We want to really invest back into the local scene and do what we can to spark it back up," said Pete Stidman, general manager of Wax Trax.
Duane Davis, who has co-owned the store with Pete Stidman's father, Dave, since the late '70s, commented on the symbiotic relationship between Wax Trax and the local music scene, which have been closely tied for decades. 
"Pete (Stidman) has come in and he's got a lot of energy and excitement," Davis said. "He's really trying to … get things going that we know we've done in the past and had fun with that contribute to Wax Trax's reputation and position in the community."
The inclusion of … local bands in Wax Trax's shows is a testament to the store's legacy and ability to cultivate and stay in touch with Colorado's underground music scene for close to 50 years." 
From being one of the first record stores in Colorado to import British punk and new wave records to producing the music of Colorado bands through the record label and fanzine Local Anesthetic, Wax Trax built its reputation as a hub for punk music early on and continues to draw in alternative and underground music fans. 
"When I used to work here as a teenager, my idols were all working here," Pete Stidman said. "Everybody was in a band."
Since the punk and post-hardcore scenes of the '80s and '90s, Wax Trax has continued as an institution for Denver music fans, even as the COVID-19 pandemic forced the music industry to a grinding halt. 
"When we went through COVID(-19), we had a series of meetings with the employees (to ask), 'What is Wax Trax about?'" Pete Stidman said. "A lot of people said that, in addition to selling records, we're kind of like a community center."
The June 12 sidewalk show, featuring Northern Colorado bands Juliet Mission and Sunnnner, was a reflection of the crowd that Wax Trax continues to attract. 
"We've been in the (Denver) scene since the '80s," said Andre Lucero, vocalist and bassist for Juliet Mission. 
Lucero said that, along with alternative radio stations, Wax Trax was a large influence on the band's members, introducing post-punk and new wave bands like The Cure, Echo, The Bunnymen and Depeche Mode, an influence that can still be heard in the band's music.
Along with the moodiness and monotone vocals drawn from these post-punk influences, Juliet Mission also incorporates the signature guitar tones and layering effects used in the genre shoegaze, giving their sound an ethereal, space-like depth. 
This quality was not lost in their sidewalk show performance, where they were able to bring a surprising amount of atmosphere to an outdoor show on a Saturday afternoon. 
Juliet Mission's ability to transport the listener into an abstract, distorted soundscape paired well with the following band, Sunnnner, who brought the audience to a dreamy — and at times nightmarish — indie rock wonderland with flurries of distortion and raw emotional vocals. 
This raw chaotic emotion can be observed in the exaggerated movements and facial expressions of vocalist Rane Miranda, who sings with their nose pressed against the microphone, drawing the audience in as they stare into the crowd. 
"It's just something I have to do," Miranda said.
Sunnnner is a prime example of the modern alternative underground, combining elements of indie, surf rock, punk and slowcore to create a sound that comes off as raw and genuine without appearing amateur. 
The inclusion of Sunnnner and other upcoming local bands in Wax Trax's shows is a testament to the store's legacy and ability to cultivate and stay in touch with Colorado's underground music scene for close to 50 years. 
Juliet Mission and Sunnnner's music can be found and streamed online through their respective bandcamp pages: julietmission.bandcamp.com and sunnnner.bandcamp.com. 
Max Hogan can be reached at entertainment@collegian.com or on Twitter @macnogan.