Rico Nasty flips out on 'Anger Management'
Miles Parrish
April 26, 2019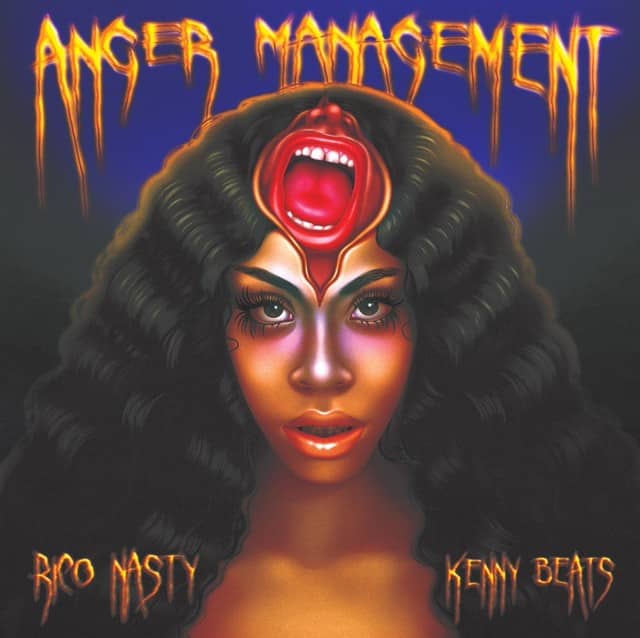 Maryland rapper Rico Nasty released her fourth official project, "Anger Management," this past Thursday on all platforms. It has proven to be one of the most short-tempered and explosive releases of 2019.
"Anger Management" is a collaboration between Rico Nasty and producer Kenny Beats from Connecticut, who is responsible for the production of albums such as Vince Staples' "FM!" and Freddie Gibbs' "Freddie."
Rico Nasty and Kenny Beats have been long time collaborators. Several songs off of Rico's last release ,"Nasty," were produced by Kenny. With a track record like the one that Rico and Kenny have, the announcement of "Anger Management" was one that captivated the interest of many.
At nine songs totaling 18 minutes, "Anger Management" is short, but aims for quality over quantity.
The first track, "Cold," starts with a glitched out, robotic voice that asks the listener if they're "tired of the same old thing." Rico dives into the song out of nowhere and feverishly attacks the beat with the help of distorted 808s, provided by Kenny as she shouts "None of these bitches cold as me!" From the start, the pair grabs your attention.
The following song, "Cheat Code," which features guest production from Baauer, sounds like Rico is chasing you down the hallway of the Overlook Hotel from Stephen King's "The Shining." She embraces a theme of horror with lines like "Pull up on your block with a mask like Jason." The way Kenny Beats and Baauer embrace this theme and match it to Rico's raspy lyrics, delivered like rounds of a machine gun, make this track one of the album's highlights.
Another highlight is the song "Big Titties" featuring Atlanta, Georgia's EarthGang, comprised of rappers Johnny Venus and Doctur Dot. As horns blare over the hard-kicking bass, EarthGang and Rico deliver fast, playful verses. Lines such as "I'm a five-star guy, by far, you a sidebar / you a bounced check, I'm a swiped card," from Dot and "I'm so supercalifragilisticexpialidocious / You wonder why your life sucks, it's because you ain't focused," from Rico stand out.
"Anger Management" continues to hit hard with songs like "Mood" featuring artist Splurge in which the two go back and forth bouncing off the threatening energy the pair give each other.
As the album closes we are left with a much softer cut on "Again." On this track, Rico takes on a different style while she sings about embracing her flaws and maintaining optimism as her career pushes forward. "I be high, I be gone, I be right, I be wrong / but I did it on my own, you dig?" she proclaims. This closing track feels like the end to a temper tantrum that we, as listeners, are first witnesses to, which makes the title "Anger Management" even more fitting.
This album by Rico Nasty is one of my favorite releases to come out this year so far. The length keeps things short and sweet, and Rico does not let up on her empowered, pissed off energy until the album reaches its closing minutes. Kenny Beats' production does near-perfect service to this energy and it truly takes hold of the listener. The chemistry between rapper and producer heard on "Anger Management" shows why Rico has become one of the most captivating up-and-coming artists to follow.
Score: 8/10

Favorite tracks: "Cheat Code," "Big Titties"

Least favorite track: "Sell Out"
Miles Parrish can be reached at entertainment@collegian.com or on Twitter @parrishm20.