Alec Reviews Music: Bearings find their sound with 'Nothing Here Is Permanent'
Alec Erickson
September 12, 2017
It can take a while for some bands to find their bearings.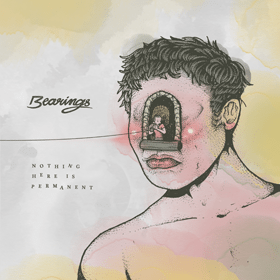 For the band Bearings it seems like they have always known the kind of musicians that they want to be. Their latest extended play has a much more refined and mature sound from some of their earlier works, but "Nothing Here Is Permanent" is a huge leap forward for the pop-punk band.
Based out of Ottawa, Ontario, Bearings have been active over the last few years. Only recently the band was signed and is now putting out their latest extended play. The band has a wide range of influences; but with the latest release, they are really starting to make their own mark on the scene.
"Nothing Here Is Permanent" is a five-track release clocking in at around 20 minutes in length. The first thing listeners will notice is the wide range that each track covers. From more slow-paced ballads to larger and faster rock tracks, it is a wild ride from start to finish. There are many emotions to take in when listening to "Nothing Here Is Permanent;" Bearings really have grown as musicians because of it.
Starting things off on this EP is the track "Petrichor." Bearings really put their best foot forward when it came to their lead track. "Petrichor" is as catchy and melodic as it is fast paced and loud. Everything you want from a good pop-punk track is all right here. What really helps seal the deal is vocalist Doug Cousins' performance, with a wide range he can inflict the perfect amount of emotion into each line without it coming off as cliché or generic. Things really start moving along when we get to "Spent." The second track on the record really helps differentiate the band from the rest of the scene just based off the dynamic range that the band brings with them. It is almost surprising how different the first two tracks are, while both still being catchy.
When you make it to "Letters Home" and "North Hansen" this is really what should sell you on listening to Bearings. "Letters Home" is deep and moving and is really the most well rounded we see the band with a faster-paced track. This is when you begin to hear more riffs and progression that really help move along the record. Then when you listen to "North Hansen" this is the most diverse and powerful track. It starts slow before building to a larger-than-life scale and coming back down with a simple but memorable melody. "North Hansen" also has some meaningful songwriting when it comes down to the lyrics, it tackles a dark subject and it tastefully stands out because of that factor.
Finishing off the record is "Makeshift." While it does not necessarily have the feeling of being a closing track like "North Hansen" does, it continues along the trend of showing the wide range that the band encompasses. This track is shorter and more concise with its movements and tries to build a wall of sound in the process. At moments, you really begin to lose yourself when listening to something like "Makeshift" and that is really what stands out about Bearings.
Should you listen to it? Without a doubt!
Bearings are really starting to make a name for themselves and while the pop-punk scene may be diluted and generic at times, it is refreshing to hear something like "Nothing Here Is Permanent." Bearings do not have a hard time standing out when it comes to their music. Bearings have found their way and they are running with it.
Where to buy: 
iTunes: $ 4.99
Collegian Reporter Alec Erickson can be reached at entertainment@collegian.com or on twitter @CTV_Ace