Santa Fe Craftsman Inc. offers a way for people to experience the beauty of Native American art. The merchandise includes unique jewelry and art produced by Navajo and Zuni people in New Mexico and includes commodities such as Minnetonka Moccasins.
Robert and Dianna Criswell established Santa Fe Craftsman in Georgia in 1991, starting out as a personal side project. 
"My husband and I had jobs where we were off in November, December, January, so we decided that we would start a small business in a mall for Christmas for a couple of months, and then we'd go back to our regular jobs," Dianna Criswell said.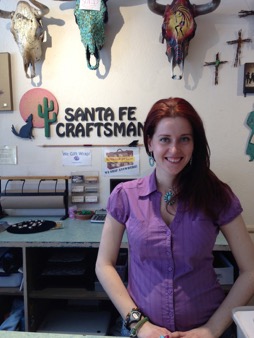 The side project was successful, and the couple decided to quit their jobs and start a full-time business.
Inspired by Robert's Navajo-reservation upbringing and Dianna's lifelong-appreciation of Native American jewelry, the couple decided to sell Native American art.
In 2001, they decided to move their store to Old Town in Dianna's hometown of Fort Collins.
Dianna enjoys being in Old Town. When she would visit her family in Fort Collins while the store was still located in Georgia, she always spent her "escape day" in Old Town.
"I think it's wonderful being in Old Town," Dianna said.
The couple travels to Zuni and Navajo reservations to choose the merchandise.
"There's a lot of different ways that we buy the jewelry," Dianna said. "Most of the jewelry comes from traders… We buy some directly from the artist and we also buy some from where a number of artists have gotten together and made up a little co-op. When I go down to New Mexico I see the same people and I know some of the artists I buy from. Over the 25 years they know what type I buy."
Santa Fe Craftsman has a wide diversity of clientele.
 "It's fun to see a big variety of people and ages," Dianna said. "We have a lot of young customers that come in on a regular basis."
"They are people that have lived here their whole lives," said Natalieann Mahs, a clerk at the store. "They are tourists; they are people that come in when they have a bad day. They like the store, we try to keep it like family here because sometimes you're having a bad day and you don't need to buy anything but just to say 'hi' to someone that can make your day."
Mahs enjoys working at the store because of the customers and the Criswells. She models jewelry from the store while she works.
"I love it. It's really nice, not because of the pay and things, but more because of the type of people you're working with and for," Mahs said. "They are really good business people. Bob and Dianna are professional, they are friendly, they are honest. As employers, they're the best. They are nice, they are stern, and they teach you a lot."
Mahs and Dianna recognize the regular customers that come into the store.
"I love it. If I need Minnetonka's, this is where I come. The jewelry is beautiful," said Stephanie Niswender, who is a regular at the store.  The staff is "always friendly," she said.
"There's isn't a commercial feel to the store," Mahs said. "We do need to sell of course, but it comes naturally."
Collegian Reporter Zoe Jenning can be reach at entertainment@collegian.com.