Easy recipes to keep your semester warm
Dallas Head
January 21, 2016
When the weather starts to turn cold and windy, all you want is to stay warm. Using the oven and testing out your "Iron Chef" skills are the best ways to beat the chill. While making something from scratch can be rather intimidating, starting off the semester right with these healthy recipes will improve your year — plus, you'll get some good recipes. 
Sausage and Apple Stuffed Acorn Squash Bowls
2-4 servings
Ingredients:
2 medium acorn squash (better larger than smaller)
1 chopped onion
2 stalks of celery
1 tbsp. olive oil
1 tsp. salt
1 tsp. pepper
1 tsp. fresh rosemary
3 chopped cloves of garlic
½ lb of sausage
1 chopped apple (Honeycrisp works best)
1 cup Panko breadcrumbs
½ cup Parmesan cheese
Using a sharp knife, cut off the very top and bottom of each squash to create a flat base on each side. Slice the squash in half and scrape out the seeds to create individual bowls for the stuffing. Drizzle each squash with olive oil, salt, and pepper and roast in preheated oven at 400°F (200°C) for 40-50 minutes – or until fork tender.
While squash is roasting – in a large fry pan over medium heat – heat oil and add onion, celery, salt, pepper and rosemary. Cook until onions begin to soften. Add garlic and sausage, until sausage is browned all over. Add apple until lightly softened. Finally, mix in bread crumbs and Parmesan cheese just until incorporated. Remove from heat.
Once squash is finished, remove from oven and fill with stuffing mixture. Return for about 20 minutes – adding Parmesan on top in final 5 minutes.
Taken from Tasty on Facebook. 
White Chicken Chili
6-8 servings
Ingredients:
2 medium onions
1 tbsp. cooking oil
4 garlic cloves, minced
2 cans (4 oz. each) green chilies
2 tbsp. ground cumin
1 tsp. dried oregano
¼ tsp. cayenne pepper
¼ tsp. ground cloves
2 cans (14 ½ oz. each) chicken broth
4 cups cubed cooked chicken
3 cans (15 ½ oz. each) great northern beans, rinsed and dried
2 cups (8 oz.) shredded Monterey Jack cheese
Sour cream and sliced jalapeno's optional
In 3 qt. saucepan, saute onions in oil until tender. Stir in garlic, chilies, cumin, oregano, cayenne, and cloves; cook and stir 2-3 minutes more.
Add broth, chicken and beans; simmer, uncovered for 15 minutes.
Remove from heat, stir in cheese until melted.
Garnish with sour cream and jalapeno's if desired.
Taken from my mother.
Lazy Apple Cider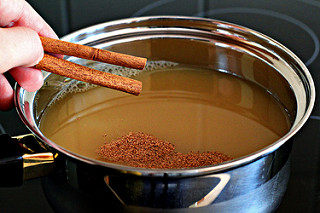 2-4 servings
Ingredients:
1 gallon apple cider
1 apple, cored, peeled and cut into small pieces
1 small orange, unpeeled and cut into ¼ in. slices
2 cinnamon sticks
½ tsp. nutmeg
½ tsp. allspice
Stir apple cider in a large pot on medium heat.
Add all other ingredients.
Simmer for about 10-15 minutes.
Remove orange slices and cinnamon sticks (keep apple pieces if you want to eat them after your cider is done).
Serve hot in mug.
Taken from A Sweet Pea Chef. 
Collegian Reporter Dallas Head can be reached at entertainment@collegian.com or on Twitter at @water4rams.