New York Film Critics Series Screening: "Hector and the Search for Happiness"
Morgan Smith
September 17, 2014
If you are willing to pay some extra money to see films and exclusive interviews with the cast and crew before they are released to the public, the Lyric Cinema Café has the answer for you.
The Lyric hosted a New York Film Critics Series screening for "Hector and the Search for Happiness," starring Simon Pegg and Rosamund Pike Tuesday night.
The Details: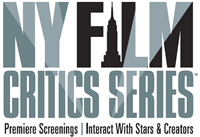 The New York Film Critics Series, NYFCS, an organization that serves the film community by hosting early premieres and live discussions with the cast and crew of featured films.
Mark Ehrenkranz, a representative from NYFCS, approached the Lyric in January, looking for a theatre in Colorado to play the series.
The Fort Collins theatre has previously played "Locke" and "Chef" for the NYFCS. There are only two other participating theatres in Colorado.
This special series plays a pre-show and a post-show that is live streamed from New York, where the talent from the film is interviewed in a Q&A style. The films play on a Tuesday or a Wednesday before the wide release the same week.
The next NYFCS screening is for David Fincher's new Oscar-contending film, "Gone Girl." Tickets will go fast before Oct. 1, so buy them online at the Lyric's website as soon as possible.
According to the Lyric, 30 of the 76 available tickets have already been bought.
Other theaters don't host this event because, unlike the Lyric, big name theaters aren't open to the NYFCS's promotional ideas.
"Big theaters aren't interested in special events," Michael Putlack, manager of the Lyric said. "They just want to run on autopilot and try their best not to do things out of the ordinary. We're going to keep on hosting the NYFCS as long as people keep coming to them."
Vern Glassman, a representative from Hollywood, came by to ask the crowd not to use their cellphones to record the film to share prior to its wide release. The film will be released on Sep. 19.
Tickets to the NYFCS shows are $12.
The Review:
Peter Chelsom directs "Hector and the Search for Happiness," an adventure-comedy-drama starring Simon Pegg as Hector, a terribly depressed psychiatrist. His costar is Rosamund Pike as Clara, Hector's tidy and supportive girlfriend. Hector realizes that his life is as depressing as his own patients', and takes it upon himself to go on a pilgrimage/hero's quest around the world to find out what exactly makes him happy.
"Hector" was a nice change in pace from Pegg's last film, "The World's End," a slapstick sci-fi comedy. Pegg displays his serious side along with his familiar comedic side in this film, and it works quite well.
The film was not too memorable, but nonetheless it was funny, happy, sad and well put together. "Hector" also has excellent cinematography; the film has beautiful shots and locations. And Simon Pegg always delivers. British humor is by no measure my favorite, but I really loved the comedy of this film.
Collegian A & E Writer Morgan Smith can be reached at entertainment@collegian.com.