18th Annual Taste of Fort Collins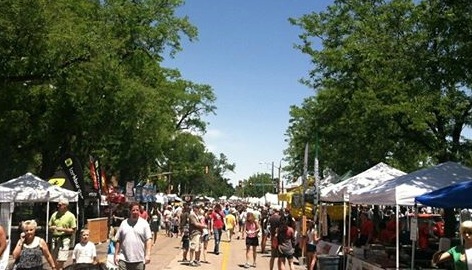 This past weekend, Fort Collins hosted Taste of Fort Collins, where food vendors, crafts, beer and wine pavilions and music all came together.
Vendors and musicians, local and national alike, came together in Old Town Fort Collins to celebrate.
With over 50 vendors, there were many options for food, giving people a chance to try local tastes as well as vendors who traveled from afar.
Amber Lennon, the owner of an ice cream truck from Atlanta, Georgia, travels seven months out of the year to 36 various events, and Taste of Fort Collins happened to be one of her stops.
"We use a 1927 John Deere engine to make our ice cream," Lennon said.
A mixture of sugar and milk is swirled between ice and rock to make the foundation of her ice cream.
"Then, we add in the fruit or other flavors after 20 minutes," Lennon said. "The cream churns for 45-60 minutes and it's ready to go."
Other vendors, such as Cheba Hut, were giving away gifts if you participated in a small game. Cheba Hut was giving away the chance to win a bike with raffle tickets and giving individuals the chance to spin to win high-fives, nugs (free sandwiches), Kool-Aid and more, all for a dollar.
"Hanging out with Fort Collins has been super fun … we've been having a great time promoting Cheba Hut and talking to the crowd," said Dylan Soper, a Cheba Hut employee.
According to Colorado State junior and international studies major Ben Metropulos, Taste of Fort Collins was a refreshing part of summer, with many attendees, good food and good people.
"I had a really good time, especially trying all the food," Metropulos said.
Metropulos worked at the Taco Stop vendor over the weekend, so he not only got to work with customers but also got to participate in the scene. He highly recommended the Pineapple Express food vendor, which was selling Hawaiian prepared meals, always with a hint of pineapple.
"All the flavors, free stuff and good music created a great atmosphere," said Dylan Reed, a business major.
Reed enjoyed a couple of free, two-minute massages and many free tastes, such as popcorn, ribs and e-cigarettes.
"My favorite part was how nice everyone was being to each other," Reed said.
While many vendors were giving away free tasters or small gifts, large portions of money throughout the weekend were donated to the Kiwanis organization.
According to Robert Hansen, a former Kiwanis president, this is their biggest fundraiser of the year.
"We support the Special Olympics, the Matthews House, Child Advocacy, leadership programs in the community and many other activities," Hansen said.
A portion of all funds from Taste of Fort Collins went to Kiwanis, while all the money they collected in tips at their individual booths went directly to their organization.
"Taste of Fort Collins is a fun way to get people together, to relax and enjoy, all for a good cause," Hansen said.
Collegian Senior Reporter Josephine Bush can be reached at entertainment@collegian.com