Tips for hosting a relaxed dinner party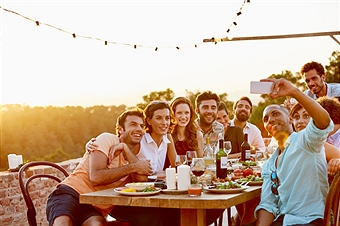 During college, it's common to only think about planning the next big bash. However, these raging parties aren't always the ideal social gathering for everyone. Many college students are leaning toward more mellow gatherings these days. According to a new article from The Daily Meal, relaxed dinner parties are the latest rave. Our younger generation searches for gatherings that are calmer and close-knit. Peaceful dinner parties are the best way to accomplish this. So, if you're someone who is looking to change things up in your social circle, try following these simple tips for hosting a dinner party.
Use the materials you already have. It's okay if you have no time to go shopping for decor or create fancy floral arrangements. A simple way to make your own beautiful decor is to go rummaging through your own backyard or garden. Rustic decor also happens to be a trend right now. Simply pick a collection of wildflowers from your backyard. You can tie them together with strings of thread. Place these dainty decorations all around your home and dinner table for an earthy feel.
Everyday dinnerware is perfectly okay to use. Many college students have a hodge-podge of dinnerware in their collections. Know that this is more than fine. You don't need to run to your nearest Bed, Bath & Beyond to pick up some fancy silverware. The mixture of various utensils and place settings will create an authentic and bohemian atmosphere. This vibe is seen as homey and comforting.
Always keep great wines in stock, as nothing says a dinner party quite like wine. Even though most college students are on a tight budget, you can still find some amazing wine for almost nothing at all. When searching for the perfect wine to buy for your dinner, be sure to select a plethora of options. Choosing a dry and sweet option of both white and red wines is the best route to take.
Keep your food simple and delicious. You don't need to be a gourmet chef to host a dinner party. With Pinterest being around, it's easier than ever to find simple recipes to try out at your dinner party. Meat and cheese trays make great appetizers. Pasta is easy to whip up and very few people hate the carb-packed dish. Don't be afraid to get creative!
For more tips on hosting a dinner party, click here.