10 ways to maximize your workday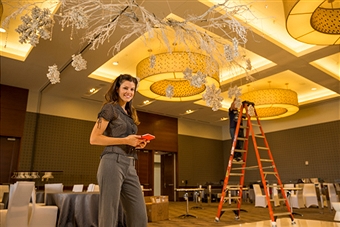 When taking on the duties of being an event planner, one of the most important keys to your success is knowing how to organize the business.
Many different moving parts are involved in the process of event planning, and if not kept organized and micro-managed, an event can be turned into a total disaster. Do not fret though.  Entrepreneur has recently posted an article, which is composed of a list of different ways to maximize your workday and business productivity.
Start with these ideas:
Plan out the next day before leaving the office. The afternoon before the next business day, plan out an agenda.  This process will increase productivity by laying out a roadmap for everything that needs to be accomplished.  By doing so, you will decrease the amount of tangents and wasted time for the next day.
Prioritize your businesses tasks.  Running an event planning business can be overwhelming.  You may think it is impossible to accomplish every task, and this may be true.  So, to ensure the most important tasks are done, make a list of priorities.
Optimize your commute to work. These days commuting is almost inevitable.  So, why not maximize productivity during this time? With today's technology, conducting a mobile meeting, or getting phone calls done is very easy to do on the go.  Car or train rides are also great opportunities to listen to audiobooks that can help you improve your business or yourself.
Taking breaks are okay. Working for too long without breaks will cause immense amounts of stress and irritability.  It does not take a genius to know that these characteristics are not good for a functioning business.  Take breaks and let yourself breath.  Then, get back to work refreshed and relaxed.
Avoid workplace conflicts. Coming across aspects of your business that are annoying will happen.  However, learning how to handle these situations will benefit the event planning process more. To avoid these annoyances, remember not to sweat the small stuff. Do not complain too much, because this will only drag your mood down more. Positivity is key.
Acknowledge your coworkers or employees. Giving yourself credit for great work is important.  However, giving coworkers credit and praise is just as important. If your employees are being praised for their good work, they will want to work harder for your team.
For more tips, check out the rest of this article here.