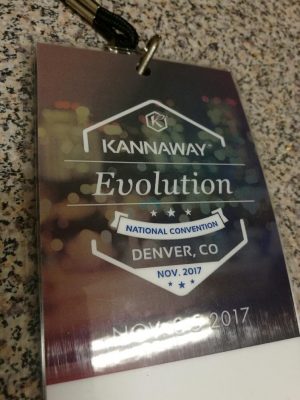 Marijuana has made great progress in recent years. It has gone from being only medically legal in a few states, to recreationally legal in seven states and the District of Columbia. Several groundbreaking companies, products and discoveries have come since this time.
Companies like Kananway are one of these companies.
Kannaway is a company whose mission statement is "to become the world's premier provider of phytocannabinoids," and to provide CBD products to the nation. They believe in feeding your endocannabinoid system, which is something we don't feed enough as a people since the prohibition of cannabis.
Kannaway is division of and owned by Medical Marijuana Incorporated. Medical Marijuana Inc. is "a company of firsts" as they call themselves. They were the first publicly traded marijuana stock company (MJNA), first to deliver CBD products across the 50 states and internationally, and the first to introduce cannabis food and food supplements to the mainstream marketplace, along with several others.
Medical Marijuana Inc. is also the owner of the widely known and popular cannabis edible, Dixie Elixirs, which produce great edibles and specialize in cannabis beverages.
Kannaway, however, doesn't sell products that get you high. Instead, they sell CBD oils, food supplements, and a line of beauty products. None of these products contain THC, the psychoactive chemical in cannabis that causes a "high". They are hemp derived which is why their products can be sold across the nation legally.
Kannaway also sells hemp based clothing after recently partnering with Hempy's. Hempy's is one of the oldest and longest lasting hemp clothing retailers. According to Kenneth Smith, the owner of Hempy's, there was a large surge in the mid 1990's for natural fabric clothing like hemp. He then says that the craze died out in the early 2000's, but it is currently making a comeback. Smith says that these natural fiber clothes like hemp are better for your skin than petroleum based fibers, which are being found to be dangerous for the skin. Just another reason in the many to switch to natural fibers according to Hempy's, with others being the fact that hemp is one of the strongest fibers, meaning your clothes will last longer. On top of that, Smith states that his hemp socks don't smell like his cotton ones do after being worn for a day, and it can't get better than that.
Kannaway has also teamed up with ECHO, which stands for education, collaboration, and hope. Their goal is to help families and individuals who need CBD by educating the families and connecting them with resources to obtain these products. Many of the families that ECHO assists are those involving young children who have been given up on by doctors, who tell the families there is nothing more that they can do. ECHO helps families at a second chance through the healing powers of CBD.
Kannaway is just one of many companies paving the way forward in this new marijuana marketplace, where there is endless untapped potential. In the future, we will probably see more companies like Kannaway and Medical Marijuana Inc.
Collegian Blogger Dylan Simonson can be reached online at entertainment@collegian.com or on Twitter @DylanSimonson0.