Nerdy News: What Shows to Add/Drop for this Fall Season
Kevin Avis
October 31, 2016
Among anime fans, there is an unspoken rule where you don't judge too harshly on the first watch, but rather give three episodes before deciding whether or not to continue an anime. This season I've watched over 20 animes, and I'm here to let you know what to keep or pick up if you haven't started the season yet.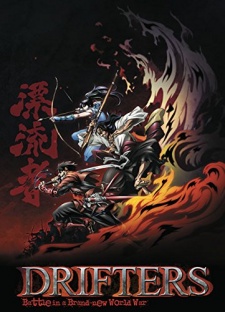 Drifters
This show focuses on a group of people called drifters who get sent to another world where they must fight superpowered people from throughout history, such as Joan of Arc, who wields fire. After three episodes I'm still loving this show and consider it a must watch for anyone.
FlipFlappers
While the name might throw some off, this show's use of weird artistic choices and colors help paint a vivid and unique world. The first episode reminded me of a Miyazaki movie with some of the designs, whereas the second episode was extremely weird with the concept of the girls being in a giant vacuum with her bunny becoming a person. The third episode was amazing even though we see a Mad Max inspired world where water is the key resource. The girls encounter a group who does what they do for a different and possibly evil purpose. While weird and wacky, the show will definitely get you hooked on its eccentric nature.
Izetta: The Last Witch
WWII, but in a weird alternate dimension, where Germany invades a small country ran by a kingdom. The princess and her witch help to save the country from the invasion as the plot, but when you see a witch (who can enchant guns and lances and ride on them like a broomstick), it gets to be pretty cool. Whether she is flipping tanks or piercing an airplane with a lance, the show is awesome and the story is very engaging. I love everything about the show and definitely encourage others to watch this.
WWW . Wagnaria
If you like quirky characters or the original anime, this is the show for you. It's a story focused on the weird people in a specific restaurant, each with their own unique personality traits. It is my favorite comedy this season and a must watch for the humor you need each week. Other comedy animes this season haven't been as solid as this one since they've been weirder or shorts.
YURI on Ice
While the name may throw some off, I too was misled by the show at first, the beginning is slow as it sets up some characters, but as a sports anime, the audience knows what to expect. As the story progresses, though, you get to see beautiful skating, and the story itself does a good job of showcasing the beautiful ice skating that others might not understand when watching the Olympics. I'm definitely liking how the show is headed and think that you should check it out, even with the obvious yaoi tones in the show.
Nanbaka
In a prison where there is a group of inmates who have always escaped, they must be held in check and stopped from escaping the inescapable Nanbaka prison. This anime is another quirky character focused anime that uses very bright/ neon colors which make it stand out. The different characters they've introduced since the first episode has added to a thoroughly enjoyable comedy. Each character has something they are good at and personalities that definitely make them different from other characters I've seen in anime. I'm definitely continuing this show and anyone who likes the quirky character comedies will not be disappointed.
While some shows are not listed, I'm still continuing most of what I started, but there are some honorable mentions that are oriented more towards a niche audience this season.
Honorable Mentions:
To Be HERO
While very odd, this short has proven to be hilarious with its use of dirty humor intermixed with potty humor and a lot of comedic action.
Ninja Girl and Samurai Master
This is a show that most people might like, and it does have anime references, making for a funny show, however, due to it being a short, I have not put it on the to watch list. This is a something that is easy to watch, but the jokes may get lost on people who haven't seen as much anime.
Long Rider!!!
I wasn't very impressed with the first episode, but the show has grown on me and even distributor Sentai Filmworks recently picked up the show, acknowledging the significance of it. Long Riders focuses on college girls riding bikes for long distances, and each character is cute, but the story is very realistic with anime tendencies and humor here and there. It is not a show for everyone since it isn't like a normal sports anime nor a normal cute girl anime.
Classicaloid
A very eccentric show that focuses on making Beethoven, Chopin, Mozart and other classic musicians into anime characters with magical powers. This show is very odd and the humor is as well. I find it entertaining, but it's not high on my list to continue watching. It works for what it does and offers, but for some, it might appear too weird. The first episode does a good job of showing what every episode will be like.
Kiss Him Not Me
This was a really funny show, though it is female-centric
. I dropped this in the end, due to me not being female and not enjoying it enough. However I showed this to my girlfriend and she loved the show, so I imagine that the audience of girls who enjoy Free! And other gay sports anime will definitely enjoy this show and appreciate its humor.
If I have missed anything or you disagree with something I've said, leave a comment below. These are after all my own thoughts after seeing so many anime and what I believe most people will like.
Collegian writer Kevin Avis can be reached at blogs@collegian.com or on Twitter @kevinavis_626. Leave a comment!!