Events: 10 tips for planning the perfect backyard wedding
Sarah Hansen
April 7, 2016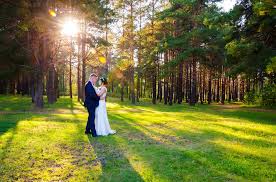 Have you dreamed about having a backyard wedding? Perhaps you've thought about having the ceremony in a beautiful garden and cocktail hour on the patio.
Well, these dreams can come to life with the help a new article from the Huffington Post. In the article, loads of tips on how to get your lawn ready and the perfect way to decorate your outdoor living space are given out. Tackling the task of preparing your backyard for this momentous event can be daunting, so try starting with these points to get the job done.
Disperse the work load
Even though it's easy to believe guests won't notice smaller details, the truth is they usually do. Don't cut corners on anything. If the work load feels like too much, then hire out some tasks like lawn care. You'll be happy that there is one less item on the list to worry about, and you'll be able to focus on other jobs.
Remember the furnishings
Chances are you don't happen to already own a backyard furnishings supply for upwards of 50 people. In other words, the furnishings will likely take up a big chunk of the budget. Think about ways to minimize the costs. Rental services are a great way to get chairs and tables without having to spend too much and keep furnishings you won't need after the wedding.
Communicate your dress code to the guests
Even though the word "backyard" hints at a more casual setting, the word "wedding" does not. If you want your guests dressed appropriately for the occasion, then you need to make that clear. Writing whether the dress code is semi-formal or formal on the invitation is a completely appropriate way to do so. 
Don't overlook weather elements
If you are having your wedding in the middle of summer, then you should provide a shaded area for guests. Having outdoor fans would also make the perfect touch during summer. Providing a covered area, like a tent, is the best way to save your wedding from rainfall too.
Remember seasonal allergies
Depending on when your wedding is, certain allergies could be in season. Although it would be silly to provide nasal spray, nicely placing some tissues here and there would mean a lot to your guests. Showing you care is the best way to make sure your guests leave the wedding smiling.
For the final five outdoor wedding tips, click here.
Collegian Events Blogger Sarah Hansen can be reached online at blogs@collegian.com or on Twitter @sarahhansen21.