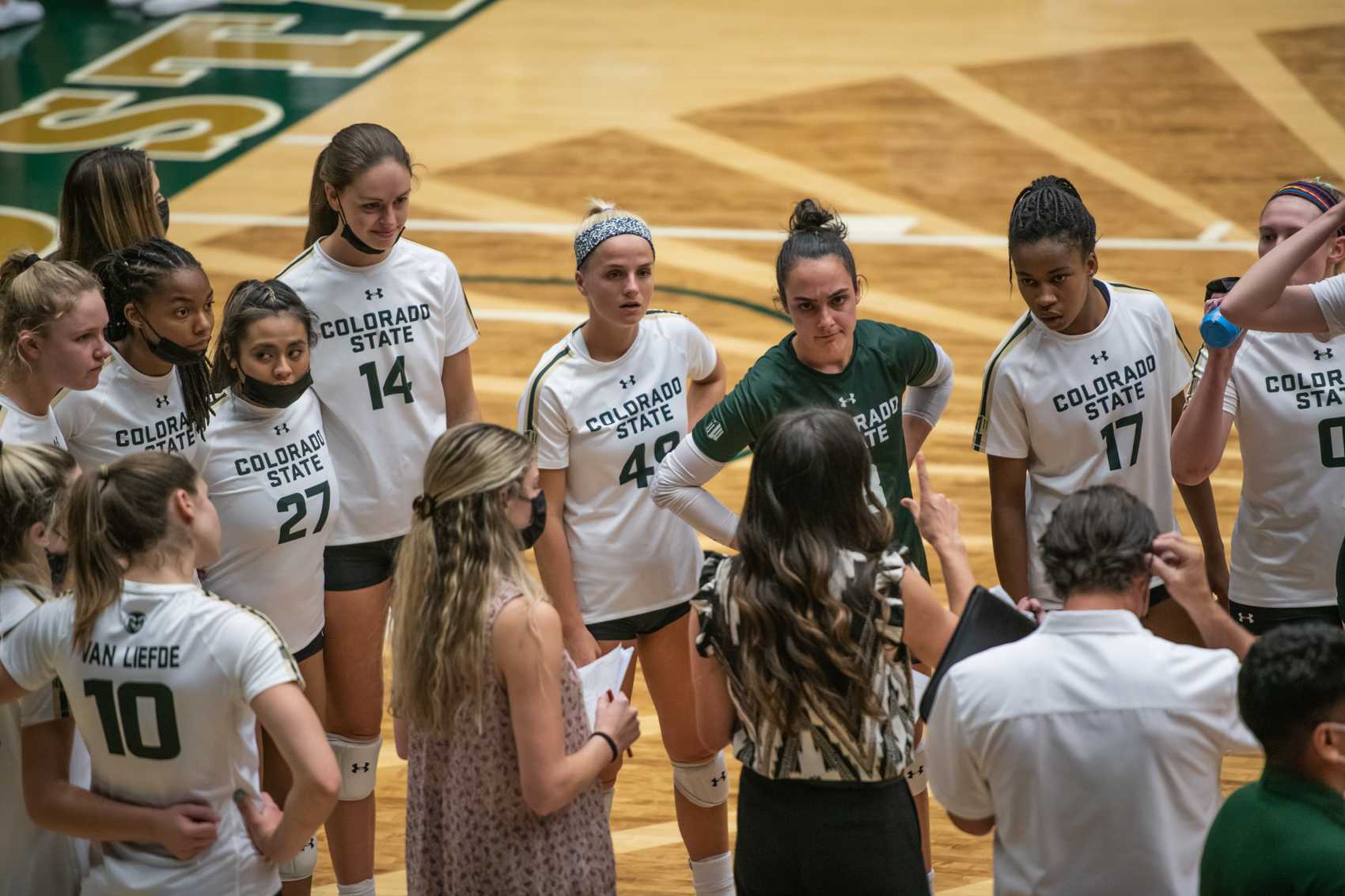 The Colorado State University Rams volleyball team is gearing up for a road and home match this week.
The Rams (7-1 conference and 11-6 overall) will head to San Diego to take on San Diego State University (3-5 conference and 6-14 overall) Oct. 21. Colorado State will return to Moby Arena for the State Pride match against the University of Nevada, Las Vegas (5-3 conference and 14-5 overall) Oct. 23.
The Rams recently won four straight matches and in dominant fashion. During the win streak, the Rams only dropped one set to an opponent.
CSU has played three away matches in conference play so far (2-1). The Rams were stunned by California State University, Fresno, losing to them 3-1, and cruised past the University of Nevada, Reno (3-0) and San Jose State University (3-1).
SDSU should be a winnable match for CSU. Then, the Rams will come back and host one of the top teams in the Mountain West Conference."
SDSU has struggled at home. The Aztecs are 1-5 overall on their campus and 3-5 in conference play. SDSU hosted the University of New Mexico (lost 3-1), United States Air Force Academy (won 3-0), UNLV (lost 3-0) and Fresno State (lost 3-2).
The Rams will need to be prepared defensively for SDSU, as one of their outside hitters has been on a roll. The Aztecs' Victoria O'Sullivan was awarded Mountain West Offensive Player of the Week this week. O'Sullivan had 32 kills and a .35 hitting percentage over the weekend against Boise State University and Utah State University.
Current Colorado State categorical leaders:
Kills: Kennedy Stanford (182), Annie Sullivan (156), Jacqi Van Liefde (154)
Assists: Ciera Pritchard (595)
Service Aces: Pritchard (25), Alexa Roumeliotis (22)
Digs: Roumeliotis (285), Pritchard (128)
Blocks: Sasha Colombo and Karina Leber (50)
Current San Diego State categorical leaders:
Kills: O'Sullivan (233), Heipua Tautua'a (141), Mikela Labno (121)
Assists: Noa Miller (352), Ashley Vanderpan (220)
Service Aces: Miller (12), Vanderpan (10), O'Sullivan and Natalie Smith (9)
Digs: Smith (273), Tautua'a (131)
Blocks: O'Sullivan (38), Julia Haynie (34), Jordyn Goldsmith (29)
https://twitter.com/CSUvolleyball/status/1450211317441200129
SDSU should be a winnable match for CSU. Then, the Rams will come back and host one of the top teams in the Mountain West Conference. Last week, along with UNM, the UNLV Rebels were tied with the Rams for first but could not hold their position.
UNLV is currently on a two-match losing streak, and both come from the road. The loss on Oct. 14 against the Utah State Aggies pushed UNLV out of the first-place conversation. The Rebels then lost their next match to Boise State, which allowed the Aggies to move up to second place.
Both recent losses have been heartbreakers for the Rebels. Against the Aggies, the Rebels lost in five sets in a highly competitive match. UNLV dropped sets one (26-24), three (25-16) and five (15-12). After leaving Logan, Utah, the Rebels stopped at Boise State, where they lost another match in five sets.
UNLV held off Boise State's sweep effort — winning set two 25-23 — but that was the only set decided by two points or less.
Even with the current two-match slump, UNLV has a winning record on the road. But as many teams know, the Rams defend their home court well. CSU, at home, currently has an 8-2 overall record. The Rams have yet to drop a set to a conference team at home, sweeping each team who has come into Moby during conference play.
"Alexa. Order more brooms."#PointRams x #MakingHerMark pic.twitter.com/28n5xvGyG8

— Colorado State Volleyball (@CSUvolleyball) October 16, 2021
Current UNLV categorical leaders:
Kills: Mariena Hayden (229), Milica Tasic (175), Kate Brennan (113)
Assists: Arien Fafard (351), Lauryn Burt (334)
Service Aces: Hayden (37), Shelby Capllonch and Fafard (19)
Digs: Capllonch (187), Paris Oliveira (181), Hayden (117)
Blocks: Jordyn Freeman (76), Brennan (69)
Tyler Meguire can be reached at sports@collegian.com or on Twitter @TMeguire.